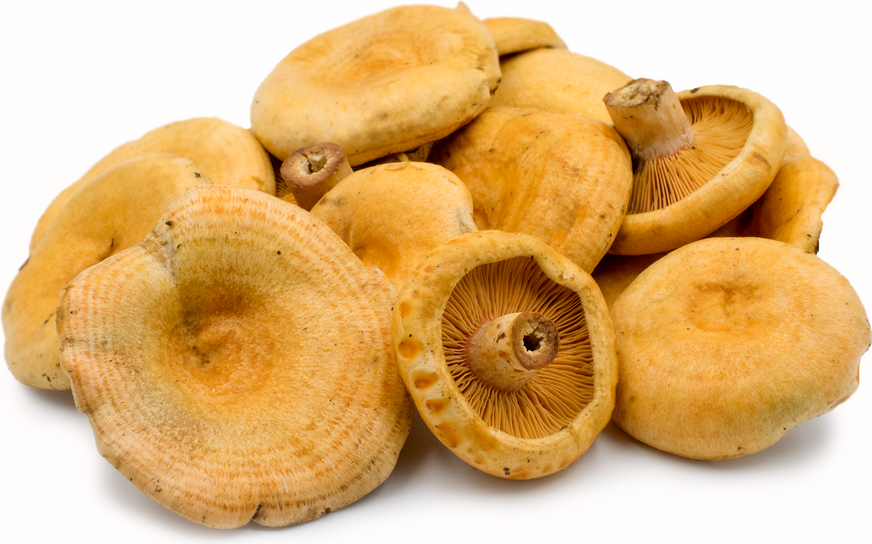 Saffron Milk Cap Mushrooms
Inventory, lb : 0
Description/Taste
Saffron milk cap mushrooms are a small to medium-sized varietal with caps averaging 6 to 20 centimeters in diameter. The caps are connected to short stems, generally ranging from 5 to 8 centimeters in length, and will be found in varying shapes depending on maturity. Young Saffron milk caps showcase a convex-shaped cap with curled edges, sometimes having a slightly depressed center. As the mushroom caps mature, they transform into a trumpet-like vase shape with straight, flat edges. The bright orange-gold caps have a granular surface that is mostly dry but can become sticky when wet and has visible orange concentric rings. The caps also develop a green tinge when bruised or damaged. Underneath the cap, the crowded gills are bright orange, and when cut, they release a white to carrot-colored, latex-like liquid. This liquid eventually turns a dark green if left exposed to the air. Beyond the caps, the stems are hollow and smooth, dotted with tiny and shallow orange pits. Saffron milk cap mushrooms have a firm, dense, and crunchy consistency. The mushrooms also have a fruity aroma and nutty, earthy, and woodsy flavors.
Seasons/Availability
Saffron milk cap mushrooms are available in the fall through early winter.
Current Facts
Saffron milk cap mushrooms, botanically classified as Lactarius deliciosus, are a colorful mycorrhizal variety belonging to the Russulaceae family. This cultivar is a part of a larger milk cap mushroom grouping, and experts estimate that there are over 500 species of milk caps. Since many milk cap mushrooms are similar in appearance, several species have been mixed up over time, resulting in numerous mushrooms being generally labeled under the Saffron milk cap name. True Saffron milk cap mushrooms are native to Europe and are also known as Red Pine mushroom, Pine mushroom, and Spruce milk cap. The mushrooms are favored for their nutty, earthy flavor, crunchy texture, and unusual golden hue. Saffron milk cap mushrooms are considered a foraged fall delicacy throughout Europe, especially in Russia and Spain, and are used in a wide variety of culinary preparations.
Nutritional Value
Saffron milk cap mushrooms are a source of beta-carotene, a red-orange pigment that gives the mushrooms their characteristic color. Beta-carotene is also converted into vitamin A in the body to maintain healthy organ functioning. In addition to colorful pigments, Saffron milk cap mushrooms provide vitamin D. This nutrient assists with phosphorus and calcium absorption, and the mushrooms also contain other amounts of iron, magnesium, phosphorus, potassium, and calcium. It is important to note that consuming the variety may cause urine to turn an orange-red color. This is a harmless side effect and will dissipate with time.
Applications
Saffron milk cap mushrooms have a nutty, earthy, and woody flavor suited for cooked preparations. The mushrooms can be used in any recipe calling for mushrooms, but enthusiasts generally cook the variety in slow-heat, grilled, boiled, or steamed dishes to help soften the mushroom's grainy, crunchy texture. Saffron milk cap mushrooms can be grilled with meats, cooked into stews, soups, and curries, diced into dumplings, or cooked into pasta. The colorful mushrooms also release an orange, milky latex when sliced, a liquid that may slightly color soups, cream-based sauces, and rice dishes. Chefs value Saffron milk cap mushrooms for their meaty, chewy consistency and chop the mushrooms into stuffing, incorporate them into salads, use the flesh as a topping over grain bowls, slowly cook the mushrooms in braises and pot roasts, or stir in as a flavoring agent for stocks and sauces. Saffron milk cap mushrooms can also be sauteed in olive oil, garlic, and herbs, pickled for extended use, or stewed in rich cooking liquids to create a sauce for meats. Saffron milk cap mushrooms pair well with tomatoes, potatoes, cauliflower, carrots, herbs such as parsley, rosemary, and thyme, cumin seed, aromatics including onions, garlic, and shallots, seafood, and meats such as steak, poultry, lamb, and pork. Whole, unwashed Saffron milk cap mushrooms will keep 5 to 7 days when stored stem-up in a paper bag in the refrigerator. They can also be cooked and stored in a sealed bag for several months in the freezer.
Ethnic/Cultural Info
Saffron milk cap mushrooms are known as Rovelló in Spain and are beloved by the Catalans in the autonomous community of Catalonia, Spain. The word Rovelló translates to mean "the rusty one" in Catalan and refers to the mushroom's orange-red latex released when the gills are scratched. Rovelló mushrooms are sold in large piles at local markets when in season, and the crunchy mushrooms are favored for their meaty consistency, incorporated into stews and soups, sauteed with vegetables, or cooked into sauces. The most common preparation in Catalonia is to cook the mushrooms on low heat with the gill side up. Once cooked, the mushrooms are mixed with olive oil, fresh herbs, garlic, and salt. Along with purchasing the mushrooms in local markets, Catalans often venture into forests with family, friends, and meet-up groups to sustainably harvest Saffron milk cap mushrooms. It has become a tradition to annually forage the fungi, and many Catalans joke it is an unofficial sport of the region.
Geography/History
Saffron milk cap mushrooms are native to Europe and have been growing wild since ancient times. The mushrooms grow only on forest and woodland floors and have a mycorrhizal relationship with tree roots, meaning they live with the roots symbiotically, sharing nutrients to benefit both the tree and fungus. Saffron milk cap mushrooms are primarily found in coniferous woodlands, especially around pine, spruce, and oak trees. Species of Saffron milk cap mushrooms within the Lactarius genus were spread in the early ages into Asia. There are also varieties discovered in North America that are similar but slightly different from European mushrooms. These North American milk caps are sometimes confusingly labeled as Saffron milk caps. Over time in Europe, foragers began searching for Saffron milk cap mushrooms to sell in local markets, and the fungus became a favored culinary ingredient for its coloring and meaty nature. Saffron milk cap mushrooms were described and classified in 1753 by Swedish botanist Carl Linnaeus in Species Plantarum but were later reclassified in 1821. The mushrooms were also introduced to Australia, where many legends surround how the fungus arrived on the continent, ranging from spores blowing in the wind to people purposely inoculating the forests for monetary gain. Today Saffron milk cap mushrooms are foraged from the wild and are sold through fresh markets in Europe, Asia, the United States, and Australia. They are also gathered fresh, dried, and sold as prepackaged goods through online retailers.
Recipe Ideas
Recipes that include Saffron Milk Cap Mushrooms. One

is easiest, three is harder.
Podcast