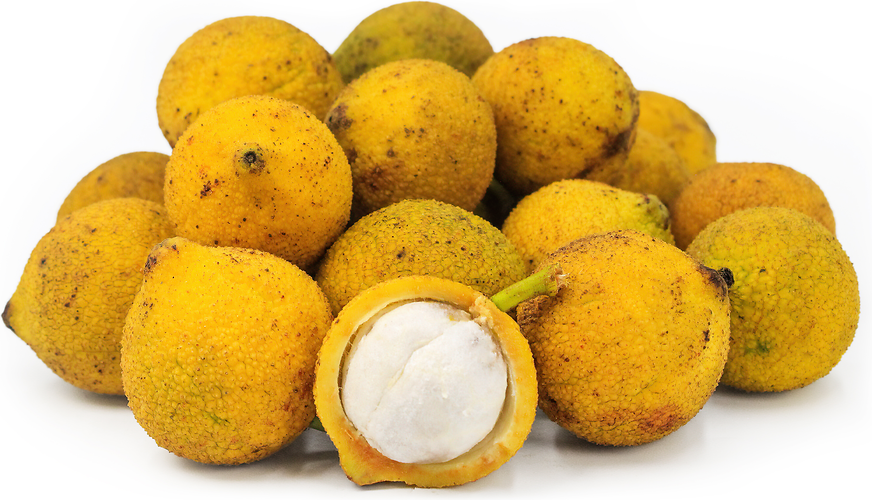 Madroño Fruit
Inventory, lb : 0
Description/Taste

Madroño fruits are small in size, averaging 4 to 6 centimeters in length and 3 to 4.5 centimeters in diameter, and have a round, ellipsoidal, to ovoid shape with a tapered, pointed tip on one end. The rind is semi-thick, hard, and rough, covered in small nodes, protrusions, wrinkles, and bumps, creating a textured surface. The leathery rind also ripens from yellow-green to a golden yellow or bright yellow hue, varying in color depending on the growing environment. The rind can be easily opened by hand, revealing segmented white to translucent flesh. Each fruit generally contains 1 to 3 segments, and the flesh is soft, aqueous, and pulpy. The flesh is also tightly adhered to an oval, dark brown, elongated seed ranging from 1 to 2 centimeters in length. These seeds should not be eaten and are discarded after the pulp has been consumed. Madroño fruits release a perfumed scent when ripe and have a sweet and sour, subtly acidic taste with fruity, sugary, and citrus nuances.


Seasons/Availability

Madroño is available in the rainy season in Central and South America, typically fruiting from May through September.


Current Facts

Madroño, botanically classified as Garcinia madruno, is a tropical species belonging to the Clusiaceae family. The bright yellow, textured fruits grow on small evergreen trees extending 8 to 15 meters in height and are primarily a wild species. Madroño fruits are also planted in home gardens throughout Central and South America on a small scale. The name Madroño, translating to "Arbutus," was given to the species by the Spaniards, as they thought the fruits resembled the red fruits of the Strawberry Tree or Arbutus unedo. Despite their shared bumpy appearance, Strawberry Tree fruits and Madroño belong to different botanical families, and the shape of the pulp is distinct in each species. Madroño is also known as Ocoró, meaning "acid or sour" in the Chiquitano dialect spoken in Bolivia and Brazil, and Camururu, meaning "yellow" in the Tacana dialect of a people group in Bolivia. In the modern day, Madroño only fruits for a limited season each year, and the fruits fall from the tree when ripe. The fruits are not commercially cultivated and are primarily localized to home gardens and wild populations. Some select growers also produce small quantities of the fruits for local markets throughout South and Central America. Ripe Madroño is typically consumed fresh or incorporated into dessert preparations and beverages.


Nutritional Value

Madroño is a source of potassium to balance fluid levels within the body, calcium to build strong bones and teeth, and iron to develop the protein hemoglobin for oxygen transport through the bloodstream. The fruits also provide vitamin A to maintain healthy organ functioning, magnesium to regulate muscle and nerves, and other nutrients, including phosphorus, manganese, zinc, and copper. Among some people groups in South America, the yellow latex extracted from the tree is used to soothe sores and heal ulcers.


Applications

Madroño has a sweet and sour taste suited for fresh preparations. The fruits are only available for a season in select fresh markets, limiting their use in culinary preparations. Madroño is traditionally consumed straight out of hand and can be torn open using fingers or a knife. Once the rind has been opened, the segmented flesh can be popped into the mouth, sucking the juicy pulp from the inedible central seed. The seeds should be discarded after the flesh is consumed. Madroño flesh can also be extracted, blended, and used to flavor ice cream, incorporated into various desserts, or simmered into jams and jellies. Beyond fresh uses, Madroño is popularly added to juices and soft drinks throughout Central and South America. It is important to note that Madroño will not ripen off the tree and should not be harvested young. Ripe fruits will naturally fall from the tree and should be immediately consumed for the best quality and flavor.


Ethnic/Cultural Info

Madroño fruits are referenced in the famous Columbian song, "Ya Voy Toño" performed by Darío Monsalve and Su Conjunto. In the song, the fruits are used to describe a poor man who could not marry as he does not own more than two guava trees, a navel tree, and a strawberry or Madroño tree. In addition to being featured in music, Madroño fruit trees are sometimes planted in home gardens as shade trees for humans and other plants such as coffee plants.


Geography/History

Madroño fruit trees are believed by experts to be native to the Eastern Amazonian tropical lowland regions of South America. The species has been growing wild since ancient times and has been consumed by Amazonian populations as fresh food. Over time, Madroño fruit spread throughout Central and South America, ranging from Brazil to Nicaragua and stretching from the lowlands to elevations up to 1200m in the Andes. This prolific fruit tree is widely found in all regions of these areas and can thrive in many environments, including humid forests, tropical dry forests, roadsides, sandy soil, and flood plains. It is also planted in home gardens. Madroño is not commercially grown and is only offered on a limited basis through fresh markets in Central and South America. The fruits were also introduced to South Florida markets as rare, specialty fruits.