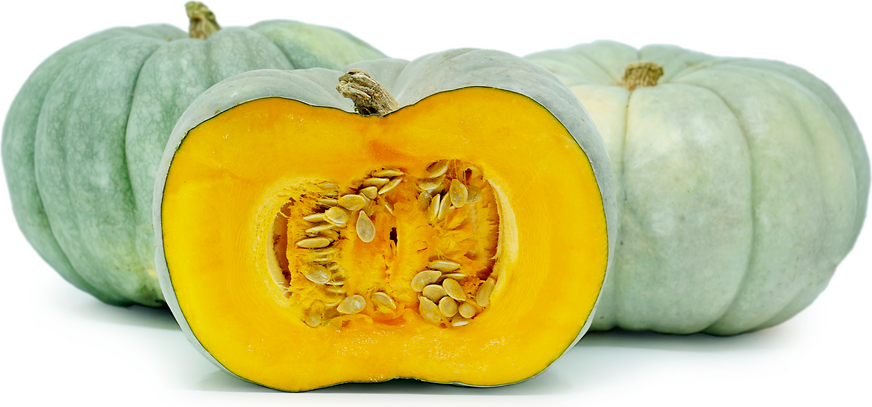 Blue Pumpkins
Inventory, lb : 0
Description/Taste
Blue pumpkins vary in size, shape, texture, and flavor, depending on the variety. Most Blue pumpkins are medium to large varietals averaging 15 to 25 centimeters in diameter. The varieties range in shape from round and slightly flattened, ovate, to blocky with somewhat square shoulders and a flat base. The rind can be thick to thin with varying degrees of a smooth, firm, and taut surface to a bumpy texture with prominent ridging. Blue pumpkins will also display a gradient of color tones comprised of blue, green, and grey hues. Underneath the surface, the thick flesh is typically bright to dark orange and has a dense, slippery, and hard nature. The flesh also encases a central hollow cavity filled with stringy orange fibers suspending flat, oval, and cream-colored seeds. Blue pumpkins release a vegetal and sweet aroma when sliced and are most commonly utilized in cooked preparations. Some Blue pumpkin varieties can be eaten raw, but consumers generally prefer the mild, rich, and sweet flavor of the cooked pumpkins along with their stringless, smooth, and dry texture.
Seasons/Availability
Blue pumpkins are available in the fall through winter.
Current Facts
Blue pumpkins, botanically classified as Cucurbita maxima, are a category of varieties with blue-grey to blue-green toned flesh belonging to the Cucurbitaceae family. There are many different types of Blue pumpkins cultivated worldwide, found in varying sizes, shapes, and coloring, and the pumpkins are utilized as ornamental decoration or as a cooking ingredient. Blue pumpkins are native to the Americas and are one of the rarest pumpkin colorings. The pumpkin's blue-grey, sometimes green, tone is a natural genetic trait developed through traditional crossbreeding and hybridization techniques. It is important to note that the pumpkins are not genetically modified. Blue pumpkins grow on long sprawling vines extending over nine meters in length, and the varieties are favored for their unusual rind coloring contrasted with bright orange to pale orange flesh. Blue pumpkins are grown worldwide, and popular varieties include Blue Moon, Queensland Blue, Australian Blue, and Jarrahdale from Australia, Crown Prince from England, Hungarian Blue pumpkins, Turkish Blue and Istanbul pumpkins from Turkey, Beretta Piacentina and Zucca Mantovana from Italy, Blue Hubbard, Blue Lakota, Sibley or Pike's Peak from the United States, Kakai or Shishigatani from Japan, and Blue Doll, Blue Moon, Royal Blue, and Blue Max. Blue pumpkins are not widespread commercially, but the pumpkins offer a thick, smooth, and mildly flavored flesh for sweet and savory culinary preparations.
Nutritional Value
Blue pumpkins are a source of fiber to regulate the digestive tract, and beta-carotene, a natural compound within the flesh converted into vitamin A in the body. Vitamin A exhibits antioxidant-like properties to maintain healthy organ functioning, boost collagen production, and support vision. Blue pumpkins also provide vitamin C to reduce inflammation and strengthen the immune system, potassium to balance fluid levels within the body, and other nutrients, including zinc, manganese, copper, folate, magnesium, and B vitamins.
Applications
Blue pumpkins have a subtly sweet and vegetal flavor suited for cooked preparations and are used in sweet and savory recipes. Each type of Blue pumpkin will vary in texture and taste, but in general, Blue pumpkins are popularly roasted or steamed as a side dish, chopped into chunks and cooked with other root vegetables, or baked and drizzled in maple syrup or brown sugar for added flavoring. Blue pumpkins are also baked into scones, pies, brownies, and cakes, simmered into a puree for use as a dessert filling, added to pancake batter, quiche, and dips, or caramelized and served as a sweet. The dense nature of Blue pumpkins makes them suitable for use in curries, soups, and stews, and the entire pumpkin can be stuffed and cooked as a savory main dish. Blue pumpkins can also be cooked and tossed into pasta, added to salads, stuffed into gnocchi and ravioli, cooked into risotto, or baked into Bavarian pretzels. Beyond the flesh, Blue pumpkin seeds are edible and can be roasted as a crunchy snack. Blue pumpkins pair well with aromatics such as onions, garlic, ginger, and shallots, cheeses including parmesan, feta, and mozzarella, herbs such as thyme, rosemary, and parsley, dried fruits, and spices such as cinnamon, nutmeg, allspice, or curry powder. Whole, unopened Blue pumpkins will keep for 3 to 6 months when stored in a cool and dry location.
Ethnic/Cultural Info
Blue pumpkins are a beloved culinary variety throughout Australia. Pumpkin seeds were carried from the Canary Islands, with the first wave of colonizers sent from Europe to Australia in 1788. The settlers suffered several years of poor food rations before establishing designated farmland in 1795, allowing various New World vegetables, including pumpkins, to grow. Historically, pumpkins were one of the primary food sources and were valued for their extended storage capabilities, large size, and versatile flavor. Pumpkins have remained a culinary staple throughout Australia, and in the modern day, they are notably used in pumpkin soup. Experts believe that the creamy dish has been made in Australia since at least the late 19th century. There are many variations of pumpkin soup among chefs and home cooks throughout the continent, and the soup is served in high-end restaurants, pubs, grocery stores, and as a pre-packaged meal. Queensland Blue pumpkins are a blue-skinned varietal often used in pumpkin soups. The variety's smooth, dry flesh is naturally used as a thickener in the soup, and its sweet flavor lasts throughout the cooking process, giving the dish a distinct taste.
Geography/History
Pumpkins are native to the Americas and were believed to have been domesticated as early as 7000 to 5000 BCE. Pumpkin remains found in Oaxaca, Mexico, reveal that there were varieties of pumpkins distinct from wild pumpkins, indicating that civilizations had been selectively breeding the vining plants. The original pumpkins descended from the wild types look different from those grown today, and the varieties were spread further into North America through migrating peoples. Spanish and Portuguese explorers also carried pumpkin seeds from the New World back to the Old World, where the seeds were planted in port cities. Pumpkin seeds were also planted throughout Europe and Asia, where new varieties were naturally crossbred by farmers and scientists to create improved cultivars. Blue pumpkins are descendants of varieties from the Americas and reached the height of their production in the 20th century. Today Blue pumpkins are found on every continent except for Antarctica. Blue pumpkins are primarily found in local markets through specialty growers when in season and are sold as a novelty for culinary and ornamental purposes.
Recipe Ideas
Recipes that include Blue Pumpkins. One

is easiest, three is harder.