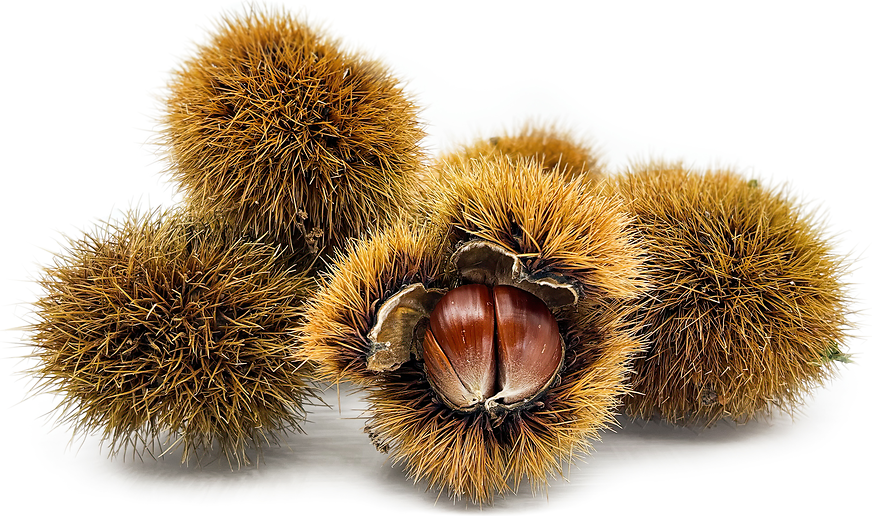 Chestnuts With Burrs
Inventory, lb : 0
Description/Taste

Chestnuts with burrs vary in size and shape, depending on the species and variety, and are comprised of several nuts enveloped in the spiny burr. The burrs, also known as cupules, average 5 to 11 centimeters in diameter and grow in clusters or pairs on the tree's branches. Each burr transforms from bright green to golden yellow-brown with maturity and is covered in elongated, slender, sharp, and firm spikes. Burrs cannot be handled without proper gloves; even with gloves, the sharp spines can poke through the protective material, irritating the skin. When the burrs mature, they split open in 2 to 4 sections and release 1 to 7 nuts showcasing one flat side and one rounded edge. The nuts have a dark red-brown, outer layer called the husk or peel that is hard, smooth, and glossy. When the husk is removed, there is a second thin skin known as the episperm that envelops the edible flesh of the nut. The flesh is grooved and golden yellow, ivory, to cream-colored. Chestnut flesh has a high starch and moisture content, and over time, the starch is converted into sugar while the moisture decreases. Ripe Chestnuts will give slightly when pressed and have a mild, crunchy, firm, subtly bitter, and astringent flavor when eaten raw. Cooked Chestnuts develop a mellower, sweet, nutty, and buttery taste and have a soft, potato-like texture.


Seasons/Availability

Chestnuts are available in the early fall through spring, with a peak season in October through December.


Current Facts

Chestnuts are a part of the Castanea genus, and the genus is comprised of thirteen species belonging to the Fagaceae family. There are four main species: the European Chestnut, Castanea sativa, American Chestnut, Castanea dentata, Japanese Chestnut, Castanea crenata, and Chinese Chestnut or Castanea mollissima, and these species are commercially cultivated worldwide. Chestnuts are categorized as a nut or a fruit and grow on deciduous trees reaching 10 to 60 meters in height, depending on the species and specific variety. European Chestnuts, Castanea sativa, are also known as Sweet Chestnuts and are one of the most common species sold in commercial markets. Chestnuts can be sold in their spiky, spiny burrs, or they can be sold with the burrs removed, revealing their brown husks. Selling the nuts in the burr helps to preserve moisture, and the burrs should be discarded after the nuts are removed. Historically, Chestnuts have been a prominent food and medicinal source for centuries. A common proverb states that Chestnut trees are planted not for the self but for future generations, as the trees take 15 years to bear fruit and develop their best yields at approximately 50 years of age. It is important to note that Castanea species are distinct from horse chestnuts, a species within the Aesculus genus. Horse chestnuts are not edible and are considered toxic. Their husk is distinguished by their bumpy, fleshy, sharp nature, unlike edible Chestnuts encased in their spiny, bristle-like burrs. Horse chestnuts are round and smooth, while Chestnuts are smooth, slightly flattened, and have a prominent point or tassel on one end.


Nutritional Value

Chestnuts are a source of copper to develop connective tissues, vitamin C to boost the immune system, manganese to assist in calcium absorption, and potassium to balance fluid levels within the body. The nuts also provide vitamin E to reduce inflammation, phosphorus to help with energy storage, iron to produce the protein hemoglobin for oxygen transport through the bloodstream, antioxidants to protect the cells against the damage caused by free radicals, fiber to regulate the digestive, and other nutrients, including selenium, B vitamins, zinc, calcium, and magnesium. Chestnuts contain low levels of tannic acid, creating a subtly bitter taste when raw. Tannic acid can sometimes cause an upset stomach in more sensitive individuals. Beyond the nuts, Chestnut leaves are used in natural European medicines as a topical painkiller. Tea made from the leaves is also thought to help with respiratory ailments and indigestion.


Applications

Chestnuts can be consumed raw or cooked, but most consumers choose to cook the nuts to develop a sweeter taste and softer consistency. Fresh Chestnuts must be cured for 2 to 3 weeks to transform the starches in the nut to sugar, giving them a sweeter, more palatable taste. When Chestnuts are sold in their spiny burrs, they typically need to be removed from the husk and stored in the refrigerator for a few weeks to cure. The nuts can also be cured at room temperature for a few days if they are going to be consumed relatively quickly. Most Chestnuts sold without burrs in stores have already been cured and are ready to eat. Chestnuts are popularly roasted, boiled, steamed, fried, or grilled. Roasting the nuts develops a texture similar to baked potatoes, and the flavor becomes delicate, sweet, and nutty. Roasted Chestnuts are a customary snack served in Europe during the holidays, and the nuts are sometimes sprinkled with sugar to develop a sweeter taste. Chestnuts can be pureed into sauces, added to meats, crepes, or pancakes, boiled and mashed, or simmered into soups and stews. The nuts can also be fried into fritters, chopped and tossed over salads, roasted squash, or grain bowls, or ground and cooked with honey and milk as a porridge-like breakfast food. One of the most famous uses for Chestnuts is to make a type of flour. The dried nuts are ground into a powder and contain almost twice as much starch as a potato. The flour can be added to pasta, gnocchi, and polenta or baked into pies, tarts, bread, and cakes. Chestnuts can also be cooked and stuffed into turkey, a traditional recipe during Thanksgiving in the United States, or they are candied and consumed as a sugary snack, a common dish in Turkey and France. Chestnuts complement sweet or savory dishes, and the mild nuts can be added to meat main dishes, appetizers, or sweet desserts. The nuts are also used to produce rum, brandy, wine, and beer. Chestnuts pair well with meats such as pork, beef, goose, poultry, duck, and pheasant, red cabbage, brussels sprouts, spices including rosemary, thyme, and parsley, oranges, and flavorings such as balsamic, bergamot, and honey. Whole, unopened Chestnuts still in their burrs can be stored in a cool and dry place. Once opened, the nuts should be kept in the refrigerator for 2 to 3 weeks. Dried Chestnuts will keep for several months in a sealed container, and the nuts can be frozen for 3 to 4 months.


Ethnic/Cultural Info

The largest and oldest Chestnut tree ever recorded is still alive and growing on the island of Sicily in the Mediterranean Sea off the coast of Italy. The tree is known as Castagno di Cento Cavalli, translating to the "Tree of the Hundred Horses," and acquired this name through local Sicilian folklore. Legend has it Queen Joan I of Aragon was traveling from Spain to Naples when she stopped in Sicily. While traveling along Mount Etna, the Queen of Aragon and one hundred of her knights were caught in a sudden thunderstorm and sought shelter beneath a large Chestnut tree. The leafy, wide-spreading tree was said to have protected the Queen's entourage for the duration of the thunderstorm, and the tree was later named Castagno di Cento Cavalli in honor of its service to the Queen. In the modern day, the Chestnut tree still resides in Sant'Alfio in the province of Catania and is situated along the eastern slope of Mount Etna, an infamous active volcano. The tree grows approximately 7.5 kilometers from the volcano's crater and has survived numerous lava flows. The "Tree of the Hundred Horses" has the Guinness World Record for having the greatest tree girth, measuring 57.9 meters, and the tree is also believed to be the oldest, ranging from 2,000 to 4,000 years. As it has aged, the Chestnut tree has split into multiple trunks above ground but still shares the same roots below ground. The tree also had a house that was once built in the center of the trunks, but it was eventually taken down to protect the tree and turn the site into a tourist attraction.


Geography/History

Species within the Castanea genus are native to temperate regions throughout the Northern Hemisphere and have been growing wild since ancient times. Approximately thirteen species of Chestnuts are found in North America, Europe, and Asia, and each species has its own history and geographical spread. European or Sweet Chestnuts, Castanea sativa, are thought to be native to the Mediterranean and spread over time throughout Southern Europe. Chestnuts were also prevalent in Asia Minor and were extensively grown in Sardis, an ancient city in Turkey. Historians document that the Romans planted Chestnut trees along the roads used for their travels, especially under Alexander the Great, and the trees were viewed as a food source. In East Asia, Castanea mollissima, Castanea crenata, and other species were native to China, Japan, India, Taiwan, and Korea. Chestnuts were grown in Japan before rice cultivation, and the nuts have been incorporated into traditional recipes served during the holidays. In North America, Castanea dentata has been growing since the Eocene Epoch, approximately 54 million years ago, and the species naturally spread throughout temperate forests. The American Chestnut was prevalent in North America until a fungus almost destroyed the species in 1904. Today, many of these Chestnut species have spread worldwide, and several species can be found in the same region. Chestnuts are commercially grown and exported through Italy, Portugal, France, and Spain, shipping the nuts to other areas of Europe and the United States. Chestnuts are also commercially produced in China, Argentina, Chile, Brazil, Australia, and in Michigan in the United States. Chestnut trees thrive in temperate woodlands, gardens, parks, and hedgerows, and when the nuts are in season, they are foraged from wild trees or grown commercially and sold in grocers, distributors, and other retailers.