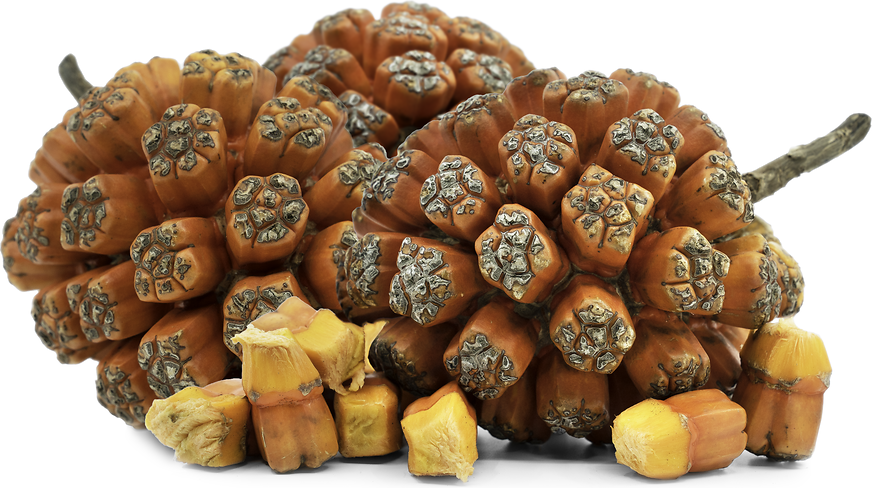 Hala Fruit
Inventory, lb : 0
Description/Taste

Hala fruit is a large aggregate fruit, averaging 8 to 20 centimeters in diameter and 10 to 30 centimeters in length, and has an oblong to oval shape. The fruit is comprised of many tightly packed, square to irregularly shaped wedge-like drupes, also known as phalanges, cones, or keys. Each key has a rugged, dense, and smooth exterior, capped with rough brown patches, and the keys extend in all directions around a central stalk. When ripe, Hala fruit ranges in color from bright red, orange-red, golden yellow, green, to yellow-orange. The keys can be individually torn from the fruit to reveal a thin layer of fibrous, chewy flesh at the end of the interior portion of the key. The bright orange flesh may be minimal, depending on the size of the fruit, and has a somewhat woody, stringy, and aqueous nature similar to chewing on sugar cane. Some fruits also have an edible red-brown seed in the center that can be roasted and consumed. Hala fruit emits a mild, floral aroma when ripe, but if left to overripen, it can develop an unpleasant, pungent smell. The flesh is traditionally chewed to extract the juices and discarded due to its fibrous nature. The flesh can also be blended and strained into juice or cooked into sweet syrups and jams to highlight the fruit's unique taste. Hala fruit has a mild, sweet, and tropical flavor, often likened to the taste of jackfruit or a blend of pineapple and mango nuances combined with sugar cane juice and subtle artificial banana undertones.


Seasons/Availability

Hala fruit is available year-round in select tropical to subtropical climates.


Current Facts

Hala fruit, botanically classified as Pandanus tectorius, is a rare, tropical species belonging to the Pandanaceae family. The fruits grow on widely rooted and branched trees known as Pandanus, and the trees can grow between 4 to 14 meters in height. Hala fruit is not commercially cultivated and is gathered from wild plants. The trees cannot be commercially grown as only female trees produce edible fruit, and it takes over twenty years for the trees to fully mature to bear fruits. Hala fruits have also remained localized to their warm, tropical growing sites, limiting the fruit's exposure to global markets. Throughout its native regions, Hala fruit trees may also be identified as Pandanus, Screwpine, Tahitian Screwpine, Hala Tree, Beach Pandan, Pandanus Palm, and Seashore Screw-Pine. Hala fruit is not widely consumed and is a specialty fruit eaten among indigenous communities and fruit enthusiasts. The fibrous flesh can be eaten raw or cooked and releases a sweet, tropical juice favored for its unusual flavoring and a mild, pleasant aroma.


Nutritional Value

Hala fruit is a source of fiber to regulate the digestive tract and beta-carotene, a compound converted into vitamin A in the body to assist in maintaining healthy organ functioning. The fruits also provide calcium and phosphorus to build strong bones and teeth, iron to develop the protein hemoglobin for oxygen transport through the bloodstream, vitamin C to strengthen the immune system while reducing inflammation, and other antioxidants that protect the cells against the damage caused by free radicals. It is important to note that the flesh contains oxalic acid, which may cause a slight tingling sensation in the throat and mouth, sometimes leading to more serious allergic reactions. This acid can be commonly found in other produce items such as spinach, grapefruit, and berries. It is up to the consumer's discretion to decide whether the fruit should be eaten or avoided as each individual has different needs and sensitivities.


Applications

Hala fruit has a tropical, sweet flavor suited for fresh and cooked preparations. The keys are sometimes challenging to pull from the fruit, and the first few segments may need to be knocked out with a hammer or knife. Once a few segments are removed, individual keys can be wiggled and tugged until they naturally loosen from the center stalk. Once opened, the flesh at the end of each key is highly fibrous and dense and is not typically swallowed. To extract the juice, the flesh can be chewed and then spit out, or it can be sliced from the key, blended, and strained. Hala fruit juice is incorporated into smoothies, cocktails, or other tropical beverages, or it is cooked into syrups and glazes to drizzle over desserts such as cakes, ice cream, or pastries. The juice can also be used as a flavoring in baked goods and desserts. In addition to blending and straining the juice, Hala fruit flesh can be simmered into preserves, jams, and candies, dried and processed into a powder, or boiled, cooked, and dried to create a paste. This paste has a similar consistency and flavor to date paste and can be used as a substitute in recipes. One unusual element of Hala fruit is isoamyl acetate, an organic compound naturally found in the flesh. This compound is used to make artificial banana flavoring in candies and culinary goods, giving the fruit's flesh a subtle banana taste. Beyond the fruits, Hala leaves are used among some populations as a flavor and fragrance enhancement to sauces, curries, and stews. The leaves are also used to flavor meat dishes. Hala fruit pairs well with other fruits such as papaya, coconut, pineapple, mango, citrus, and strawberry, vanilla, chocolate, and pandan leaves. Ripe Hala fruits should be immediately consumed for the best quality and flavor.


Ethnic/Cultural Info

Hala trees are widely found throughout Hawaii and were thought to have been spread in a fit of anger by one of the gods in ancient times. Legend has it that the multi-branched aerial root system of the tree once entangled a canoe belonging to Pele, the goddess of fire, creation, and destructive natural forces. Pele was infuriated by the roots and ripped the tree into shreds, flinging pieces of the tree across the islands. The Hala tree was quickly rooted wherever it was launched, becoming established throughout the islands. Historically, Hala or Pandanus trees have been valued by the Hawaiians for their useful nature. The leaves were woven into placemats, baskets, canoe sails, and protective roof coverings, and the pollen of the flowers was mixed into meals, sprinkled onto linens, or rubbed on the skin as a natural libido enhancer. The Hala fruit keys were also traditionally strung into leis to symbolize times of spiritual or physical transitionary periods. There is some controversy regarding Hala fruit leis as they can mean many different things, depending on the giver and the receiver. Some believe the Hala lei should only be given at the end of a specific phase, time, or venture, and if given at the start of something, it is considered bad luck.


Geography/History

Hala fruit is native to tropical and subtropical regions of Southeast Asia, the Pacific Islands, and Eastern Australia and has been growing wild since ancient times. The fruits grow on Pandanus, a palm-like shrub or tree that thrives in swampy woodlands, mangroves, and coastal vegetation. Hala fruits have remained primarily localized to their native growing regions and are challenging to find as they are not commercially cultivated. Some seeds were carried and planted in Florida and other select tropical areas, but most of the fruits are found in their native habitats. Today Hala fruits are found in parts of Thailand, Malaysia, the Philippines, Sri Lanka, Southern India, Myanmar, Indonesia, Papua New Guinea, Melanesia, Micronesia, Polynesia, and Australia. The fruits are rarely exported, but they are sometimes shipped to other regions, including Europe, as a novelty. The Hala fruit featured in the photograph above was sourced from Raya Produce in Borough Market, London, England.