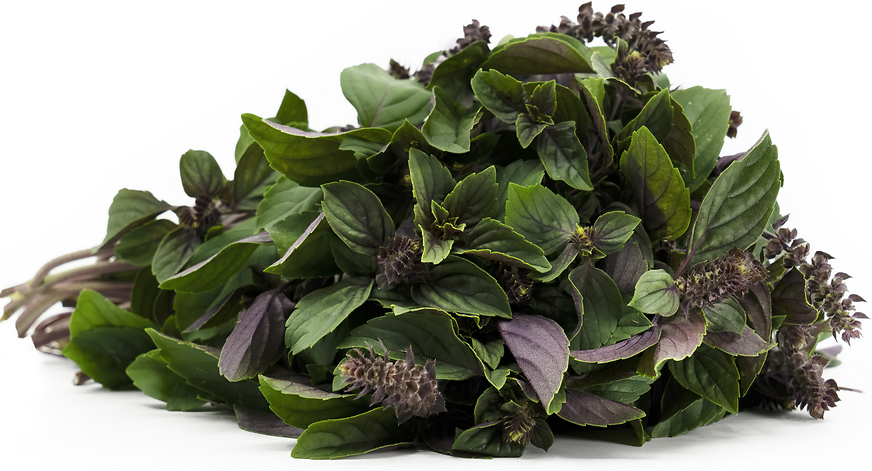 African Blue Basil
Inventory, lb : 0
Description/Taste
African Blue basil leaves widely range in size, depending on plant maturity, and have an elliptical, slightly tapered shape ending in a soft point on the non-stem end. The leaves are flat, broad, and smooth, covered in prominent veining with lightly serrated edges. When young, African Blue basil leaves are dark purple, and as they mature, they transition to purple-green, followed by bright green. The leaves also showcase distinct dark purple and green speckling on the underside and maroon veining on the surface. African Blue basil leaves are crisp, semi-chewy, and succulent with an earthy, herbaceous, and woodsy flavor with notes of menthol, musk, and cloves. Beyond the leaves, the plants also bear fuzzy, purple-green stems and long stems with a series of small purple buds that eventually bloom into lavender flowers. When flowering, African Blue basil has a pungent, camphor-like aroma.
Seasons/Availability
African Blue basil is available year-round with a peak season in the summer.
Current Facts
African Blue basil is a rare, aromatic herb that can grow up to one meter in height, belonging to the Lamiaceae family. The flowering plant was found naturally growing in a nursery in the late 20th century and is believed to be a cross between camphor basil, Ocimum kilimandscharicum, and dark opal basil, Ocimum basilicum. African Blue basil is primarily grown as an ornamental, highly favored for its evergreen, green and purple leaves, bushy, fast-growing nature, and aromatic, bright purple flowers. The variety is one of the few perennial basils and is sterile, meaning it will not produce seeds. This unique trait allows the plant to stay in bloom for a longer season, attracting pollinators and creating an aesthetically pleasing landscape. In addition to its ornamental nature, all parts of the African Blue basil plant are edible, including the stems, flowers, and leaves, which are incorporated by home chefs into a wide array of culinary applications.
Nutritional Value
African Blue basil leaves provide vitamins A and C, antioxidants that boost the immune system, manganese to assist with protein digestion, and vitamin K to promote faster wound healing. The greens are also a source of magnesium, calcium, and iron. In addition to vitamins and minerals, African Blue basil contains many essential oils and compounds, including limonene, eugenol, citronellol, camphor, and camphene, which contribute antimicrobial and anti-inflammatory properties.
Applications
African Blue basil is best suited as a fresh flavoring or finishing garnish. The leaves are popularly blended into pesto, chimichurri sauce, salad dressings, and dips, or they are sprinkled over soups, tossed into salads, or layered over bruschetta. African Blue basil leaves can also be mixed into pasta, stuffed into sandwiches, used as a pizza topping, substituted as a flavorful twist in caprese, or integrated into desserts. It is important to note that the leaves carry a strong flavor and should be used in moderation not to overpower a dish. In addition to the leaves, African Blue basil flowers are edible and can be used as a garnish in soups, salads, and grain bowls. They can also be incorporated into cocktails, floated on sparkling beverages, or stirred into teas. African Blue basil pairs well with parsley, cardamom, beverages such as black tea, ginger ale, and champagne, green beans, tomatoes, potatoes, lentils, rice, and feta cheese. African Blue basil leaves and flowers should be used immediately for the best quality and flavor. The leaves can be wrapped in a paper towel, placed in a plastic bag, and stored in the refrigerator for 1 to 3 days.
Ethnic/Cultural Info
African Blue basil was selected as a preferred variety in 2006 for Florida gardens by the Florida Landscape Growers and Nursery Association, or FNGLA. This state association is one of the largest in the nation and seeks to unite horticulturalists throughout Florida to advance the growing nursery and landscape industry. Each year, FNGLA selects plants well-suited for home cultivation in Florida's subtropical to tropical climate. African Blue basil was chosen as a Florida Garden Select choice for its hardy, productive, and ornamental nature. The plants can expand in height and width, creating a bushy appearance, and the leaves showcase dark purple and green speckled hues, providing an attractive contrast to other garden plants. The basil variety was also selected for its long flowering season. Pollinators, especially bees, are highly attracted to the light purple flowers, and the plant is sterile, preventing the flowers from ever going to seed. This sterility prolongs the blooms on the plant and allows pollinators a stable location to retrieve pollen for an extended season.
Geography/History
African Blue basil was first discovered in the early 1980s as a natural hybrid between the East African camphor basil and a garden basil variety known as dark opal. A nursery owner in Ohio noticed the new variety growing in between plantings of the camphor basil and dark opal basil in 1983, and soon after, the owner began to propagate the cultivar through plant cuttings. Today African Blue basil is a specialty cultivar that is challenging to find, primarily sold through online retailers or exotic nurseries. The large shrub is also grown from cuttings donated from home gardens, as African Blue basil cannot be grown from seed.
Recipe Ideas
Recipes that include African Blue Basil. One

is easiest, three is harder.