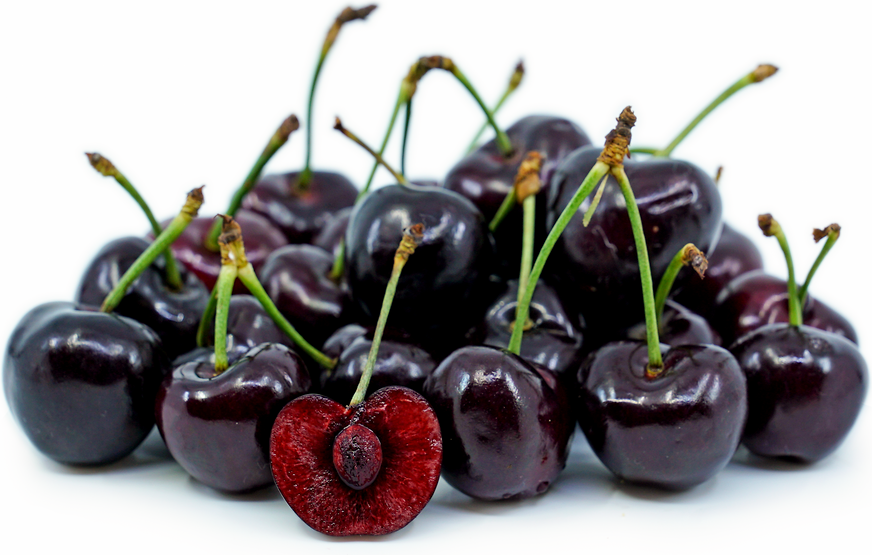 Tieton™ Cherries
Inventory, lb : 0
Description/Taste

Tieton™ cherries are a large varietal, averaging 2 to 4 centimeters in diameter, and have a uniform, cordate shape with pronounced, curving shoulders that taper slightly to a narrower, flat base. The fruits are connected to the tree through thick and fibrous green stems, and the skin is semi-thin, taut, smooth, and glossy. Tieton™ cherries have a pigmented coloring, showcasing red, mahogany, to dark purple, almost black hues. Beneath the tightly adhered skin, the flesh is crimson, striated with dark red-purple hues, especially surrounding the pit, and has an aqueous and firm texture, containing a snap-like, crisp consistency. The flesh also encases a central pit with a tiny seed. Tieton™ cherries generally contain around 16 to 18% sugar, which contributes to a mild, sweet, and tangy flavor.


Seasons/Availability

Tieton™ cherries are available for a few weeks in the early summer through mid-summer.


Current Facts

Tieton™ cherries, botanically classified as Prunus avium, are a sweet-tart variety belonging to the Rosaceae family. The early-ripening fruits were created in Washington State in the late 20th century and were selectively bred as a firm-fleshed cultivar. Tieton™ cherries ripen approximately 6 to 9 days before bing cherries, another popular commercial variety. In Washington state, bing cherries are so common that they are used as a benchmark to describe the seasonality of other cherry varieties. Tieton™ cherries are also notably larger than bing cherries, distinguishing them from other types in markets. The cherry's thick green stem allows the cherries to hold in moisture for extended periods, making them suitable for export. In modern-day markets, Tieton™ cherries are not a highly productive cultivar, nor are they self-fertile, but they are valued among growers for their large size and long shipping abilities, filling a need for a premium export variety during the early fruiting season.


Nutritional Value

Tieton™ cherries are an excellent source of vitamin A to maintain healthy organ functioning and contain antioxidants, including vitamin C, to strengthen the immune system, reduce inflammation, and protect cells against free radical damage. The cherries also provide calcium to protect bones and teeth, fiber to regulate the digestive tract, potassium to balance fluid levels within the body, and lower amounts of iron, zinc, magnesium, and vitamin K.


Applications

Tieton™ cherries have a sweet-tart flavor well suited for fresh or cooked preparations. The cherries can be consumed straight out of hand, discarding the pit, or they can be sliced and added to green and fruit salads. Tieton™ cherries can also be halved and added to parfaits, yogurt, or grain bowls, or they can be coated in chocolate as a bite-sized dessert. The fruit's sweet-tart taste balances other flavors in smoothies, fruit punches, and juices, and the cherries are commonly incorporated into wine, ciders, and sangria. In addition to fresh preparations, Tieton™ cherries can be simmered into jams, syrups, preserves, and compotes, or they can be baked into bread, scones, cobblers, cakes, and pies. Tieton™ cherries can also be cooked into sauces and served over savory dishes, including roasted meats and stuffing. Tieton™ cherries pair well with other fruits, including apples, pears, peaches, and citrus, herbs such as sage, basil, and mint, vanilla, chocolate, caramel, and spices, including cloves, nutmeg, cinnamon, and cardamom. Whole, unwashed Tieton™ cherries will keep 5 to 7 days when stored in the coldest part of the refrigerator. The cherries can also be frozen or canned for extended use.


Ethnic/Cultural Info

Tieton™ cherries are named after the Tieton River, a tributary of the Naches River in Yakima County, Washington. Tieton is derived from a corruption of the word "Tai-Tin," a name given to the river by the Taitinapam, a native tribe who lived in Washington. Tieton was also given as the name of a small town at the top of the Yakima Valley; a region considered the birthplace of Washington State's wine industry. The Yakima Valley receives over 300 days of sunshine, has a high-desert climate, and contains rich volcanic soil that makes it home to several farms, which produce over forty kinds of commercial crops. Within this agriculturally rich valley and in the nearby town of Tieton, farmers markets, breweries, wineries, art spaces, and farm-to-table events have been established to market the diversity of this region. One of the unique products produced in Yakima Valley is cherry cider, made by Tieton Cider Works. The cider boasts a balanced, sweet-tart flavor mixed with hints of cinnamon and cloves. Cherry cider is becoming a popular specialty cider and is favored as a unique variation of more common apple and pear ciders.


Geography/History

Tieton™ cherries were developed at Washington State University's Irrigated Agriculture Research and Extension Center (IAREC) in Prosser, Washington. The cherries were selected from a cross between early burlat and stella cherries in 1971, bred by Tom Toyama, and were initially known as PC 7144-6. 1n 1982, PC 7144-6 cherries were released to commercial markets under the trademarked name Tieton™, and the cherries were favored among growers for their early-ripening nature and firm flesh. Tieton™ cherries were submitted for a U.S. Plant Patent in 1998, the application was granted in 2000 under USPP #11385, but it later expired in 2018. Today Tieton™ cherries are grown in the Pacific Northwest of the United States and are seasonally offered through specialty retailers, farm stands, and farmer's markets.