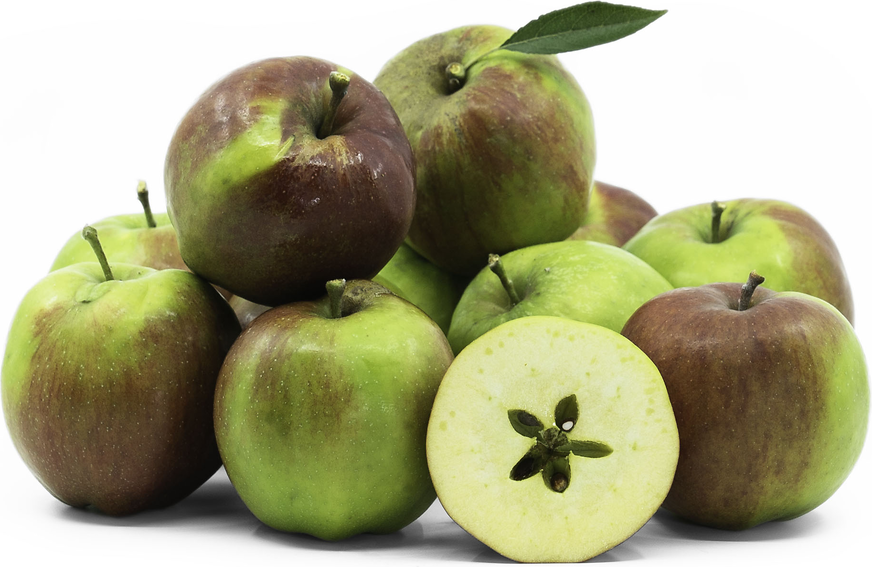 Cornish Gilliflower Apples
Inventory, lb : 0
Description/Taste
Cornish Gilliflower apples are a medium to large variety, averaging 5 to 7 centimeters in diameter, and have a round to conical appearance. The apples typically have flat to lopsided shoulders tapering to a five-pointed ribbed base. The apple's skin is thick, slightly bumpy, and matte with a yellow-green base, covered in dark red to crimson blush. The volume of blush will vary depending on the amount of sunlight during cultivation, and the skin is also covered in thin patches of light brown russet, giving some spots a sandy texture. Underneath the surface, the cream-colored to pale yellow flesh is dense, firm, and dry with a chewy, crunchy consistency. The flesh also encases a moderately-sized fibrous core filled with tiny black-brown seeds. Cornish Gilliflower apples release an aromatic floral, vegetal, and clove-like scent when sliced. The variety is known for its rich, sweet, and sharp perfumed flavor with honeyed and floral nuances.
Seasons/Availability
Cornish Gilliflower apples are harvested in the mid to late fall and can be stored through the winter.
Current Facts
Cornish Gilliflower apples, botanically classified as Malus domestica, are an heirloom variety belonging to the Rosaceae family. The apple was discovered in Cornwall, England, in the early 19th century and was selected for cultivation for its distinct sweet and sharp flavor. Cornish Gilliflower apples are a late-season variety that reached the height of its fame during the Victorian Era, a popular apple planted in estate gardens. The variety was traditionally consumed as a dessert apple throughout Europe, but it was also sometimes incorporated into ciders for its complex, floral flavoring. Over time, modern apples have overshadowed this variety in the rise of commercial production, but Cornish Gilliflower apples have remained a favorite heirloom variety, also known as a heritage apple, in England. In some regions of Europe, Cornish Gilliflower apples are known as Calvaille d'Angleterre. The name is also sometimes spelled as Cornish Gillyflower apples.
Nutritional Value
Cornish Gilliflower apples have not been studied for their nutritional properties. Like other apples, they are a source of vitamin C to strengthen the immune system, boost collagen production in the skin, and reduce inflammation. The apples also provide fiber to regulate the digestive tract, potassium to balance fluid levels within the body, calcium to build strong bones and teeth, and other nutrients, including zinc, copper, magnesium, boron, B vitamins, iron, and vitamin K.
Applications
Cornish Gilliflower apples have a distinctly sharp, sweet, floral, and spice-filled flavor suited for fresh preparations. Historically, Cornish Gilliflower apples were consumed straight out of hand as a dessert variety. Dessert apples were often used as edible table decorations in the Victorian Era. They would be arranged in pyramids on either end of the table with small sample plates of fruit to entice diners to take one. The lavish table decorations were constructed to exude wealth and excess, and the apple pyramids displayed the various in-season apples harvested from the home's private garden. In the modern day, apples are still eaten fresh to savor their flavor. They are also utilized in any recipe calling for raw apples. Cornish Gilliflower apples can be chopped into salads, shredded into slaws, sliced and served on charcuterie boards with cheeses, or cut and used as a topping over oatmeal, porridge, and waffles. While less common, Cornish Gilliflower apples are sometimes pureed into sauces, simmered into jams and jellies, or wrapped in pastry dough and baked. The variety is also pressed into juice, blended into smoothies, added to ciders, or stirred into craft cocktails. Cornish Gilliflower apples pair well with spices such as nutmeg, cinnamon, and cardamom, fruits including citrus, mango, and cranberry, and herbs such as mint, rosemary, parsley, and sage. Whole, uncut Cornish Gillyflower apples will keep for 1 to 3 months after harvest and will improve in flavor with storage. As the apples are kept in a cool and dark location, they will develop a more substantial floral quality.
Ethnic/Cultural Info
Cornish Gilliflower apples received their name from their site of origination in Cornwall and an old English term used for "cloves." Victorian author and botanist Robert Hogg mentioned in his book The Fruit Manual, A Guide To The Fruits and Fruit Trees of Great Britain that the name Gilliflower may be a corruption of the French word "girofle," meaning "clove." This apple was given its spice-filled moniker as the pink blossoms are said the smell like cloves. In addition, some consumers claim to detect notes of clove in the apple's flesh when sliced. Cornish Gillyflower apples gained notoriety during the Victorian Era, mainly in part to Sir Christopher Hawkins, a shrewd politician and businessman. Sir Hawkins came from a lineage of parliament members and became a member when he was 26. Despite his family, he was infamously known for his "borough mongering," the act of buying and selling parliamentary seats of struggling boroughs in England as a favor or in exchange for money. Sir Hawkins also inherited large family estates and purchased land throughout his career. Still, he was notoriously stingy with family and friends, earning him the nickname of being a miser. Legend has it that a rhyme was created about Sir Hawkins, stating: "A large house and no cheer, a large park and no deer, a large cellar and no beer, Sir Christopher Hawkins lives here." Despite his frugality and infamous reputation, Sir Christopher Hawkins was also a fellow of the Royal Society, an organization that later became the Royal Horticultural Society. Sir Hawkins's membership in the Royal Society allowed him to directly present the Cornish Gilliflower to the leaders in pomology, fast-tracking the apple for increased cultivation throughout gardens in England. After the Cornish Gilliflower apple's success, Sir Christopher Hawkins was awarded a silver medal from the Royal Society, a prestigious mark given for his accomplishment in popularizing the apple variety.
Geography/History
Cornish Gilliflower apples are native to England and were discovered in a cottage garden in Truro, a city within Cornwall in southwestern England. The apples were found in the garden around 1800 and were later introduced to the London Royal Society in 1813 by businessman and Royal Society fellow Sir Christopher Hawkins. After its introduction to the Royal Society, Cornish Gilliflower apples gained notoriety for their unusual coloring and sharp flavors. They were released to head gardeners throughout England for planting in estate gardens. The variety reached the height of its fame during the Victorian Era in the mid-19th and early 20th centuries. Within less than a decade of its discovery, the apples were carried to continental Europe for widespread planting. Today Cornish Gilliflower apples are an heirloom variety localized to home gardens in England and other regions of continental Europe. The variety never achieved modern commercial success, but it has remained a prominent novelty in home gardens. In England, Cornish Gilliflower apples are sometimes offered through U-Pick orchards, and local growers occasionally sell the variety through fresh markets. Cornish Gilliflower apples can also be seen in some home gardens throughout temperate regions of the United States. The Cornish Gilliflower apples featured in the photograph above were sourced from Brogdale Farm in Faversham, England.
Recipe Ideas
Recipes that include Cornish Gilliflower Apples. One

is easiest, three is harder.