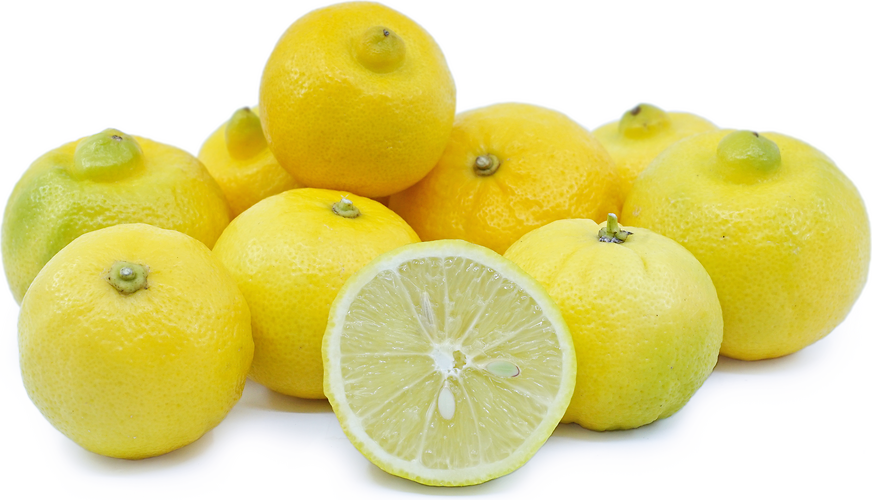 Marrakech Limonetta Lemons
Inventory, lb : 0
Description/Taste

Marrakech Limonettas are small to medium fruits with a round to slightly flattened shape, and one side of the fruit bears a noticeable depression containing a central and distinct, pointed apex. The skin is thin, lightly ribbed, semi-glossy, bright yellow, and pebbled, covered in many small oil glands that release fragrant essential oils. Underneath the surface, the flesh is divided into 10 to 11 segments by thin, white membranes and is soft, aqueous, and pale yellow, encasing a few ivory seeds. Marrakech Limonettas are aromatic with a bright, floral scent and contain high acidity, developing a sour and tart, lemon-like taste.


Seasons/Availability

Marrakech Limonettas are available year-round.


Current Facts

Marrakech Limonettas, botanically classified as Citrus limetta Risso, are a unique variety of citrus belonging to the Rutaceae family. The sour, subtly sweet fruits are not true lemons but belong to the grouping known as Limettas, a small category of citrus that closely resembles each other in appearance but differs in flavor and acidity levels. Within the Limetta grouping, Marrakech Limonettas are the sourest and most acidic of the three varieties. Marrakech Limonettas are an essential citrus used in North African cuisine and are primarily viewed as a flavoring agent. The fruits are especially valued in Morocco, where they have been cultivated for centuries and were named after the city of Marrakech. In the modern-day, Marrakech Limonettas have been introduced to regions outside of Africa and are also cultivated through specialty growers in Europe and California. The fruits are known by many different names, including Limonette de Marrakech, Boussera lemons, Moroccan Limetta, Moroccan Limonetta, Sweet Lemon, and Sweet Lime. They are also called Bergamots in France, but it is important to note that they are not the same as true bergamots, which are fruits traditionally used in perfumes.


Nutritional Value

Marrakech Limonettas are an excellent source of vitamin C, an antioxidant that boosts the immune system, increases collagen production, and reduces inflammation. The citrus also contains lower amounts of calcium to strengthen bones, iron to build proteins to help transport oxygen in the blood, and fiber to regulate the digestive tract.


Applications

Marrakech Limonettas are best suited as a flavoring agent and provide bitter, acidic notes to both fresh and cooked preparations. The fruits can be juiced and incorporated into sauces, or they can be cooked into marmalades, jellies, jams, and preserves. Marrakech Limonettas can also be preserved in salt as this method develops a sweeter, less bitter flavor. Once preserved, the fruits can be chopped and mixed into fish, chicken, or rice-based dishes, smashed over avocado toast, or sliced and mixed into salads. Preserved Marrakech Limonettas can also be blended into spreads and dips, chopped into salsas, or tossed into soups and stews. Marrakech Limonettas pair well with meats such as lamb, poultry, and pork, seafood, almonds, artichokes, olives, tomatoes, spices such as cumin, paprika, saffron, and cinnamon, chickpeas, and sesame seeds. Whole Marrakech Limonettas will keep 1 to 2 weeks when stored at room temperature and up to six weeks in the refrigerator.


Ethnic/Cultural Info

In Morocco, Marrakech Limonettas are known as Citron Beldi or L'hamd Beldi, roughly translating to mean "traditional lemon." The unusual citrus is most well-known for its use in making preserved lemons, a staple flavoring used in traditional Moroccan cuisine. Preserved lemons are created by placing Marrakech Limonettas in a large jar, and the fruits are covered in salt, left to naturally ferment in their juices. The pickled lemons are known as "mssivar," meaning "guided lemons" or "L'hamd marakad," meaning "sleeping lemons" in Moroccan, and are famously used to flavor dishes cooked in tagines, African cookware typically made from clay or ceramics. Preserved lemons introduce bright, tangy, and salty, floral flavors to savory sauces, grains, and meats, and over time, the practice of preserving Marrakech Limonettas has expanded from Morocco into other parts of North Africa and Europe.


Geography/History

Citrus is believed to be native to Asia and was introduced into North Africa sometime after 100 BCE. The ancient varieties were planted in Morocco in the 7th century, and the country's mild climate provided a suitable location for increased cultivation and breeding. While the exact history of Marrakech Limonettas is unknown, the citrus is believed by experts to be native to Morocco and was eventually introduced to neighboring countries throughout Northern Africa in early times. Marrakech Limonettas are also exported to Europe and the Middle East for sale as specialty citrus. In the United States, the citrus cultivar is grown through select citrus farms in California. The Marrakech Limonettas featured in the photograph above were grown through Mud Creek Ranch, a farm in Santa Paula that cultivates over 500 varieties of citrus.