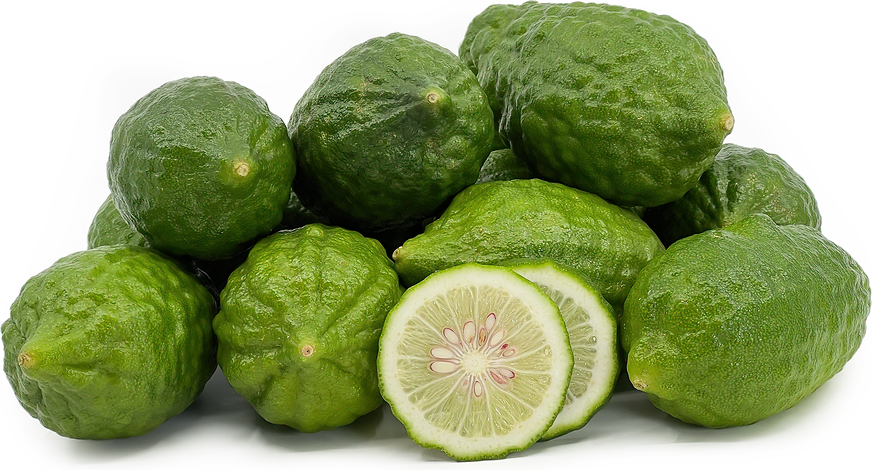 Gonhoraj Lebu
Inventory, lb : 0
Description/Taste

Gondhoraj Lebu is a small to medium-sized citrus species averaging 6 to 7 centimeters in diameter. The fruits typically bear a round to oval shape, tapering from a curved center to narrow, pointed, protruding ends. The skin is moderately thick, firm, and has a glossy, textured appearance, covered in small ridges and bumps. The skin also matures from dark green to yellow and is enveloped in tiny glands that release essential oils with a permeating fragrance. Underneath the surface, a layer of white, spongy pith encases pale green flesh divided into 12 to 13 segments by thin membranes. The flesh is relatively dry with minimal juice and is filled with many tear-drop-shaped ivory seeds. Gondhoraj Lebu releases a robust, refreshing aroma reminiscent of lemons and limes with floral, faintly fruity nuances. The fragrance often fills a room when the fruit is opened and lingers in the air for extended periods. The rind, juice, and flesh of Gondhoraj Lebu is edible and has an initially sour taste that dissipates quickly, revealing bittersweet undertones with notes of oranges and lemons.


Seasons/Availability

Gondhoraj Lebu is available year-round in Bangladesh. The citrus is also seasonally exported to markets worldwide.


Current Facts

Gondhoraj Lebu, botanically classified as Citrus macroptera, is a semi-wild citrus species belonging to the Rutaceae family. The aromatic fruits are native to Bangladesh and have been naturally growing on wild evergreen trees reaching up to five meters in height since ancient times. Bangladeshi residents treasure Gondhoraj Lebu and often keep the fruit a secret to protect its prevalence in Bangladeshi cuisine and medicinal remedies. The citrus species is used in both home recipes and through chefs at restaurants, and the leaves and rind are utilized in preparations to infuse a bright, floral, citrusy, and fruity flavor to elevate flavors within a dish. Gondhoraj Lebu is also known as Shatkora, Hathkora, Jara lemons, Sat Kara, Bengal lime, Bangladeshi lime, and Bangladeshi lemon. Despite its lemon and lime moniker, Gondhoraj Lebu is neither a lemon nor a lime and is a species often referred to as a hybrid citrus. Presently, Gondhoraj Lebu is increasing in notoriety worldwide through the publicity given by chefs, restaurants, and food journalists. The fragrant citrus is mainly used as a flavor enhancement to add complexity and depth to fresh and cooked preparations.


Nutritional Value

Gondhoraj Lebu has not been extensively studied for its nutritional properties. Like other citrus species, Gondhoraj Lebu is a source of vitamin C to strengthen the immune system, boost collagen production, and reduce inflammation. The fruits also provide potassium to balance fluid levels within the body, magnesium to regulate optimal nerve functioning, calcium to build strong bones and teeth, and other nutrients, including iron, phosphorus, and zinc. Beyond vitamins and minerals, the species contains phytochemical constituents, which are beneficial compounds in the fruits. The main compounds include beta-pinene, limonene, and beta-caryophyllene, which are compounds within the rind's essential oils that contribute to the fruit's aromatic and robust fragrance.


Applications

Gondhoraj Lebu is extensively used in Bangladeshi cuisine as an aromatic enhancement. The fragrant rind can be zested, the juice can be sprinkled over plates, or wedges of the fruit are sliced and served alongside main dishes. When sliced lengthwise and served in wedges, the rind and flesh can be consumed together, excluding the seeds. The subtle bitterness of the rind, combined with the bright, tangy, and refreshing taste of the flesh, creates a complex sensory experience, adding flavor to a wide array of curries, soups, stews, and dals. Gondhoraj Lebu juice can be squeezed over rice, lentils, or potatoes for added flavoring or zested into salads. In Eastern India, the citrus is also added to green chiles or sprinkled with salt as an appetizer traditionally served during family gatherings. Gondhoraj Lebu is mostly used fresh, and the fruit's permeating fragrance enhances spice blends for seafood dishes. One of the most popular Bangladeshi preparations utilizing the citrus is fish bhetki. A mixture of the fruit's juice, ginger, garlic, and chile peppers is prepared and spread over the fish, and then a second marinade with curd, mustard oil, and lemon zest is added and cooked with the fish. Gondhoraj is also served with beef in a popular dish known as beef shatkora or zested into the dough of momos and rolls to infuse a green hue to the bite-sized street food. In addition to culinary preparations, Gondhoraj Lebu is juiced and zested into ghol, a type of watery lassi made with citrus, sugar, salt, and ice. The fruits can also be infused into gin, beer, or vodka, added to cordials, mixed into juices, or stirred into shandies. Try incorporating Gondhoraj Lebu into ice cream, other desserts, jams, jellies, and sauces, or candy the rind as a sweet treat. The fruits can also be pickled and served as a tangy condiment. The leaves of the species are also edible and add flavoring to rice, lentils, dals, fish dies, chutney, soups, and curries. Gondhoraj Lebu pairs well with spices such as cardamom, garam masala, coriander, cinnamon, garlic, ginger, and turmeric, chile peppers, bell peppers, eggplant, cucumbers, gourds, and legumes. Whole, unwashed Gondhoraj Lebu will keep for several weeks when stored in the refrigerator's crisper drawer.


Ethnic/Cultural Info

The lingering, intoxicating scent of Gondhoraj Lebu often triggers childhood memories for Bangladeshis. The fruit's aroma recalls memories of parents cooking at home, fragrant backyard gardens, cozy restaurants serving hearty, rich dishes, and market vendors piling the freshly picked fruits into arrangements to entice shoppers. Gondhoraj Lebu embodies Bangladesh, and the citrus is often prized as a fruit unique to the country, heavily guarded and protected as a national treasure. Even the fruit's moniker exemplifies its aromatic nature. The name Gondhoraj Lebu translates to "king of aroma" or "king of fragrance," and Lebu is a term meaning "lime," descriptors given for the fruit's powerful scent, presence, and flavor. Gondhoraj Lebu is also commonly referenced in Bangladeshi folk songs. The citrus is used as a metaphor or symbol to evoke nostalgic feelings, and the artists reference Gondhoraj Lebu in the lyrics of songs as an homage to their love for Bangladesh and the unique items found within their home.


Geography/History

Gondhoraj Lebu is native to the Indian subcontinent in Asia, specifically to Bangladesh. The citrus has been growing wild since ancient times, and much of the species' history is unknown as little research has been conducted. Some scientists hypothesize that the citrus may be a cross between a lime and a mandarin orange or a cross between a sour orange and a citron. Regardless of exact parentage, Gondhoraj Lebu is a hybrid species that arose from the natural cross-pollination of various citrus species in Asia. The land surrounding the city of Sylhet in eastern Bangladesh and Chittagong in southeastern Bangladesh are major growing regions of Gondhoraj Lebu, and the citrus is thought to be named after the Gond people, one of the largest indigenous people groups in South Asia. Today Gondhoraj Lebu grows wild in eastern Bangladesh and is also planted in home gardens throughout the country. The species is particular about the soil it is grown in and has been planted in other regions of Asia for attempted cultivation, but these efforts have been met with little success. Outside of Bangladesh, Gondhoraj Lebu can sometimes be grown in West Bengal in eastern India. Gondhoraj Lebu is sold domestically throughout Bangladesh and is also exported to India, Europe, and the United States. When in season, the fruits are found in fresh markets in Bangladesh and through specialty grocers and distributors in India, Europe, and the United States.