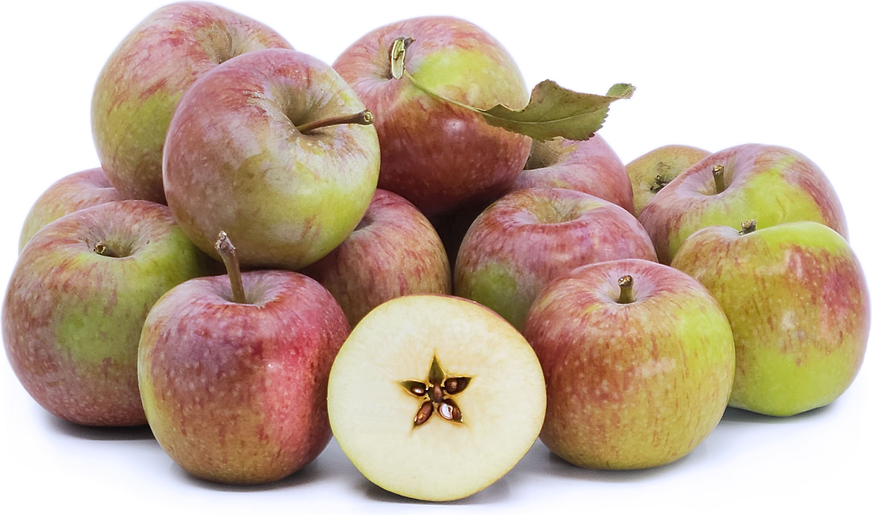 Blue Pearmain Apples
Inventory, lb : 0
Description/Taste
Blue Pearmain apples are medium to large fruits, averaging 7 to 12 centimeters in diameter, and have a round, oval, to oblate shape with a ribbed surface. The skin is thick, tough, and leathery, covered in a natural waxy bloom that is easily removed when wiped from the surface. The skin also bears variegated streaks and spots of dark red and purple hues overlayed on a yellow-green base. Within the fruit's mottled appearance, there are patches of raised, orange russeting with prominent brown lenticels. Underneath the surface, the flesh is firm, semi-coarse, ivory to pale yellow, and dense, giving the fruit a heavy feel mixed with a filling, soft, and subtly crisp consistency. The flesh is also primarily dry, encasing a central cavity with brown, oval seeds, and bears a sweet and grassy aroma. Blue Pearmain apples have a mildly sweet flavor with vanilla, melon, pear, and caramel nuances, followed by a sharp, tangy, and tart aftertaste.
Seasons/Availability
Blue Pearmain apples are available in the fall through winter.
Current Facts
Blue Pearmain apples, botanically classified as Malus domestica, are a late-season, heirloom variety belonging to the Rosaceae family. The bloom-covered fruits are believed to be an 18th-century American apple native to New England and are considered a winter variety, harvested in the late fall and stored for use throughout the winter. Blue Pearmain apples received their name for their soft blue bloom that envelops the fruits, giving the apples a matte, dusty appearance, and this contrast was once highly valued in home orchards for the tree's aesthetically pleasing presence. Blue Pearmain apples are also known under the names Maine Blue Pear, Blue Pearamell, Painbear Bluemain, Blue Pomade, and Blue Pearamay, and are one of the most famous New England apple varieties. Blue Pearmain apples rose to fame during the 19th century for their distinct flavor and versatile nature and were used in cidermaking and baked apples, the most common beverages and side dishes of the time. The variety also acquired international recognition when it was introduced to England, later receiving the acclaimed Award of Merit from the Royal Horticultural Society in 1893. Despite their fame throughout New England and England in the 19th century, Blue Pearmain apples eventually faded from cultivation and were overshadowed by modern varieties due to their unreliable nature. In the modern-day, Blue Pearmain apples are considered a rare apple selectively grown in specialty orchards and are sometimes harvested from remaining ancient trees still standing throughout the countryside of New England.
Nutritional Value
Blue Pearmain apples, like other apple varieties, are a good source of fiber to stimulate the digestive tract, potassium to balance fluid levels with the body, and vitamin C to strengthen the immune system. The fruits also contain lower amounts of vitamin K, copper, manganese, and vitamin A.
Applications
Blue Pearmain apples have a distinct flavor, dense nature, and thick skin that is well-suited for a wide array of fresh, cooked, and dried preparations. The apples can be consumed straight, out-of-hand to showcase the flesh's subtly sweet, fruity nuances, or the apples can be sliced into wedges and tossed into salads, fruit bowls, or displayed on appetizer plates. Blue Pearmain apples also have a thick skin that may be tough to chew when raw. It is important to note that the skin can be peeled before consumption, depending on preference, and will not lose flavor. Blue Pearmain apples can also be pressed into cider and were one of the favored cider apple varieties in New England in the 19th century. Cider was the chosen drink of the New England colonists as it was safer than the bacteria-filled water and offered a beer alternative when wheat was struggling to grow. In addition to fresh applications, Blue Pearmain apples can be incorporated into tarts, pies, bread, and muffins, or they can be hollowed, stuffed, and baked. The thick skin holds the fruit's shape well in baking, and the fruits can be baked with ingredients in both sweet and savory preparations. Blue Pearmain apples are also favored for their dense flesh, and the fruits were popularly cooked and mashed into textured applesauce or dried for extended use as fruit leather. Blue Pearmain apples pair well with spices such as cinnamon, nutmeg, and allspice, molasses, maple syrup, cream, nuts such as walnuts, almonds, and pecans, meats including pork, turkey, and poultry, dried fruits, jams, vanilla beans, marshmallows, and ginger. Whole, unwashed Blue Pearmain apples will keep 2 to 3 months when stored in a cool, dry, and dark place. In extended storage, the apple may begin to shrivel, but the fruits are still edible and are believed to develop a concentrated flavor.
Ethnic/Cultural Info
Blue Pearmain apples were notably mentioned in Henry David Thoreau's essay "Wild Apples," published in 1862 in the Atlantic Monthly. Thoreau was an American author known for his naturalist ideals and was most famously remembered for living in nature alongside Walden Pond in Concord, Massachusetts, for over two years. The author remerged from his seclusion in 1847, and after his journey, he published a series of pieces encouraging Americans to reconnect with nature as a method to fight against the growing industrialist themes that were corrupting society. "Wild Apples" was one of Thoreau's last essays before his death, and the piece outlines the history of the apple and the varieties found throughout New England, including Blue Pearmain apples. Thoreau favored the heirloom variety for its tart nature and praised it for its similarity to the tangy flavors found in wild apples. In the essay, Thoreau also uses apples as a symbol of human identity, paralleling the growing unrest of the civil war with humanity's need to connect back to nature. Thoreau believed nature reminded humanity of its true purpose and describing the vibrancy of wild apples was meant to evoke a sense of longing and nostalgia for experiencing the unusual taste of wild, uncultivated fruits.
Geography/History
The history of Blue Pearmain apples is mostly unknown, but experts believe the variety was being grown in New England as early as the 1700s. The heirloom apples are hypothesized to have originated as a chance seedling in Middlesex County of Massachusetts, located just outside Boston, and became a well-known New England garden variety by the early 19th century. Blue Pearmain apples were also introduced to England in the mid to late 19th century. Over time, Blue Pearmain apple trees were abandoned for more commercially viable apple varieties as the variety had a somewhat unreliable reputation, producing large harvests some years and then sparse harvests the next. Today Blue Pearmain apples are a rare variety that is not commercially cultivated and is produced through heirloom growers and apple enthusiasts. There are also a few ancient trees that can still be found growing throughout New England, especially in southern Maine, that were planted sometime in the 19th and early 20th centuries. When in season, Blue Pearmain apples can be found through specialty grocers and farmer's markets in the United States and Europe.
Recipe Ideas
Recipes that include Blue Pearmain Apples. One

is easiest, three is harder.