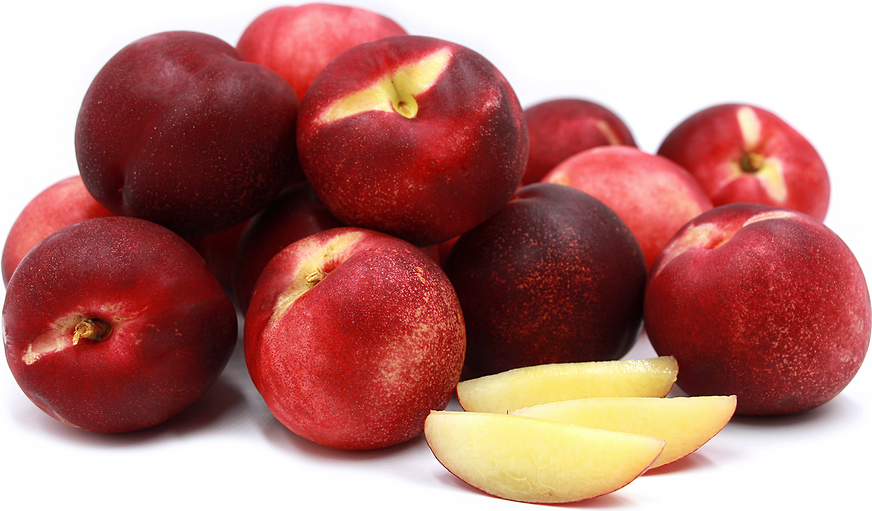 Pegasus Nectarines
Inventory, 10 lbs : 0
Description/Taste

Pegasus nectarines are a small to medium varietal and have a round to oval shape with a prominent central seam, also known as a suture, extending lengthwise from the stem to the base. The nectarine's skin is smooth, taut, and thin with a white base, almost entirely covered in dark red, crimson, to pink blush. The skin is also sometimes speckled with faint yellow to ivory dots. It is important to note that the red and pink hues are not an indication of ripeness, but if the white base coloring bears a green tone, it may signify that the fruit has been harvested early. Underneath the surface, the white to pale yellow flesh is aqueous, dense, succulent, and semi-firm, with a soft, tender, and melting consistency when ripe. The flesh also contains a central stone that is a clingstone type, meaning it tightly adheres to the flesh. Pegasus nectarines will feel heavy for their size, give slightly under gentle pressure, and emit a fragrant aroma when ripe. Unlike other white nectarines, which can be quite mild, Pegasus nectarines have high sugar and acidity, creating a bold, balanced flavor with sweet, sugar-like notes and a hint of tartness.


Seasons/Availability

Pegasus nectarines are only available for a few weeks in the summer.


Current Facts

Pegasus nectarines, botanically classified as Prunus persica, are a specialty white nectarine variety belonging to the Rosaceae family. The rare fruits were developed by Burchell Nursery in Oakdale, California, and are a modern variety selected for their vibrant flavor and soft flesh. Pegasus nectarines were initially known as BN-6 and were only available for approximately three weeks in July. Since its release, Pegasus nectarines have acquired a following of chefs, food writers, and stone fruit enthusiasts and are an anticipated summer crop at the famous Santa Monica Farmers Market. They are also found at select retailers throughout California in partnership with Andy's Orchards in Morgan Hill, California. Pegasus nectarines have a more robust flavor than other white nectarine varieties and are typically consumed as a fresh fruit to savor their balanced, sweet-tart taste.


Nutritional Value

Pegasus nectarines are a source of vitamin C to strengthen the immune system while reducing inflammation and folate to develop red blood cells for oxygen transport. The fruits also contain vitamin K to promote faster wound healing, calcium and phosphorus to build strong bones and teeth, fiber to regulate the digestive tract, and antioxidants to protect the cells against free radical damage.


Applications

Pegasus nectarines have high sugar and acidity levels, creating a bright flavoring suited for fresh preparations. The entire fruit is edible and can be consumed straight, out of hand, or sliced and tossed into green salads. Pegasus nectarines can also be displayed on charcuterie boards as a sweet element, stirred into fruit bowls, layered into sandwiches, folded into grains, or used as a fresh topping over breakfast dishes and desserts. Since Pegasus nectarines are an uncommon variety, they are mostly consumed fresh to savor their rich flavor. While less usual, the fruits can be simmered into jams, jellies, and sauces or poached in fragrant syrups. The nectarines can also be grilled and served with ice cream, broiled for a savory-sweet dessert, or baked into muffins, cakes, galettes, cobbler, crisps, and tarts. Like other nectarine varieties, Pegasus nectarines can be blended and frozen into popsicles and sorbet, used in smoothies, or sliced and stirred into beverages. Pegasus nectarines pair well with herbs such as basil, mint, lavender, and cilantro, fruits such as strawberries, citrus, cherries, lychee, pomegranate, and apricots, vanilla, cinnamon, ginger, tomatoes, cheeses including manchego, goat, gorgonzola, and mozzarella, seafood, and meats such as pork, poultry, and beef. Whole, unwashed Pegasus nectarines should be kept at room temperature until ripe. Once mature, the fruits should be immediately consumed for the best quality and flavor.


Ethnic/Cultural Info

Pegasus nectarines are grown by Andy's Orchard, a reputable and esteemed farm in Morgan Hill, California. The Mariani family established the orchard in 1957, and the site for the orchard was selected for its south-facing slope, sunny climate, and alluvial soil. The Mariani family originally cultivated prunes and apricots, placing emphasis on growing unique or heirloom varieties to provide diversity in the California fruit market. The family later added stone fruits, and over time, Andy Mariani, the founder's son, took over the family business and began growing rare cultivars. Andy is regarded among California fruit experts as an innovative grower who actively participates in his surrounding community and research committees. Andy's Orchard is one of the largest collections of stone fruits in the Western United States. Pegasus nectarines are a limited summertime release through the orchard, and during the orchard's farm tours, visitors can experience the nectarines first-hand at their open-air tasting station. Several rotating varieties of stones fruits are presented for visitors to taste, touch, and differentiate between the rare cultivars as an educational and sensory experience.


Geography/History

Pegasus nectarines are a specialty variety created by Burchell Nursery in Oakdale, California. While the exact history of the variety is unknown, the nectarines were originally labeled under the name BN-6 and were selected as a new cultivar for the fruit's bold flavoring and pigmented skin. Today Pegasus nectarines are grown by Andy's Orchard in Morgan Hill, California. The fruits are sold for a few weeks in July throughout California and are especially sought after at the Santa Monica Farmers Market. Pegasus nectarines are a boutique cultivar found in limited quantities through California distributors and wholesalers, including Specialty Produce.