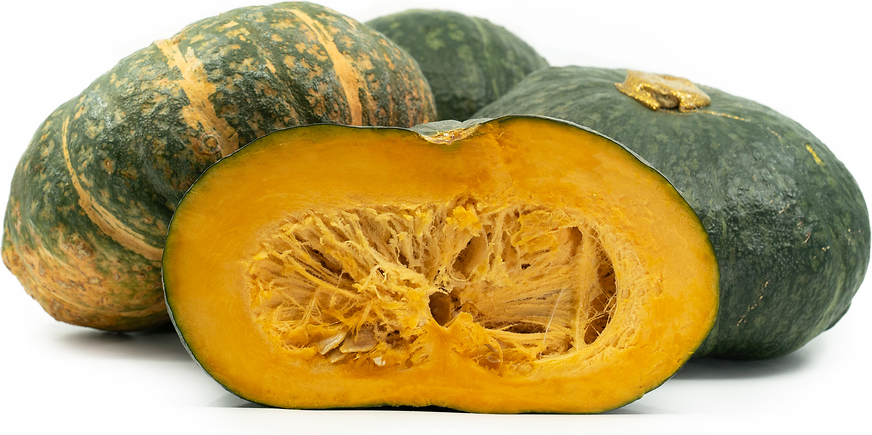 Delica Winter Squash
Inventory, lb : 0
Description/Taste
Delica squashes are a medium to large varietal, averaging 18 to 25 centimeters in diameter and 1.7 to 1.9 kilograms in weight, and have a uniform, flattened shape with curved edges. Each squash will have a fibrous, rough, and woody light brown stem, and some stems will be trimmed and coated in a layer of ornamental red or gold glittered wax. The rind is semi-thin with a hard, slightly ribbed, grooved, and textured surface, showcasing a dark green base with light green to orange striping, speckling, and mottling. Underneath the surface, the bright orange flesh is thick, firm, dry, and starchy, developing a dense, fine-grained texture once cooked. The flesh also encases a central cavity filled with stringy fibers suspending ivory to cream-colored seeds. Delica squashes release an earthy and subtly vegetal aroma when sliced. The squashes are traditionally cooked to develop a rich, sweet, and nutty flavor with concentrated caramelized sugary nuances.
Seasons/Availability
Delica squashes are harvested in the late summer through fall. Once cured, the squashes can be stored through the winter.
Current Facts
Delica squashes, botanically classified as Cucurbita maxima, are a hybrid winter squash variety belonging to the Cucurbitaceae family. The squat, dark green squashes were naturally bred in Japan and are a type of kabocha squash, selected for its early-maturing nature, ripening 95 to 105 days after sowing. Delica squashes were commercially chosen for their dense, firm flesh and concentrated sweet flavors. In Japan, the squash is sometimes known as Ebisu, named after one of the Seven Gods of Luck in Japanese mythology, specifically the god of tradesmen and fishermen. Outside of Japan, Delica squashes are grown as a delicacy in the Lombardy region of Italy. The variety is painstakingly grown using traditional methods of restricting water, allowing the squashes to concentrate their natural sugars, intensifying flavor and creating a dense and fibreless texture. Delica squashes are also slow cured, stored in a heated room for two months, or dried in the sun for several weeks, further developing flavor and texture. Several Delica squash growers in Italy drizzle hot wax over the stem of the squash, a mark of quality, tradition, and excellence. The ruby red to shimmering gold wax helps to extend the storage life, preventing the squash from losing moisture and is a recognizable point of sale when displayed in markets. Delica squashes are one of the first varieties available in the winter squash season, and the firm-fleshed cultivar is valued among chefs for its ability to be incorporated into sweet and savory preparations.
Nutritional Value
Delica squashes are a source of beta-carotene, a red-orange pigment in the flesh that is converted into vitamin A in the body. Vitamin A helps prevent vision loss, repairs cell damage, and maintains optimal organ functioning. The squashes also provide vitamin C to strengthen the immune system, fiber to regulate the digestive tract, copper to develop connective tissues, and other nutrients, including iron, magnesium, B vitamins, zinc, and phosphorus.
Applications
Delica squashes have a dense, unusual texture suited for savory or sweet preparations. The flesh and seeds are the typical portions of the squash used, and while less common, the flesh can be thinly grated, sliced, or shaved raw, a crisp addition to salads, grain bowls, and slaws. Delica squashes are more popularly cooked to develop a firm but smooth consistency, often cubed and incorporated into soups, curries, and stews. The squashes can also be slow cooked into casseroles and gratins, sliced and roasted as a side dish, or used as a sweet potato substitute in recipes- baked, roasted, steamed, or fried. In Japan, Delica squashes are sliced and fried into tempura and cooked into soups. In Italy, the squashes are made into a puree and added as a filling for pasta, cooked into risotto, or combined into gnocchi. Beyond savory dishes, some chefs utilize Delica squashes for cakes, fritters, pies, and mousses, or the flesh is simmered into a chutney. The seeds can also be cleaned, salted, and roasted as a crunchy snack or salad topping. Delica squashes were notably used as a seasonal dish at Turnips restaurant in Borough Market in London, England. Chef Tomas Lidakevicius paired the squash with red deer, edible flowers, and microgreens, layering flavors and textures with purees, sauces, and fresh ingredients sourced directly from their retail produce shop. Delica squashes pair well with herbs such as rosemary, sage, and thyme, spices including nutmeg, cinnamon, and cardamom, cheeses such as gorgonzola, parmesan, brie, or ricotta, and fish including salted cod or smoked salmon. Whole, unopened Delica squashes will keep up to five months when stored in a cool, dry, and dark location. Once opened, the flesh should be consumed or cooked within three days for the best quality and flavor.
Ethnic/Cultural Info
Delica squashes are famously incorporated into tortelli di zucca or stuffed pumpkin pasta. Squash cultivation in Italy is centered in the Po Valley, also known as the Pandan Plain and Po Plain. This fertile region of northern Italy follows the movement of the Po River, and the regions of Emilia, Lombardy, and Veneto are famous for squash and pumpkin production. Squashes were thought to have been introduced to Italy sometime during the Renaissance. The first documented recipe for stuffed pumpkin pasta was written by Cristoforo Messisbugo in 1544, a cook employed by the House of Gonzaga in Mantua, a city in the Lombardy region. The Gonzaga family inspired an era of heightened gastronomy throughout Mantua, and pumpkin pasta was eventually passed down from nobility to the masses as squashes and pumpkins became associated as common or humble food. Tortelli di zucca was named the iconic dish of Mantua. The stuffed pasta was beloved for its savory-sweet filling of pumpkin, cheese, amaretti cookies, spices, and mostarda, a compote flavored with mustard. Once Delica squashes were introduced into Italy, the stringless, dense flesh was favored for its use in tortelli di zucca and became a popular variety produced in the Lombardy region. Tortelli di zucca is served year-round in Mantua, but it is a treasured dish traditionally consumed on Christmas Eve, a night of fasting from meat, sometimes known as giorni di magro, meaning "lean days." The dish is also served during Di Zucca in Zucca; a Mantuan festival celebrated from September through December. The multi-month festival highlights squash varieties grown in Mantua, and local restaurants and markets center their menus and displays around the seasonal delicacies.
Geography/History
Delica squashes are a type of kabocha squash developed in Japan in the 20th century. Portuguese sailors introduced Kabocha squashes to Japan in 1541, and additional squash varieties were imported during the Meiji Era in the 1860s and 1870s. Kabocha squashes were initially viewed as a subsistence food during World War II and were not a favored variety, but in the late 20th century, Japanese breeder and seed company Takii Seed released Delica squashes, revolutionizing the kabocha squash category. Delica squashes were introduced to markets in 1964 and were an F1 hybrid variety favored for their dense, sweet flesh. The variety became popular throughout Japan under the name Ebisu. It was later introduced to Europe, where it was planted throughout the Lombardy region of northern Italy as Zucca Delica. Delica squashes were also brought to North American markets in the late 20th century. Today Delica squashes are offered through specialty growers in Asia, Europe, North America, and South America. The variety is typically found through select fresh markets and distributors and sold through online seed catalogs for home garden cultivation. The Delica squashes featured in the photograph above were sourced from Turnips in Borough Market, London, England.
Recipe Ideas
Recipes that include Delica Winter Squash. One

is easiest, three is harder.