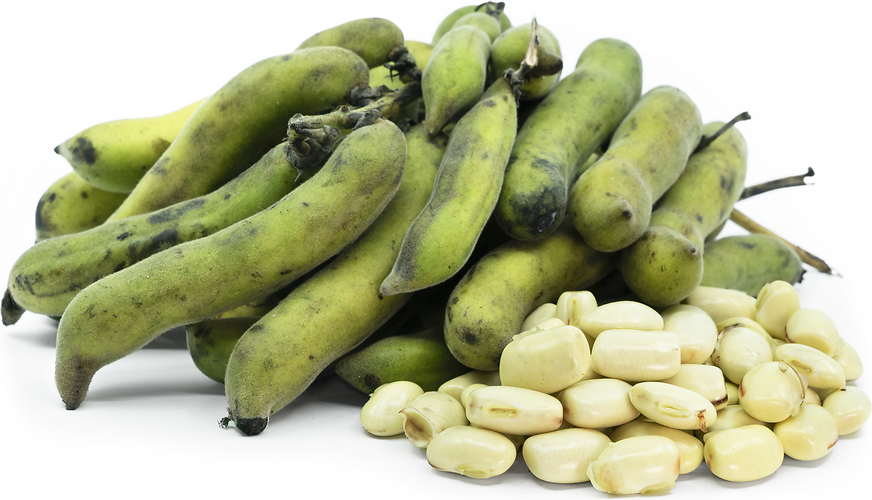 Velvet Shelling Beans
Inventory, lb : 0
Description/Taste

Velvet shelling beans are pale green and grow in clusters on long climbing vines. They are stout and curved and grow between 10 and 12.5 centimeters long and are covered with tiny, stiff, grey or orange hairs that can be irritating to the skin. The 3 to 6 colorful beans within the pods range from off-white or black to dappled patterns of black, brown, and white, or entirely purple. They are the size of large lima beans and offer a nutty flavor.


Seasons/Availability

Velvet shelling beans are available in the fall and spring months.


Current Facts

Velvet shelling beans are scientifically known as Mucuna pruriens and belong to the Fabaceae, or legume family. They have a variety of common names throughout the world, nearly all of which refer in some way to the tiny hairs (or velvet) on the bean pod. In Sanskrit the plant is known as Kapikacchu, which means 'one starts itching like a monkey,' and Atmagupta, which means 'secret self,' referring to the bean's manifold medicinal properties. Velvet shelling beans are edible and delicious in soups, they are perhaps best known for being the world's only natural source of L-dopa, or dopamine.


Nutritional Value

Velvet shelling beans are an excellent source of protein and dietary fiber. They are a great source of amino acids as well, making them an ideal for those on vegetarian diets. They also contain L-dopa, which is the precursor to dopamine, which can benefit those with neurological disorders like Parkinson's disease. The beans are known to have anti-venom, neuroprotective, anti-diabetic and antioxidant properties.


Applications

Velvet shelling beans are TOXIC if not prepared properly. Soak the whole pods overnight prior to cooking, then strain and boil in fresh water. Throughout the world Velvet shelling beans are used in a variety of different ways, but most often they are used as a vegetable like other legume varieties. In Ghana, the soaked and boiled beans are cooked with chilies and onions to make stew. In Central America, they are dried and commonly prepared like coffee beans to create a non-caffeinated coffee alternative known as "nescafé." In India the boiled seeds are made into a fermented paste called tempeh. Store whole Velvet shelling bean pods in the refrigerator for up to a week. Prepared pods can be frozen for up to three months. Shelled seeds will keep in the refrigerator for up to a week.


Ethnic/Cultural Info

Velvet shelling beans have been an important part of Ayurvedic medicine, the traditional healing practices in India, for over 2,000 years. Ancient texts describe the beans being successfully used to treat a nervous disorder like Parkinson's. Today Parkinson's patients throughout the world use Velvet shelling beans to alleviate their symptoms. Aside from its well-known reputation for helping Parkinson's patients, it is also used in Ayurveda to treat conditions such as snakebites, achy muscles, and rheumatic disorders.


Geography/History

Velvet shelling beans are native to southern China and eastern India. They can be found in tropical regions of countries throughout the world like India, Africa, the Pacific Islands, and much of Central America. They were brought to Central America in the late 1800s and in Mexico and Guatemala they have become an important food, medicine, and cover crop. Cultivated varieties do not develop pods with the irritating hairs making them easier to harvest and prepare. In Central America the beans are being increasingly used as an edible cover crop. Velvet shelling beans are considered 'nitrogen fixing' plants that release the essential element back into the soil, making them beneficial for crop rotation. The leafy vines are used as feed, as are the pods and flowers. They are often planted as cow fodder and livestock feed. In the United States, Velvet shelling beans are grown in warm climates with lots of sun, like Florida, where they may be spotted at local farmer's markets.