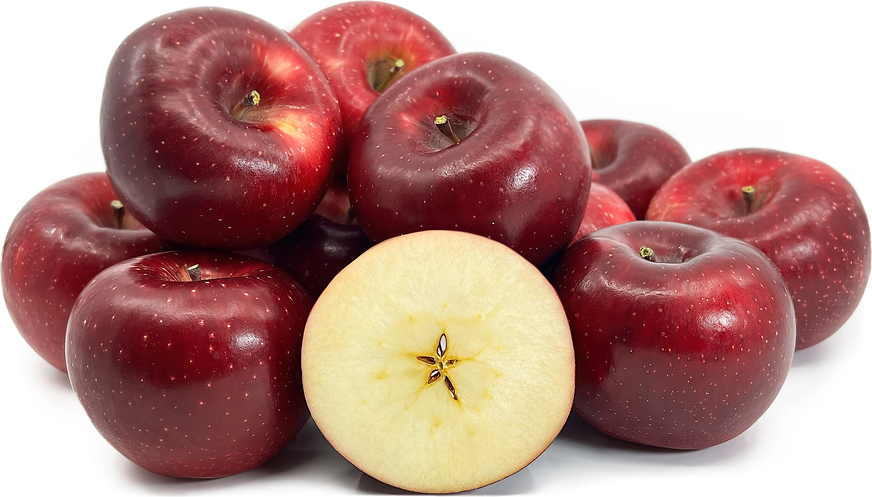 Shinano Hoppe Apples
Inventory, lb : 0
Description/Taste

Shinano Hoppe apples are a medium to large varietal, averaging around 300 grams, and have an oblate to conical shape with flat shoulders, a broad, curved center, and a narrow base. The apples often have a squat appearance, and the stems are thick, dark brown, and woody, set in a wide, open cavity. The skin is semi-thick, chewy, smooth, and glossy, often covered in prominent pale lenticels, faint striping, and a layer of wax. The surface also has a yellow-green base hue covered in a saturated, dark red to purple-red blush. Depending on sun exposure, some Shinano Hoppe apples can become so pigmented that they almost appear dark purple to black. Underneath the skin, the ivory to yellow flesh is firm, dense, and aqueous with a crisp and crunchy consistency. The flesh also encases a small central core filled with tiny black-brown seeds. Shinano Hoppe apples should feel heavy for their size and release a faint aroma. The apples are edible raw or cooked and have a high sugar content, ranging from 15 to 16 degrees Brix. The variety also contains refreshing, moderate acidity, creating a balanced, honeyed, sweet, tart, and tangy taste.


Seasons/Availability

Shinano Hoppe apples are harvested in the late fall through winter, typically between October and early November.


Current Facts

Shinano Hoppe apples, botanically classified as Malus domestica, are a Japanese variety belonging to the Rosaceae family. The late-season apples were developed in the late 20th century and were released as a commercial cultivar in the early 21st century. Shinano Hoppe apples are only grown in the Nagano Prefecture, and the prefecture promotes the cultivar as a part of the Shinano series, a line of apples developed by the Nagano Prefecture Fruit Tree Experiment Station. There are several commercial apples a part of this series, including Shinano Red, Shinano Gold, and Shinano Sweet. Shinano Hoppe apples are prized for their dark, pigmented coloring and balanced taste. Growers favor the variety for its ability to develop its signature coloring in low-altitude regions, its capacity to hang on the tree for extended periods, and its resistance to rust and splitting. The cultivar also ripens approximately ten days earlier than its parent variety, Fuji apples. In the present day, Shinano Hoppe apples are grown on a small scale in Japan and are utilized for a wide array of fresh or cooked preparations.


Nutritional Value

Shinano Hoppe apples are a source of potassium to balance fluid levels within the body, calcium to build strong bones and teeth, fiber to regulate the digestive tract, and vitamin C to boost the immune system. The apples also provide small amounts of copper to develop connective tissues, magnesium to control optimal nerve functioning, vitamin E to reduce inflammation, iron to produce the protein hemoglobin for oxygen transport through the bloodstream, and other nutrients, including manganese, phosphorus, vitamin A, vitamin K, and zinc.


Applications

Shinano Hoppe apples have a sweet and sour flavor suited for fresh and cooked preparations. The variety is typically consumed straight out of hand and can be enjoyed with or without the skin, depending on preference. Shinano Hoppe apples can also be sliced and served on charcuterie boards, thinly cut and incorporated into fresh rolls, or chopped and tossed into green and fruit salads. In addition to fresh preparations, Shinano Hoppe apples are popular in Japan for cooked dishes, such as baked preparations and desserts. The apples can be boiled with their skin on to create apple compote or simmered into jams, jellies, and syrups. Shinano Hoppe apples can also be sauteed in browned butter with spices as a topping for ice cream, cooked into pies, stuffed and baked whole, or fried into fritters. Try roasting the apples with root vegetables or cooking the fruits into an applesauce and serving with grilled pork as a savory-sweet side dish. Shinano Hoppe apples pair well with herbs such as mint, parsley, rosemary, and thyme, meats including pork, poultry, and turkey, and spices such as cinnamon, cloves, nutmeg, and ginger. Whole, unwashed Shinano Hoppe apples will keep for a few weeks when stored in a cool, dry, and dark location such as a cellar or refrigerator crisper drawer. When storing in the fridge, placing the apples in a plastic bag is recommended to extend their shelf life.


Ethnic/Cultural Info

Shinano Hoppe apples were named after a region in Japan and a traditional expression describing well-flavored foods. Shinano is a town in Japan in the modern-day Nagano Prefecture, but it was also the name of an old province split during the Sengoku period in the 15th and 16th centuries. Several varieties developed in the Nagano Prefecture have been named Shinano out of respect to the region's history, and the name is a national indicator of the apple's site of origin. Hoppe is a term that means "cheeks" in Japanese. The expression "hoppe ga ochiru," meaning "cheeks are dropping" or "my cheeks are falling off," is a traditional phrase used in Japanese to describe food that is flavorful and melting in the mouth. The expression is a socially polite way of saying something with outstanding eating qualities, such as flavor and texture, and the apples were rumored to have been given this name as a play on their balanced, sweet, and sour flavor.


Geography/History

Shinano Hoppe apples are native to Japan and were developed through the Nagano Prefecture Fruit Tree Experiment Station in the Nagano Prefecture. The variety was developed through a cross between Fuji and Akane apples in 1987 and was registered as a new variety in 2013. Shinano Hoppe apples were selected as a commercial cultivar for the fruit's pigmented skin, sweet and sour flesh, and succulent, crunchy texture. Today, Shinano Hoppe apples are grown on a small scale in Suzaka City, Nagano Prefecture. Suzaka City is known for its low rainfall and extended hours of sunlight, providing an ideal climate for the apple variety. When in season, Shinano Hoppe apples are sold through select markets, grocers, and distributors in Japan.