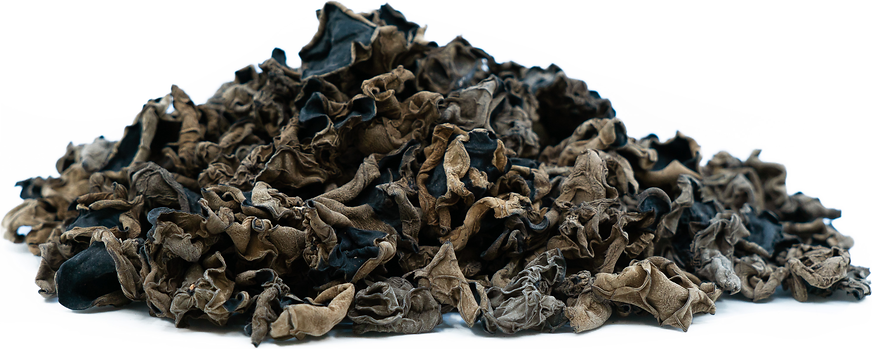 Dried Cloud Ear Mushrooms
Inventory, lb : 0
Description/Taste
Dried Cloud Ear mushrooms widely vary in size and appearance, depending on if they were kept whole or broken into smaller pieces before dehydrating. The mushrooms have a condensed, wrinkled, and creased, cup-like nature with curled edges and are generally delicate and brittle, crumbling when pressure is applied. Dried Cloud Ear mushrooms will also range in color from white, ivory, light brown, to dark brown, as the fungus typically matches the color of its host tree. Dried Cloud Ear mushrooms emit a robust, pungent aroma that some say is reminiscent of the smell of black vinegar and dark soy sauce with earthy, umami notes. When rehydrated, the mushrooms will expand in size and develop a slippery, elastic, and crisp, snap-like consistency. Cloud Ear mushrooms have a very mild, subtly musty, sweet, and faintly bitter flavor and are mainly used for their firm, chewy texture in dishes rather than for their taste.
Seasons/Availability
Dried Cloud Ear mushrooms are available year-round.
Current Facts
Dried Cloud Ear mushrooms, botanically classified as Auricularia polytricha, are dehydrated versions of the small and delicate, ear-shaped fungi belonging to the Auriculariaceae family. Cloud Ear mushrooms have been cultivated in Asia since ancient times and are valued for their neutral flavor and chewy, firm consistency, incorporated into stir-fries, soups, and stews. Historically, Cloud Ear mushrooms were highly perishable and were only foraged from wild trees, limiting the mushroom's availability despite the increasing demand. Retailers began drying the fungi as a preservation method to extend the delicate mushroom's shelf life. Drying allowed Cloud Ear mushrooms to be exported worldwide, and with the variety eventually being commercially cultivated, Cloud Ear mushrooms have become a preferred medicinal and culinary mushroom. Cloud Ear mushrooms are known by several names, including Tree Ear fungus, Black Treasure, Ara-ge-ki-kurage in Japanese, Tenga Ng Daga in Filipino, Black Fungus, Jamur Kuping in Malaysian, and Mo-er, meaning "little ear" in Chinese. In Asia, Cloud Ear mushrooms are often confused with wood ear mushrooms as they belong to the same species, are used comparably in recipes, and exhibit dark-colored hues. Despite some retailers using the names interchangeably, Cloud Ear mushrooms are distinct, generally smaller in size, and have a more pleasant, tender, but chewy consistency.
Nutritional Value
Cloud Ear mushrooms are a source of antioxidants to reduce inflammation, strengthen the immune system, and protect cells against free radical damage. The mushrooms also provide fiber to regulate the digestive tract, magnesium to regulate nerve functioning, iron to develop the protein hemoglobin for oxygen transport through the bloodstream, and lower amounts of zinc, copper, B vitamins, and selenium.
Applications
Dried Cloud Ear mushrooms must be rehydrated before use and will swell to be much larger in size. Approximately one ounce of Dried Cloud Ear mushrooms will produce 3 to 4 ounces of hydrated mushrooms, and the fungi can be soaked in warm water for at least 15 minutes or immersed overnight, depending on how it will be used. Once rehydrated, Cloud Ear mushrooms should be trimmed to remove any tough spots and then incorporated into dishes. Cloud Ear mushrooms can be tossed into salads, lightly stir-fried with vegetables, mixed into fried rice, or minced and used as a filling for egg rolls and lettuce wraps. The rehydrated mushrooms can also be used in any recipe calling for fresh Cloud Ear mushrooms, and they have minimal flavor, readily absorbing accompanying flavors while maintaining a crisp texture. In Szechwan cuisine, Cloud Ear mushrooms are commonly used to enhance spicy sauces and are added to hot and sour soup. Cantonese cuisine also uses mushrooms in sweet dessert soups with pears, goji berries, or lotus seeds. Beyond Asian cuisine, Cloud Ear mushrooms are incorporated into mushroom medleys, burgers, or stuffing and cornbread as festive Asian fusion dishes. Cloud Ear mushrooms pair well with aromatics such as garlic, ginger, and scallions, meats such as pork, poultry, duck, and beef, seafood including fish, shrimp, and crab, tofu, other mushrooms, bamboo shoots, asparagus, zucchini, and herbs such as cilantro or parsley. Dried Cloud Ear mushrooms will keep up to one year when stored in a sealed container in a cool, dry, and dark place.
Ethnic/Cultural Info
In China, mushrooms have been viewed as medicine for thousands of years. There are many different varieties of mushrooms cultivated throughout China, and each cultivar has been evaluated and cataloged in Traditional Chinese Medicine to help with specific ailments. Cloud Ear mushrooms belong to a category of tree ear fungi that have been nicknamed "meat without bones." Tree ear fungi are viewed to provide longevity in life and are favored for their flat and smooth nature and neutral flavor. This smoothness is believed to reduce irritation within the lungs and cleanse them from infection. Cloud Ear mushrooms are also consumed to detoxify the body, promote circulation, and stimulate digestion. The mushrooms are labeled as a yin ingredient, cooling in nature and effective in balancing the body. In China, Cloud Ear mushrooms can be steeped into a tea and drunk as a tonic, or they can be soaked overnight and consumed first thing in the morning as a medicinal and nutritious breakfast. They are also popularly cooked with sugar cubes and water for a little over an hour. Once prepared, the mushrooms can be eaten hot or cold and served as a stand-alone side dish or mixed into main dishes.
Geography/History
Cloud ear mushrooms are native to Asia and have been cultivated since ancient times. The edible fungi have been foraged from wild trees for thousands of years, but the first record of cultivation can be traced back to the Tang Dynasty, spanning from 618 to 904 CE. Mushrooms have also appeared in Chinese literature, art, poems, and songs, and throughout history, they have been used as medicinal and culinary ingredients. Some experts believe that Cloud Ear mushrooms were one of the first cultivated tree ear species. Over time, Cloud Ear mushrooms were spread worldwide through spores traveling in the air, trade, and migrating peoples. Today Cloud Ear mushrooms are still found growing wild in wet, evergreen forests of Asia and are foraged from the sides of dead or decaying trees, branches, or logs. The mushrooms are also cultivated on sawdust, logs, and straw for dried, commercial use. Cloud ear mushrooms are available fresh for a limited season, but the dried versions can be exported worldwide and are available year-round.
Recipe Ideas
Recipes that include Dried Cloud Ear Mushrooms. One

is easiest, three is harder.
the other 2...
Podcast