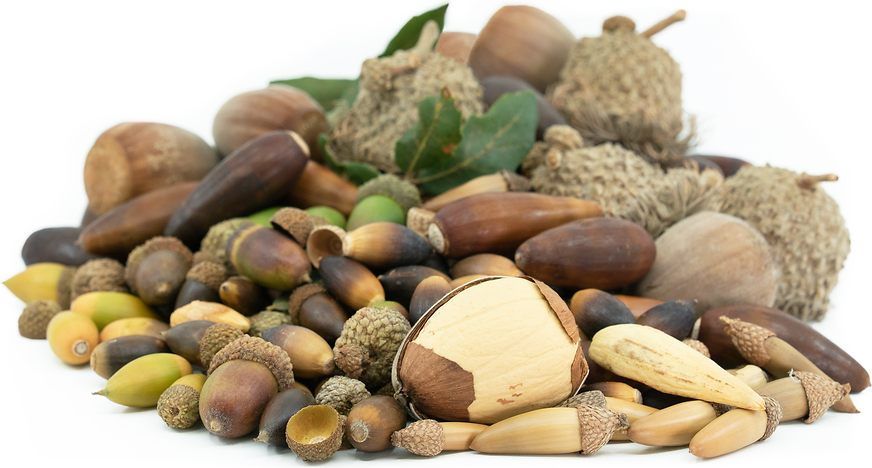 Acorns
Inventory, bskt : 0
Description/Taste
Acorns widely range in size, shape, and appearance, depending on the variety, and average between 1 to 7 centimeters in length. The nuts can be small to large, and some varieties have a round to oval shape with blunt to pointed, tapered tips. The nuts are also sometimes capped with a cup-like top, known as a cupule, and this top can cover a large portion of the nut or be shallow and thin. Cupules can be smooth, hairy, wooly, woody, or scaly, and some may be flatter or bulbous, unique to each species. Acorns are generally hard, woody, and smooth to slightly ridged, and the nuts vary in color, appearing in shades of red-brown, green-brown, tan, dark brown, and black-brown. The nut's surface should be dense and not have holes, which is a sign of a bug infestation, and each nut generally contains one to two ivory seeds enclosed within the tough, brittle, leathery shell. Acorns have a faint, earthy aroma and should not be consumed raw due to their high tannin content. Tannins have an unpleasant, bitter taste and can be toxic if ingested in large quantities. Acorns can be leached to remove the tannins, and they are safe to consume once prepared. Acorns have a mild, neutral, and nutty taste with sweet and subtly bitter undertones.
Seasons/Availability
Acorns are harvested in the late summer through early winter and can be stored for year-round use.
Current Facts
Acorns, botanically a part of the Quercus genus, are the nuts of oak trees belonging to the Fagaceae family. There are over 450 species of oak trees worldwide, and Acorns are a wild, natural food source utilized by animals and humans since ancient times. The nuts form at the tips of branches in clusters or individually, depending on the variety, and it takes approximately 6 to 24 months for Acorns to mature. Acorns are also known as Oak nuts; most oak tree species do not bear nuts until they are at least 20 years old. Some varieties may take up to 50 years to produce a full crop. In a given year, an average 100-year-old oak tree produces around 2,200 acorns per season, and experts estimate that only 1 in 10,000 Acorns will successfully become a new tree. Despite their slow-growing nature, oak trees have remained prominent in the wild, planted in urban communities, and sown in home gardens. Acorns are mostly foraged items, and foragers generally categorize Acorns according to their flavor, size, and oil content. Sweet Acorns are popular varieties with the lowest tannin levels, making them the easiest to prepare for culinary applications. Types of Sweet Acorns include Bellota oak, Cork oak, Emory oak, Pin oak, and Blue oak. The largest Acorns are generally hairy, and some of the biggest varieties are Burr oak, California Black oak, East Coast White oak, and Valley oak. The smallest types, not generally used for culinary preparations, are comprised of Chinquapin oak and Cherry Bark oak.
Nutritional Value
Acorns are a source of fiber to regulate the digestive tract, vitamin A to maintain healthy organ functioning, and calcium to build strong bones and teeth. The nuts also provide omega-3 fatty acids to develop cell membranes in the body, vitamin E to reduce inflammation, potassium to balance fluid levels within the body, and other nutrients, including folate, manganese, iron, magnesium, phosphorus, and antioxidants. It is important to note that Acorns contain varying levels of tannins, depending on the variety. Tannins are bitter plant compounds that may act as an anti-nutrient and be harmful if consumed in high quantities. These tannins are reduced when Acorns are properly prepared, and after leaching, it is safe to consume the nuts.
Applications
Acorns have mild, nutty, and subtly bittersweet flavors suited for cooked and processed preparations. The nuts should not be consumed raw due to their high tannin content. The tannins are removed in a process known as leaching. Acorns can be leached in hot or cold water, and the nuts should be shelled, immersed in water, and soaked until the water turns brown. The water is discarded and refilled, repeating the cycle until the water remains clear after soaking. Acorns can also be blended with water, and the nut meal can be squeezed in a fine-mesh bag under running water. Once leached, Acorns are safe to consume and are popularly roasted as a crunchy snack. Roasted Acorns will have a texture and flavor reminiscent of chestnuts, and the nuts can be coated in cinnamon sugar, salt, or drizzled in honey for added flavor. Roasted acorns can also be combined into oatmeal, porridges, trail mix, or stirred into brittle for a sweet and savory combination. In Europe and the United States, Acorns were once used as a caffeine-free substitute for coffee during the Civil War and World War II. The beverage was favored for its nutty, hot, and comforting feel and was often mixed with tea leaves, rye flour, or chicory root for added flavor. In addition to roasting, Acorns can be added to stews, cooked into grits, or blended and frozen into ice cream. One of the most popular methods of preparing Acorns is drying and processing them into flour. Acorn flour can be mixed into cakes, cookies, muffins, and other pastries or folded into pancakes, pasta, and flatbreads. In North America, indigenous peoples would leach Acorns and eat them in soups, with fish, and other foraged goods. They would also collect, dry, and store the nuts for several years in hollow trees and containers on poles as a sustainable food source during the winter. Acorn meal and flour will keep for a few weeks when stored in a sealed container in the refrigerator and for a few months when frozen. Whole acorns can be dried and stored in their shells for several years.
Ethnic/Cultural Info
Acorns and oak trees, in general, have remained a symbol of strength and resilience in many civilizations throughout history. Oak trees were Zeus's sacred tree in Greek mythology and the Roman goddesses Diana and Artemis wore Acorns around their necks. In Norse folklore, Acorns are a symbol of protection against storms. Legend has it that Thor, the god of thunder and lightning, was once sheltered from a violent storm by standing under an oak tree. The mighty tree withstood violent rain, lightning, thunder, and wind, and prevailed against the storm, receiving a divine blessing from the gods as a protector. It was believed that an Acorn also possessed the power of its tree and that placing the nut on a windowsill during a storm was a method of protection over the house. The practice of Acorns being placed on windowsills is still seen in the modern-day, and decorative motifs, windowsills, window blind pulls, and wallpaper surrounding windows often feature Acorns as an homage to this Norse story.
Geography/History
Acorns grow on many species of oak trees native to temperate and tropical regions of North America, Europe, and Asia. The trees have been growing wild since ancient times and are generally found within the northern hemisphere. Throughout history, Acorns have been an important food source for animals and humans. The nuts have been a source of nutrition for people groups in Europe and Asia and appeared as a popular motif in Roman architecture. Acorns also appeared in artwork, literature, and carvings on buildings throughout the Early and Middle Ages in Europe and are notable on decorative finials featured in Westminster Abbey. In North America, Acorns were utilized among indigenous peoples, and prolific oak trees were sometimes fought over between tribes as the nuts were an important food source. Over time, Acorns have remained a basic food among civilizations worldwide, and the nuts are traditionally roasted or processed into flour. Today Acorns have faded from popularity and have become a rare nut, often overlooked in the culinary world. Some chefs continue to forage and utilize Acorns in culinary preparations, and the nuts are widely found in varying varieties worldwide. When in season, Acorns can be found in farmer's markets and through specialty distributors.
Recipe Ideas
Recipes that include Acorns. One

is easiest, three is harder.