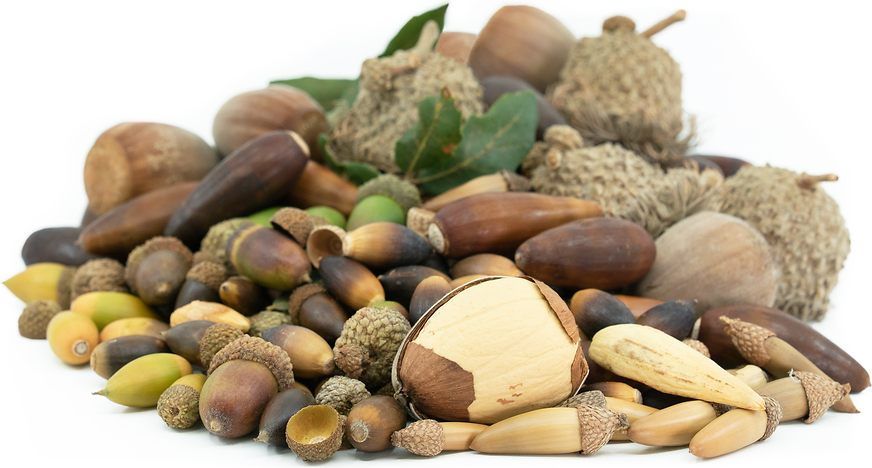 Southern Live Oak Acorns
Inventory, bskt : 0
Description/Taste
Acorns form at the tips of the branches of Southern Live Oak trees, either alone or in clusters. Green at first, the acorn turns a shiny dark brown to almost black when mature. The cap (or cupule) attaches the seed to the branch and covers about one and a half centimeters of the acorn. Southern Live Oak acorns are 2 to 3 centimeters long, with a narrow, oblong shape. The tip is pointed and is the remnants of the oak tree flowers. The high tannin amount in Southern Live Oak acorns makes them bitter, but the bitterness can be removed by leaching the tannins in either a cold or hot water process. Acorn meat tastes somewhat like a chestnut, with a nutty sweetness.
Seasons/Availability
Southern Live Oak acorns can be found in the late summer and early fall months.
Current Facts
Acorns, technically oak nuts, are one of the few tree nuts that are not named for the tree in which they come. The practice of eating the nuts of the oak tree also has its own term: balanophagy. In their native United States, Southern Live Oaks are one of the largest species of tree east of the Rocky Mountains. Named for the region where it grows, the Southern Live Oak is botanically classified as Quercus virginiana. The tree is sometimes called Virginia live oak or Spanish oak. The acorns, or seeds, of the tree have long been a source of carbohydrates for not only birds and animals, but also the people living in the Southern United States. Acorns have been a source for sustenance at different times throughout the history of the world, such as in Japan during World War II and in hunter-gatherer societies in Paleolithic as well as modern day Morocco.
Nutritional Value
Southern Live Oak acorns are a very good source of carbohydrates, protein and fiber. Southern Live Oak acorns are high in tannins, particularly prior to being leached.
Applications
Southern Live Oak acorns can be eaten as a nut, similar to chestnuts, or made into flour or oil. Shelling acorns can be challenging and may require a hammer or meat tenderizer. Leaving Southern Live Oak acorns to dry before shelling will also make it easier to remove the inner meat. Shell Southern Live Oak acorns into a pot of water, to prevent oxidation. Before preparing, acorns MUST BE soaked in multiple batches of water to leach out the tannins. There are two methods, one requiring boiling, the other a cold leaching process. The latter being preferred because it better preserves the starches in the acorn meat. Most often, acorns are used to make flour. Acorn flour can be used to make bread, cake, and even cookies. It is gluten-free, so generally requires a secondary flour such as whole wheat flour or xantham gum to replicate the binding power of the gluten. Acorn flour imparts a slight gingerbread flavor into baked goods. Acorns will store for quite a long time, and flour made from Southern Live Oak acorns will keep for several months in an airtight container.
Ethnic/Cultural Info
Native Americans in the Southeastern United States used every part of the Southern Live Oak tree. They extracted oils from the acorns for cooking, used the leaves and bark for medicines, rug making and dyes.
Geography/History
The evergreen Southern Live Oak trees are native to the southern region of the United States, and are widely seen in Virginia, Georgia, Florida and Louisiana. Southern Live Oak trees grow up to an impressive 18 meters tall, with the higher branches reaching upwards to almost 45 meters tall. The trunk can grow to almost 2 meters in diameter. The large trees are often seen covered in low-hanging Spanish moss. In the United States, there are around 30 different species that have been used for food and oil. World-wide, there are at least 450 Quercus species. Oak trees do not always produce acorns each year. Southern Live Oak acorns are not generally found outside of the Southeast region of the United States.
Recipe Ideas
Recipes that include Southern Live Oak Acorns. One

is easiest, three is harder.