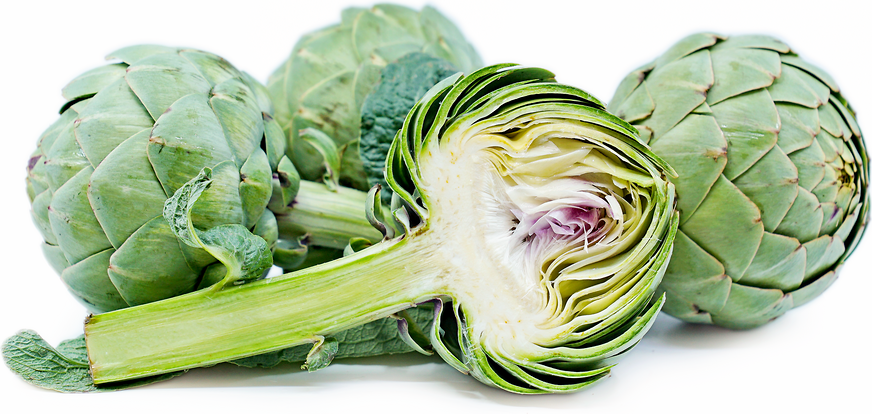 Lyon Artichokes
Inventory, ea : 0
Description/Taste
Lyon artichokes are a large varietal, averaging 6 to 15 centimeters in diameter and 16 to 32 ounces in weight, and have a round, bulbous shape with slight tapering towards the top. Each artichoke head is comprised of tightly layered leaves, also known as bracts, creating a dense, uniform appearance. The smooth bracts have a broad, subtly curved, and fleshy nature, and at the top of the leaves are small, pointed thorns. The leaves are also light green and may be tinged with purple, depending on their growing environment. As the outer leaves are stripped away, the center of the artichoke will be lighter with pale yellow to white-purple hues. When selecting fresh artichokes, pick Lyon artichokes that are tightly closed for the best quality. Lyon artichokes are not edible raw and must be cooked before serving. Once cooked, the artichokes develop a tender, soft, and succulent consistency and have a sweet, nutty, earthy, and buttery flavor. Lyon artichokes are known for their large, fleshy hearts and are served as a delicacy.
Seasons/Availability
Lyon artichokes are available in the spring through fall, with a peak season in the early summer.
Current Facts
Lyon artichokes, botanically classified as Cynara scolymus, are the immature flower heads of a perennial thistle belonging to the Asteraceae family. The mid to late-season variety is thought to be a descendant of a French heirloom known as Gros Vert de Laon and is grown in select regions of Europe and the United States. Lyon artichokes have some of the largest hearts within their florets and are praised for their dense, fleshy nature. The artichoke florets grow on herbaceous plants reaching over one meter in height, and growers favor the variety's cold tolerance, hardiness, and ease of cultivation. Despite their large size, Lyon artichokes were rare for several centuries and were challenging to find outside of fresh markets in France. Over time, artichoke growers and enthusiasts slowly began reintroducing the variety into specialty markets as a delicacy, creating a resurgence in popularity. In the modern day, Lyon artichokes are grown commercially on a small scale and are also promoted as a home garden variety for chefs to utilize in various cooked preparations.
Nutritional Value
Lyon artichokes are a source of fiber to regulate the digestive tract, potassium to balance fluid levels within the body, magnesium to control daily nerve functions, and vitamin C to strengthen the immune system while reducing inflammation. The artichokes also provide folate to develop genetic material such as DNA and RNA, vitamin K to assist in faster wound healing, calcium to build strong bones and teeth, and other nutrients, including phosphorus, vitamin A, manganese, copper, iron, and B vitamins.
Applications
Lyon artichokes have a nutty, subtly sweet, and earthy taste suited for cooked preparations. The artichokes must be cooked before consumption and are traditionally steamed to develop a soft and tender texture. Steamed artichokes are often served with dipping sauces. Try experimenting with various dips such as lemon butter, yogurt, ranch dressing, mustard, vinaigrette, aioli, mayonnaise with curry powder, or Hollandaise sauce. Lyon artichokes can also be stuffed with a mixture of bread stuffing, parmesan, shallots, garlic, and white wine, or they can be boiled, halved, and grilled for a smokey flavor. When Lyon artichokes are steamed, the hearts can be removed and added to salads, layered onto sandwiches, mixed into pasta, used as a topping over pizza, or fried into tempura. The artichokes can also be integrated into spinach and artichoke dip, pureed into sauces, incorporated into soups, or served with eggs benedict. In France, artichokes are famously blanched and simmered in a savory sauce, served with foie gras. The dish is known as L'Artichaut Foie Gras, or artichoke foie gras, and is one of the most popular appetizers in Lyon, France. Lyon artichokes pair well with herbs such as rosemary, thyme, and marjoram, mushrooms, truffles, cheeses such as pecorino, parmesan, chevre, and feta, leafy greens including butter lettuce, arugula, or mesclun, and aromatics such as garlic, shallots, and chile peppers. Whole, unwashed Lyon artichokes will keep for 1 to 2 weeks when stored in a sealed container in the refrigerator.
Ethnic/Cultural Info
Artichokes are used in a French expression to describe someone who falls in love easily. "Avoir un coeur d'artichaut," translating to "having an artichoke heart," and "etre un coeur d'artichaut," or "being an artichoke heart," are common forms of an expression to describe an individual who wears their heart on their sleeve and falls in love with people quickly. Artichokes are used to symbolize the heart as they have a heart in the center of their floret. Each leaf surrounding the heart represents the various romantic interests that occur in life. People with artichoke hearts are sensitive and allow their emotions to rule, giving their love away as quickly as the leaves can be pulled off an artichoke. Coeur d'artichaut is the shortened expression derived from the longer 19th-century idiom "coeur d'artichuat, une feuille pour tout le monde," meaning "artichoke heart, a leaf for everyone," further enforcing the idea of a person freely giving their "leaves" or "love" away.
Geography/History
Lyon artichokes are believed to be related to an heirloom variety native to France. Artichokes were introduced to France from Italy in the 16th century, and the plants quickly naturalized in regions throughout the country with mild winters. Catherine de Medici is credited with popularizing the vegetable, and through her influence among French royalty, she encouraged increased import and export of artichokes between France and Italy. Soldiers returning from the wars in Italy also carried artichoke seeds back into France, planting them in home gardens. During the reign of King Louis XIV in the 17th to early 18th centuries, multiple varieties of artichokes were being grown in the king's garden, which inspired French growers to generally cultivate around ten varieties, most still available in the modern day. Lyon artichokes are thought to be a descendant of the Gros vert de Laon artichoke, a variety from the Laon region within the department of Anise that rose in popularity in the 16th century. The heirloom artichokes maintained their status in fresh markets until World War II and were eventually overshadowed by modern varieties introduced from Italy and other parts of the Mediterranean. In the early 21st century, artichokes were introduced from France and Spain into the United States and were planted in California, specifically in the Santa Maria Valley and Lompoc. Today Lyon artichokes thrive in Mediterranean climates and are grown through select farms in the United States and Europe. When in season, the artichokes are sold as a specialty item through fresh markets, select growers, and distributors.
Recipe Ideas
Recipes that include Lyon Artichokes. One

is easiest, three is harder.