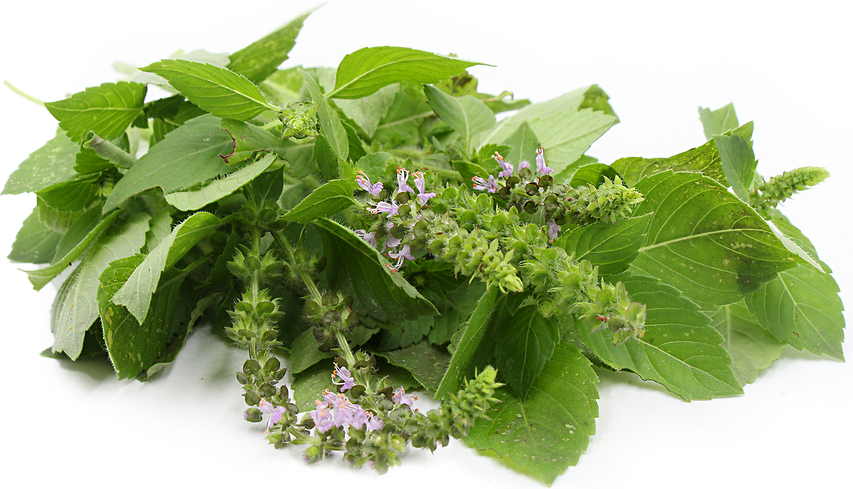 Blue Spice Basil
Inventory, bunch : 0
Description/Taste
Blue Spice basil is comprised of small to medium-sized leaves, with some leaves only reaching up to three centimeters in length and have an oval, lanceolate, to tear-drop shape. The textured leaves have serrated edges, a slightly fuzzy, soft feel, and are covered in prominent veining that extends across the surface. Young leaves also have a dark purple blush, eventually transitioning to solid green when mature, and are aromatic, emitting a floral sweetness filled with spiced vanilla and bubblegum overtones. When the plant blooms, long, square, dark purple to maroon stalks appear and display many small, lavender flowers encased in dark purple bracts. It is important to note that the bi-colored nature of each Blue Spice basil plant will vary depending on the amount of sunlight and age of the plant. Blue Spice basil leaves can be harvested at multiple maturity stages and contain a mild licorice flavor mixed with sweet and complex notes of citrus, cloves, and vanilla.
Seasons/Availability
Blue Spice basil is available in the late spring through summer.
Current Facts
Blue Spice basil, botanically a part of the Ocimum genus, is an ornamental garden variety considered one of the most fragrant basils, belonging to the Lamiaceae family. The bi-colored basil is an interspecies hybrid between Ocimum basilicum and Ocimum Americanum and is believed to be a cross between lemon basil and purple basil, specifically bred for its unusual aroma and flavor. Blue Spice basil is an early-blooming plant, showcasing aromatic lavender flowers that attract beneficial pollinators and provide an aesthetic quality to garden landscapes. The plants are also uniform and compact, growing up to 45 centimeters in height, and are a productive variety sown in herb gardens as a medicinal, culinary, and ornamental basil.
Nutritional Value
Blue Spice basil is an excellent source of vitamin K, a nutrient that assists in faster wound healing, and is a good source of vitamins A and C to strengthen the immune system and reduce inflammation. The leaves also contain antioxidants with anti-inflammatory properties, iron to build the protein hemoglobin to transport oxygen through the blood, manganese to stimulate protein digestion and provide other minerals including copper, calcium, and magnesium.
Applications
Blue Spice basil has a robust aroma and fragrance showcased when utilized fresh, in sweet and savory preparations. The leaves may contain a light coating of fuzz that can be removed by rubbing the surface against the grain under running water. Once washed, the leaves can be mixed into fruit and green salads, torn and sprinkled over omelets, soups, and curries, or folded into tomato-based dishes. Blue Spice basil can also add flavor to pesto, marinades, and dressings, or it can be muddled into liquors, sparkling beverages, lemonade, and tea. In addition to savory preparations, Blue Spice basil can be combined into baked goods including scones, cakes, muffins, bread, and cookies, infused into syrup and used as a topping over baked fruits, pancakes, and granola cereal bowls, or dried and crushed into sugar for added flavoring. Blue Spice basil can also be dried and utilized as a spice, but much of the aroma and flavor will be lost in the drying process. Blue Spice basil pairs well with fruits such as bananas, cranberries, citrus, and strawberries, other herbs including lavender, lemon balm, and mint, meats such as turkey, poultry, and fish, eggs, zucchini, tomatoes, eggplant, and radishes. Fresh leaves attached to stems can be placed in a glass of water and lightly covered in the refrigerator, where they will keep up to one week. Individual leaves can also be stored in between paper towels in a plastic bag, kept in the fridge for 2 to 4 days.
Ethnic/Cultural Info
Basil historically has been used for its content of essential oils, and Blue Spice basil contains a compound called bisabolene, which has a warm, spicy aroma with hints of balsamic, citrus, and myrrh. This compound is extracted from the herb and is used in cosmetics, perfumes, and other commercial products as a substitute for bergamot, myrrh, or lemon, and is also used as a fixative to stabilize neroli oil. During the Middle Ages, aromatic basil leaves were scattered across the floor in European households to create a fresh scent and deter insects. In the modern-day, basil varieties, including Blue Spice basil, are no longer scattered on floors, but the leaves and flowers are dried and traditionally incorporated into bouquets, potpourri, and scented sachets as a household fragrance throughout Europe.
Geography/History
Blue Spice basil is believed to be an heirloom variety created from an interspecies cross between lemon basil and purple basil. The exact origins of the variety are unknown, as many basil species cross-pollinate easily and have been developing new hybrids and species since ancient times. Today Blue Spice basil is cultivated worldwide and is a specialty variety primarily grown through select farms and basil enthusiasts in home gardens. The basil variety is available in seed form through online catalogs and is sold fresh through farmer's markets and gourmet distributors.
Recipe Ideas
Recipes that include Blue Spice Basil. One

is easiest, three is harder.