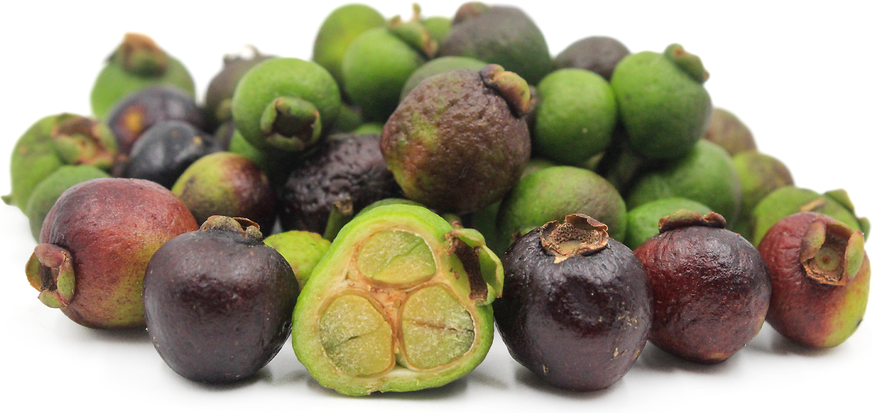 Arrayan Negro Fruits
Inventory, lb : 0
Description/Taste

Arrayan Negro fruits are small in size, averaging 1 to 2 centimeters in diameter, and have a round, oblong, to oblate shape with curved edges and a prominent flower calyx at one end. The fruit's skin is semi-thin, taut, matte, and lightly textured with small indentations, ripening from green to shades of red-purple, dark purple, to black-brown. The epicarp, or outermost layer of the fruit's surface, is less than 2 millimeters in thickness, and underneath this layer is a thin amount of flesh. The flesh ranges in color from pale green to purple-red, depending on maturity, and is firm, crisp, and lightly aqueous with a crisp consistency. The flesh generally encases 1 to 4 large seeds, and some fruits can even contain more, the number varying due to climate, soil quality, pollination, and the individual tree. Arrayan Negro fruits are edible raw and have a sweet, subtly tannic, perfumed flavor.


Seasons/Availability

Arrayan Negro fruits generally appear twice a year between April and May and September through October.


Current Facts

Arrayan Negro, botanically a part of the Myrcianthes genus, is a rare fruit belonging to the Myrtaceae family. The small fruits develop on slow-growing, evergreen trees reaching 20 meters in height and are harvested from wild and cultivated trees. There are over 3,000 species within the Myrtaceae family, and several species native to Central and South America bearing round, purple fruits are generally labeled as Arrayan in local markets. Arrayan Negro is also known as Black Myrtle and Black Arrayan and is most commonly associated with the species Myrcianthes rhopaloides. Arrayan Negro fruits are not commercially cultivated and were once widely found in the wild. Fruits were gathered from trees for medicinal and culinary use, and birds and animals shared in consuming the fruits. Arrayan Negro trees also attracted beneficial pollinators with their fragrant blooms, allowing plants nearby to reap the benefits. Over time, the wild trees were destroyed due to deforestation and habitat destruction, leading to dwindling populations. In the modern day, Arrayan Negro trees are still found in small populations in the wild and are also planted in urban landscapes, including home gardens, parks, and alongside roadways and sidewalks. The trees are also used as living fences. Arrayan Negro fruits are mainly consumed fresh in their growing regions.


Nutritional Value

Arrayan Negro fruits are a source of tannins, naturally occurring compounds also known as polyphenols with antioxidant-like properties to protect the cells against the damage caused by free radicals and oxidative stress. The fruit's flesh and skin also provide anthocyanins, pigments that contribute to the fruit's dark purple-red coloring. Anthocyanins are another type of antioxidant that contains anti-inflammatory properties. In natural medicines of Colombia, Arrayan Negro fruits are topically used to soothe irritations and sores, and the leaves are sometimes chewed to freshen breath and clean the mouth.


Applications

Arrayan Negro fruits have a sweet, perfumed flavor suited for fresh preparations. The fruits are traditionally consumed raw and are mainly eaten ripe, as mature fruits have the sweetest taste. Arrayan Negro fruits are also pressed into juices for smoothies, frescas, and other juice-based drinks as a refreshing ingredient. In Ecuador, Arrayan fruits and leaves are used in a variation of colada morada, a beverage made from corn, fruits, sugar, water, and spices. The creation of colada morada dates back to pre-Hispanic times and is customarily consumed at celebrations on the Day of the Dead. Each colada morada recipe will vary between families and geographical regions, and recipes using Arrayan Negro are typically found within the fruit's growing region. Arrayan Negro fruits pair well with spices such as cloves, cinnamon, and star anise, fruits such as blackberries, pineapples, and oranges, brown sugar, and herbs such as lemongrass or lemon verbena. Ripe fruits should be immediately consumed after harvest for the best quality and flavor.


Ethnic/Cultural Info

An Arrayan Myrtle tree was planted in the Plaza Mayor by Antonio Nariño in Colombia on April 29th, 1813. Nariño, a well-known political patriot, planted the tree as a symbol of freedom and used the fruiting tree to convey his alliance with the ideas of the French Revolution. During the early 19th century, Colombia was under the rule of Spain, and leaders, including Nariño, sought to separate from Spanish rule and become independent. Nariño was famously inspired by events of the French Revolution, lasting from 1789 to 1799, and planting a tree in a public space was a tactic used during the French Revolution. The planted tree represented Nariño's support of freedom and revolution, and Nariño even placed a Phrygian cap on the tree, another symbol taken from the French Revolution. Phrygian caps were worn during the French Revolution to signify the pursuit of liberty and freedom.


Geography/History

Arrayan Negro fruits are native to Central and South America, specifically areas of Colombia, Ecuador, Peru, Bolivia, Venezuela, Costa Rica, and Panama, and have been growing wild since ancient times. The fruiting, evergreen trees thrive in regions of the Andes Mountains 3,500 meters and below, in humid forests, and along sloping foothills. Arrayan Negro fruits are primarily a wild species and have not been domesticated for commercial production. The trees have remained relatively localized to their native growing regions without extensive spread, but they have also been selected as a local landscape species. Arrayan Negro fruit trees are planted in home gardens and urban areas in South America as slow-growing, ornamental trees. Today Arrayan Negro fruits are mainly found in the Eastern Cordillera of Colombia, the Bosque de los Arrayanes in Santa Marta de Cuba in Ecuador, the Andes Valleys of Venezuela, and other locations within its native growing region. The fruits are seasonally sold through fresh markets.