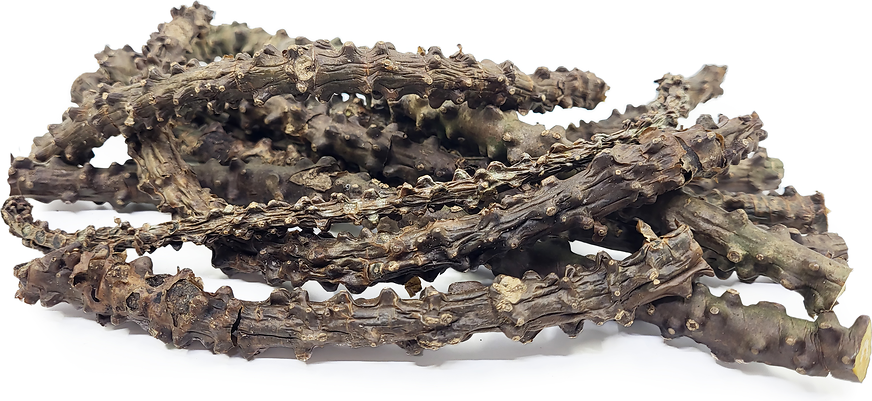 Batrawali Vines
Inventory, ea : 0
Description/Taste

Batrawali is a slender climbing vine comprised of elongated stems that grow above ground and produce heart-shaped leaves, sending aerial roots into the soil. The cylindrical stems can grow over 15 meters in length and are generally around 1 to 2 centimeters in diameter, winding and curling around trellises, fences, and other plants. When the stems are young, they have thin, smooth, and brown skin that can be easily scraped off, revealing a fleshy, bright yellow-green interior. The stems are also fibrous, developing a rough exterior as they mature, transitioning into a grey-brown hue with a brittle, flaky surface. One of the defining characteristics of the plant is the stem's bumpy nature, covered in small protrusions, sometimes referred to as blunt tubercles or nodules. The stems are also lightweight, easily shaped, and cracked open, and the mature roots have a drier, stringy, almost hollow inside. The leaves are broad, flat, and curved, averaging 7 to 12 centimeters in diameter, and have a smooth, succulent, and pliable nature, showcasing yellow veining across the surface. Batrawali has an herbal, bitter smell when opened, and the stems are very bitter, earthy, and often considered unpalatable as a stand-alone ingredient. The stems and leaves are treated as medicinal ingredients, which are believed to nourish the body when combined with other herbs in teas, tinctures, and topical treatments.


Seasons/Availability

Batrawali is available year-round.


Current Facts

Batrawali, botanically classified as Tinospora crispa, is an herbaceous creeping vine belonging to the Menispermaceae family. The climbing vine grows in twisted, intertwined, and tangled formations and is native to Southeast Asia, where it has been used for centuries as a medicinal plant in natural treatments. Batrawali is known by many local names, as the vine is traditionally grown in home gardens or harvested from wild plants. In Indonesia, Batrawali is known as Andawali, Brotawali, Brotowali, and Antawali, in Malaysia, Patawali, Akar Seruntum, Seruntum, Gadel Lead, and Akar Patawali, in Thailand as Boraphet, in China as Da Ye Ruanjingteng, Golonchi or Guloncho-ban in Bangaladesh, and Makabuhay in the Philippines. All parts of Batrawali are used in various medicinal remedies, but the mature stems are the most popular portion of the plant sold through local markets. Batrawali stems have a very bitter and earthy flavor incorporated into teas, tonics, and topical ointments.


Nutritional Value

Batrawali stems and leaves are a source of vitamin C to strengthen the immune system, potassium to balance fluid levels within the body, calcium and phosphorus to build strong bones and teeth, and contains other nutrients, including iron, zinc, copper, and manganese. Batrawali is known throughout Southeast Asia as an ingredient to help with diabetes, malaria, and lowering blood pressure. The stems and leaves are customarily boiled in water and consumed as a tincture, and this mixture is believed to have anti-microbial and antipyretic properties to lower fevers, cleanse the digestive tract, and reduce inflammation within the body. In addition to drinking water infused with Batrawali, the stems can be boiled, and the liquid can be used to clean skin irritations, lesions, and wounds. The leaves can also be crushed and topically placed over wounds to reduce itchiness.


Applications

Batrawali stems are not utilized in culinary applications and are reserved for medicinal use. The stems are the most used portion of the plant in treatments, and the stems have a very bitter and earthy flavor, often requiring other ingredients to help mask its taste. The stems are traditionally chopped into small pieces and steeped in boiling water to extract the nutrients. Once the mixture has been left to develop, it can be drunk as tea or stirred into concentrated extracts. Batrawali stems can also be left to infuse nutrients into a jar of coconut oil. This combination can be consumed or applied topically to help heal irritations and wounds. In addition to drinking Batrawali steeped water, the leaves and stems can be boiled together to make a soothing liquid, and the infused water can be used to wash various skin wounds, placed in a bathtub for full-body immersion or absorbed into a cloth and gently squeezed over the skin. While Batrawali is mainly used in home remedies passed down for generations, some regions of Southeast Asia have retailers that cultivate and offer the stems in pill form. Batrawali can be served with coconut oil, honey, or rock sugar to improve the stem's bitter nature. It is best to use the stem immediately after harvest or purchase for the best quality and nutrients.


Ethnic/Cultural Info

Batrawali stems are used in local races held during Indonesian Independence Day celebrations. Indonesian Independence Day is celebrated on August 17th and has been recognized as a holiday since 1945. The commemorative event is known as Hair Kemerdekaan and honors the day when Indonesia declared itself as independent and free from colonialism. Each year, a National Independence Day Ceremony in Jakarta is broadcasted over television stations, and communities host their own flag hoisting ceremony in honor of the country. In addition to formal practices, various villages also gather together during this day to play games, cook, and socialize with other members of their communities. One of the more unusual traditions is biting onto a Batrawali stem while completing a race. The stems are peeled to reveal a smooth surface, but the stems carry a very bitter flavor, imparting an intense aroma and taste into the mouth during the race. It is required for the racer to keep the Batrawali stick in their mouth for the entire race and the racer with the fastest time is the winner.


Geography/History

Batrawali is native to tropical and subtropical regions of Southeast Asia and has been growing wild since ancient times. The plant grows naturally in deciduous forests and rain forests and has been used medicinally for thousands of years among communities in Malaysia, Thailand, and Indonesia. Over time, Batrawali has become a popular home garden plant in backyards, creeping along fences, trellises and climbing on other plants. Batrawali is not produced on a large commercial scale, but the plants are cultivated through select growers in Sri Lanka, India, and Thailand. Small-scale plantings are often processed into powders and capsules sold in health food stores and online marketplaces. Today Batrawali can be found in local wet markets throughout Southeast Asia, especially in India, Thailand, Cambodia, Indonesia, Malaysia, Singapore, the Philippines, and southwestern China. The Batrawali featured in the photograph above was sourced from a produce stand in Tekka Center, a famous wet market in Little India in Singapore.