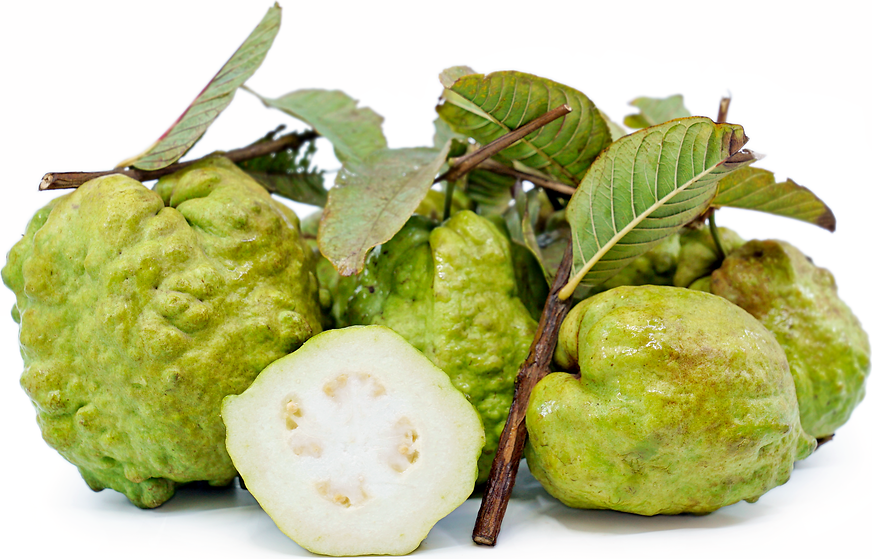 Thai Guavas
Inventory, lb : 0
This item was last sold on : 11/28/22
Description/Taste
Thai guavas widely range in size, depending on the specific variety, and are generally small to medium in size with a round to oval shape. The fruit's thin skin can be smooth and textured to bumpy, covered in protrusions, warts, and nodes, and have a firm consistency. The skin also transitions from pale green to yellow-green with maturity. Underneath the surface, the white flesh is dense, coarse, grainy, and thick with a crunchy, aqueous, and firm mouthfeel. The flesh also encases a cluster of tiny cream-colored to pale yellow seeds, which are edible but very hard. Thai guavas release a faint tropical aroma and have a mild, sweet, and subtly tart taste with floral and fruity nuances.
Seasons/Availability
Thai guavas are available year-round.
Current Facts
Thai guavas, botanically a part of the Psidium genus, are tropical fruits belonging to the Myrtaceae family. There are many varieties of guavas generally labeled under the Thai guava name, and most of the cultivars are types of white guavas, favored for their firm, crisp nature. Thai guavas are a common fruit throughout Thailand and are easily found in the wild and sold at local markets. The fruits are primarily consumed semi-ripe, utilized as a crunchy element in fresh and cooked preparations. Thai guavas are favored for their sweet, subtly tangy flavor. Beyond the fruits, the roots, leaves, and bark have been a part of medicinal, culinary, and cultural uses in Thailand for centuries.
Nutritional Value
Thai guavas are a source of vitamin C to strengthen the immune system while reducing inflammation, vitamin A to maintain healthy organ functioning, and fiber to regulate the digestive tract. The fruits also provide potassium to balance fluid levels within the body, calcium to build strong bones and teeth, magnesium to control optimal nerve functioning, and other nutrients, including manganese, vitamin E, phosphorus, iron, and copper. Guava leaves are used as a breath freshener and are chewed to remove odors from the mouth.
Applications
Thai guavas have a mild, sweet, and subtly sour taste suited for fresh and cooked preparations. The fruits are traditionally eaten fresh, and the entire fruit is edible, including the skin, flesh, and seeds. Most Thai guavas are enjoyed when they are firm, shredded into slaws, chopped into salads, or sliced and mixed with fermented chili pastes as a crunchy side dish. In Thailand, guavas are commonly found in markets and are a popular snack food. Food vendors often cut up guavas and place them in a clear plastic bag, served with chili powder, salt, or sugar for added flavor. These bags are sold as an on-the-go snack, and bamboo skewers are used to eat the fruit pieces. It is important to note that sliced guavas should be immediately consumed, as they will grow mushy in a few hours. Thai guavas can also be pureed into dips or incorporated into chutney. In addition to fresh preparations, unripe Thai guavas are pickled and consumed as a tangy condiment, allowing growers to pick the fruits before they are ripe, preventing birds and other animals from eating them. The fruits can also be cooked into sweet and savory preparations, added to soups, stews, and curries, skewered and grilled with meat, simmered into jellies, jams, and syrups, or baked into desserts and pie fillings. Thai guavas pair well with spices such as cinnamon, chili powder, and cloves, meats including poultry, pork, and beef, seafood, fruits such as coconut, strawberries, passion fruit, mango, papaya, and pineapple, and aromatics including ginger, shallots, and chives. Whole, unwashed Thai guavas should be used immediately for the best quality and flavor. The fruits have a short shelf life and can be kept a room temperature for 1 to 2 days to ripen. Once ripe, the fruits should be stored in the refrigerator for 1 to 4 days. Sliced guavas should be eaten as quickly as possible and will only keep for 1 to 2 days in the fridge. Thai guavas can also be frozen for extended use.
Ethnic/Cultural Info
Thai guavas are locally known as Farang, a descriptor with several meanings in Thailand. The first and primary meaning refers to something foreign. Since Thai guavas were developed from white guavas introduced to Thailand in the 17th century by Portuguese explorers who sourced the fruits from the New World, Thai guavas were given the name Farang to highlight their non-native status. Farang is also used for outside items imported into Thailand and is a term for western foreigners. Since Farang has a double meaning, Thai children are sometimes amused at the idea that eating Thai guavas or Farang can also mean "eating foreigners." Beyond the fruits, Thai guava leaves have historically been used to remove foul odors from excavation sites. Archaeologists have spent years unearthing ancient stupas; decorative structures typically used to house relics and burial mounds. Many of the older stupas are buried deep within the ground, and once opened, they release unpleasant and sometimes toxic odors. Archaeologists combat these odors by throwing Thai guava branches and leaves into the space to absorb the stench. Each site is different, and some dig sites may require multiple branches and leaves to remove the unwanted smells. Once the branches and leaves are discarded, the workers can enter the place to begin excavating.
Geography/History
Thai guavas are a type of white guava descended from wild varieties native to South America. White guavas were thought to have originated in Peru, and archaeological evidence estimates that the fruits were being cultivated as early as 800 BCE. Over time, white guavas were carried and planted in tropical to subtropical regions throughout Central America, the Caribbean, and Mexico. In the 15th and 16th centuries, Portuguese explorers journeyed to Central and South America, collecting white guava seeds to bring back to Europe. The explorers later introduced white guava seeds to Asia in the 17th century, where they were planted in Thailand during the rule of King Narai during the Prasat Thong Dynasty. White guavas thrived in Thailand's tropical climate and were spread throughout the country, becoming naturalized in forests, jungles, and alongside villages. White guavas were extensively bred in Thailand to create more palatable varieties, eventually developing cultivars generally labeled as Thai guavas. Today Thai guavas are primarily grown in Thailand and Southeast Asia and sold through street vendors, local markets, and grocers. The guavas are also grown on a small scale in the United States, mainly in California, Florida, and Hawaii, and are offered through specialty distributors and farmers markets.
Recipe Ideas
Recipes that include Thai Guavas. One

is easiest, three is harder.