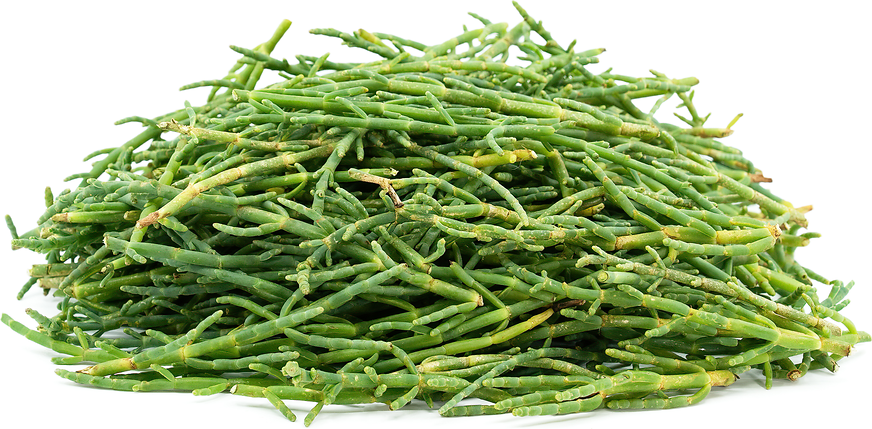 Sea Beans
Inventory, 5 lbs : 22.87
This item was last sold on : 11/30/23
Description/Taste
Sea Beans grow upright in dense, branching clusters and are comprised of slender, multi-segmented stems generally harvested when they have reached 2 to 6 centimeters in length. Each part of the plant has a curved, cylindrical nature, and the branches are connected by distinct joints, growing in opposite pairs along the stem. Sea Beans are bright green when young and edible, transitioning into red, brown, and purple hues when the weather becomes cooler. The stems and branches are smooth, fleshy, and firm, showcasing a crisp, succulent, and snappy consistency. When foraging, only the green tops of the plants are desired for culinary purposes, as the younger greens have a more tender and less fibrous texture. As the plants mature, they develop a woody, unpleasant consistency. Sea Beans have a salty, briny, and vegetal, seaweed-like flavor when fresh. The greens are favored for their lack of fishy qualities, and when cooked, they become less salty and develop mild nuances reminiscent of green beans or asparagus.
Seasons/Availability
Sea Beans are available in the late spring through summer.
Current Facts
Sea Beans, botanically a part of the Salicornia genus, are a type of flowering succulent belonging to the Amaranthaceae family. The annual plants form in an upright, branching formation and are generally low-growing, reaching up to thirty centimeters in height. Sea Beans is a general descriptor for over thirty species within the Salicornia genus, and Salicornia translates to mean "salt horn," a name given for the plant's shape and taste. Sea Beans grow wild worldwide and have historically been foraged as a seasonal delicacy in the spring and summer. The various species are also known under other regional names worldwide, including Sea Asparagus, Samphire, Glasswort, Pickleweed, Marsh Samphire, Saltwort, Sea Pickle, Crow's Foot Greens, Salt Daddies, and Beach Asparagus. Sea Bean plants are halophytes, meaning they can grow in soil and water with high salinity and have one of the highest salinity tolerances of any plant. This distinct feature of the plants allows them to grow in coastal habitats as well as inland salt marshes and mud flats. Sea Beans are vital to saltwater and brackish ecosystems as they absorb excess salt, balancing their surrounding environment for the survival of other animal and plant species. Beyond their importance as a filtering species, Sea Beans are also regarded as a culinary delicacy. The small, branched plants are traditionally foraged from the wild and are used as a refreshing, briny, and salty element in raw and cooked preparations.
Nutritional Value
Sea Beans are a source of protein to develop muscle, calcium to build bones and teeth, vitamin A to maintain healthy organ functioning, and potassium to balance fluid levels within the body. The greens also provide iron to develop the protein hemoglobin for oxygen transport through the bloodstream, magnesium to promote energy production, and other nutrients, including copper, fiber, iodine, and riboflavin. Dissociated sodium and chloride are the elements absorbed by Sea Beans from salt water, giving the plants a salty taste. Sodium is essential to many functions occurring within the body, and the plants also absorb beneficial ionic minerals from the water. Despite their salty nature, Sea Beans are not thought to alter blood pressure and contain trans ferulic acid, a phytochemical that helps reverse age damage, promoting regeneration in the body.
Applications
Sea Beans have a crisp, salty, and bright taste suited for fresh and cooked preparations. The greens can be served raw if they are foraged from a clean environment or purchased through a grower and are popularly used as an edible garnish. More often, Sea Beans are challenging to clean due to a layer of salt residue left on the surface and are commonly blanched and shocked in an ice water bath to prepare. Sea Beans can also be soaked in water for two hours if they are too salty raw, and once prepped, the greens can be tossed into salads, served on charcuterie boards in place of pickles, chopped into salsa verde, or blended into pesto. In addition to fresh preparations, Sea Beans can be blanched and added to pasta, cooked into omelets and frittatas, stirred into soups and curries, or mixed into noodle-based dishes. They can also be added to stir-fries, fried into tempura, or sauteed with aromatics as a simple side dish. Sea Beans mustn't be overcooked as they can become soft and lose their signature snappy, crisp nature. The briny flavor of the greens complements seafood and is served over lobster, fish, shrimp, and crab, or they are cooked and stirred into quinoa, rice, and pasta for added flavor. Sea Beans can also be pickled as a tangy, salty condiment or dehydrated and ground into a salt substitute. Sea Beans pair well with cheeses such as sheep, blue, gorgonzola, and mozzarella, cured meats including salami, ham, or prosciutto, and herbs such as chervil, basil, cardamom, and cilantro. Whole, unwashed Sea Beans will keep for 1 to 2 weeks when wrapped in damp paper towels and stored in a sealed container in the refrigerator. If the stalks become limp before use, they can be shocked in an ice bath to develop a crisp texture. Blanched Sea Beans can also be frozen and stored for up to one month.
Ethnic/Cultural Info
Sea Beans earned the moniker Glasswort in Europe when the plant was commonly used to make glass and soap. The plants would absorb sodium from their salty growing environment and store it in the tissues of their branches and stems. In the 14th century, Italian glassmakers discovered that they could burn Sea Bean plants to convert the sodium within the branches into sodium carbonate, also known as soda ash. The ash was mixed with water to remove non-soluble components, and the water was allowed to evaporate, leaving a pure form of sodium carbonate for glassmaking. The sodium carbonate was then mixed with sand to produce a clear type of glass, widely favored among glassblowers for its appearance. After this discovery, glassmakers across Europe began relocating to coastal regions and islands to live in areas where Sea Beans grew wild for ample sodium carbonate. In the 16th century, Italian glassmakers moved to England, where they discovered that the English coastline was covered in different species of Sea Beans. At the time, there was no known name for the salty plant, so glassblowers began calling it Glasswort. The name was accepted among workers and eventually became one of the plant's most used monikers in England. Extracting sodium carbonate from Sea Beans remained the primary glassmaking method until the early 19th century when other natural composites were incorporated to streamline the glassblowing process.
Geography/History
Salicornia is a genus comprised of many different species of plants native to temperate coastal regions worldwide, specifically North America, Europe, Asia, South Africa, and New Zealand. The plants have been growing wild since ancient times and thrive along beaches, salt marshes, mangroves, estuaries, and intertidal zones. Salicornia species have been foraged as a culinary delicacy among various cultures worldwide for centuries, valued for their briny flavor and crisp consistency, but the coastal plants remained primarily a foraged crop until the late 20th and early 21st centuries. In 2020, entrepreneur Sam Norton created the first indoor saltwater farm in Charleston, South Carolina, to grow Salicornia. Norton operates under his company Heron Farms, and his indoor facility marks a new wave of sustainable farming known as saltwater agriculture. Salicornia species are cultivated, harvested, and packaged under Sea Beans, the most common name in the United States. Today Sea Beans are mainly foraged from wild plants and are sold seasonally through fresh markets and distributors. The greens are also commercially cultivated on a very small scale and sold through online retailers and distributors. Outside of foraging, Sea Beans are offered through select seed companies as a home garden plant. The species will survive in specific growing conditions, but they will lack the unique salinity the plant is known for when cultivated in normal soil.
Featured Restaurants
Restaurants currently purchasing this product as an ingredient for their menu.
| | | |
| --- | --- | --- |
| Mabel's Gone Fishing Bar | San Diego CA | 619-228-9851 |
| InterContinental Vistal Kitchen | San Diego CA | 619-501-9400 |
| Fairmont Grand Del Mar | San Diego CA | 858-314-1975 |
| Jake's Del Mar | Del Mar CA | 858-755-2002 |
| Wormwood | San Diego CA | 619-573-0289 |
| Botanica (Bar) | San Diego CA | 619-310-6320 |
| Inn at Rancho Santa Fe | Rancho Santa Fe CA | 858-381-8289 |
| Books and Records | San Diego CA | 619-310-5298 |
| Avant | San Diego CA | 858-675-8505 |
| Bistro du Marche by Tapenade | La Jolla CA | 858-551-7500 |
| Two Ducks | San Diego CA | 760-235-3120 |
| The Plot | Oceanside CA | 422-266-8200 |
| Adobo House | San Diego CA | 619-990-8340 |
| Animae | San Diego CA | 619-925-7908 |
| Azuki Sushi Lounge | San Diego CA | 619-238-4760 |
Recipe Ideas
Recipes that include Sea Beans. One

is easiest, three is harder.