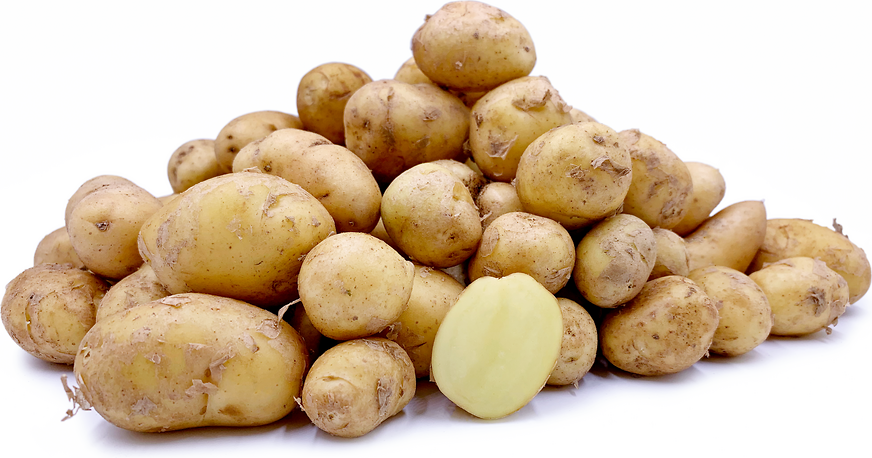 Noirmoutier Potatoes
Inventory, lb : 0
Description/Taste

This Noirmoutier variety is considered a new potato, harvested when the potatoes are small and eaten soon after rather than put into storage. Noirmoutier potatoes are fairly round and have a fine, delicate yellow skin that is very flavorful. The eyes are semi-sunken. Inside, the potatoes are a darker yellow with a fine grain. The soil and island home of the Noirmoutier gives this potato a sweet and salty flavor with hints of lemon and even walnut that is above and beyond other varieties. The plant grows fairly large, with dark green, short leaves. One row foot yields less than half a pound of potatoes.


Seasons/Availability

Noirmoutier potatoes are available in the spring.


Current Facts

Noirmoutier potatoes get their name from the island of Noirmoutier in France, the only place in the world they grow. They are only available in limited quantities in early May every year. Because of their limited availability and excellent taste, they are considered to be the world's most expensive potatoes and are sought after by chiefs— they sometimes fetch up to 500 Euros per kilogram. Only about 110 tons of Noirmoutier potatoes are produced every year. This variety is also known as Bonnotte potatoes.


Nutritional Value

Potatoes such as the Noirmoutier are mainly made up of water and carbohydrates. They have some protein and fiber, particularly insoluble fiber mostly found in the skin. Potatoes are a good source of potassium and vitamin C as well. They have almost no fat.


Applications

Treat these potatoes gently, as the skin is somewhat delicate. Cook with the skin on to maintain the flavor. The unique taste of Noirmoutier potatoes is best appreciated by simply browning them in butter on the stovetop. They can also be boiled or steamed as with other potatoes. Make into purees, salads, or soups. They do not store long and should be eaten soon after harvest.


Ethnic/Cultural Info

The Noirmoutier potato occupies an important place in the farming and culinary culture of the island on which they grow. They are traditionally planted on Candlemas—February 2—and harvested by hand 90 days later during the first week or so in May. There is a festival on the island every May dedicated to this delicacy. Besides the main variety, sometimes called Bonnotte, other potatoes grown on Noirmoutier include Sirtema, Lady Christl, and Charlotte.


Geography/History

The flavor and profile of these potatoes comes from the fact that they grow only on the island of Noirmoutier off of Brittany in northwestern France. The island has a mild climate and sandy soil. Farmers fertilize the soil with seaweed, also lending to the unique flavor of these potatoes. The first Noirmoutier potato was likely brought from northern France to the island by a farmer in the 1920s or 30s. During the mid-twentieth century, agricultural mechanization threatened the delicate variety and its production declined. The Agricultural Cooperative of the Isle of Noirmoutier brought the variety back in the 1990s.