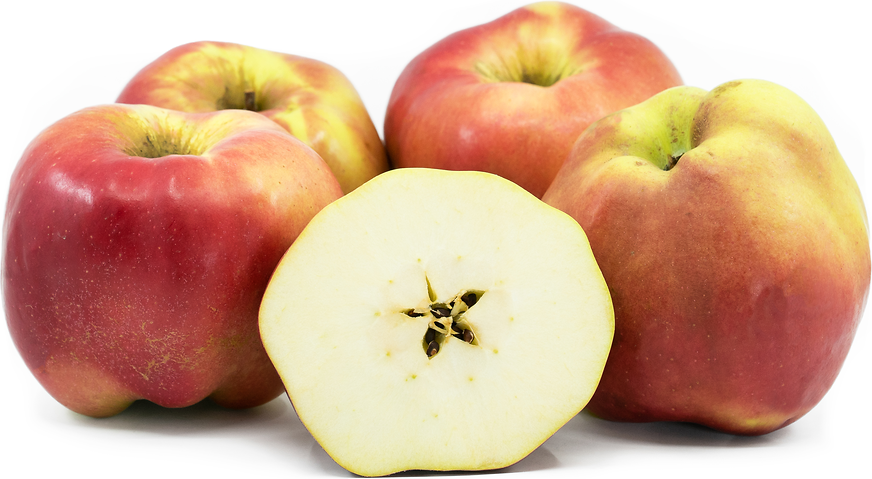 Hanners Jumbo Apples
Inventory, lb : 0
Description/Taste

Hanners Jumbo apples are very large in size, averaging 20 to 22 centimeters in diameter, and have a bulbous, blocky, slightly square shape. The apples are often lopsided, lumpy, and heavy, weighing anywhere from .9 to 1.45 kilograms in weight. The skin is semi-thick, taut, smooth, and firm, developing a greasy, slippery feel in extended storage. The skin also has a bright yellow-green base, covered in large patches of red-pink blush. The amount of blush will vary, depending on sun exposure during cultivation, and some portions of the blush will appear solid, while others will remain translucent. Underneath the surface, the ivory to pale yellow flesh is dense, aqueous, and moderately crisp with a succulent, soft consistency. The flesh also encases a central fibrous core filled with tiny black-brown seeds. Hanners Jumbo apples release a faint, fruity aroma when sliced and contain low acidity, creating a mild, sweet, and subtly tart flavor.


Seasons/Availability

Hanners Jumbo apples are available in the late fall.


Current Facts

Hanners Jumbo apples, botanically classified as Malus domestica, are an oversized variety belonging to the Rosaceae family. The late-season apples are one of the largest apple varieties produced in the United States and were discovered growing as a natural mutation on an apple tree in the Pacific Northwest in the late 20th century. The fruits grow on trees reaching 3 to 4 meters in height and exhibit average disease resistance, making them suitable for limited production. Hanners Jumbo apples are a specialty variety only grown in Oregon, and the fruits are sold on a small-scale more as a novelty than as a staple market apple. The supersized apples are favored for their sweet-tart flavor, juicy nature, and ample amounts of flesh. In the modern day, Hanners Jumbo apples are available in limited quantities each season and can be consumed fresh or cooked, complementing a variety of sweet and savory preparations.


Nutritional Value

Hanners Jumbo apples have not been studied for their nutritional properties. Like other apples, the variety is a source of potassium to balance fluid levels within the body, calcium to build strong bones and teeth, and fiber to regulate the digestive tract. The apples also provide vitamin A to maintain healthy organ functioning, vitamin C to strengthen the immune system, vitamin E to reduce inflammation, and other nutrients, including phosphorus, zinc, magnesium, copper, and manganese. The apple's red blush indicates anthocyanins, natural pigments within the skin with antioxidant-like properties to protect the cells against free radical damage and oxidative stress.


Applications

Hanners Jumbo apples have a sweet-tart taste suited for fresh and cooked preparations. The giant apples can be consumed straight out of hand and are often served as a snack for multiple people. The apples can also be used in any recipe calling for raw apples, including salads, chopped into fruit medleys, mixed into fruit bowls, or sprinkled as a fresh topping over breakfast dishes such as yogurt, pancakes, and porridge. Try slicing Hanners Jumbo apples and placing them on slices of cheddar wrapped in prosciutto as an appetizer or dip plain slices in chocolate, caramel, or nut butter. In addition to fresh eating, Hanners Jumbo apples can be cooked, and their softer flesh is often used to make apple sauce, chutney, or jams. The apples can also be baked into pies, cakes, muffins, bread, crisps, and crumbles, or they can be cooked into dumplings and fritters. In 1979, the press asked breeder Dan Hanners what a consumer would do with a three-pound apple. Hanners replied, "A three-pound apple will make two nine-inch pies." The apple's large size earned it fame throughout the Pacific Northwest, and several fresh markets would advertise the apple's ability to make multiple pies from one fruit as a major selling point. Beyond culinary preparations, Hanners Jumbo apples can be pressed into juices, stirred into cocktails, or added to cider blends. Hanners Jumbo apples pair well with spices such as cinnamon, cloves, nutmeg, and ginger, maple syrup, vanilla, chocolate, and nuts such as almonds, pecans, walnuts, and pistachios. Whole, unwashed Hanners Jumbo apples will keep for 1 to 2 months when stored in the refrigerator's crisper drawer.


Ethnic/Cultural Info

Daniel A. Hanners, mostly known as Dan, was a man of many talents. Hanners moved to Hood River, Oregon, after marrying his wife Mary Ann Scearce and resided in the city for the remainder of his life. Hanners held many positions of title throughout his career in Hood River from 1952 to 1985, including real estate agent, fire chief, Hood River county assessor, and stock manager, but one of his most notable titles within the community was apple grower. After discovering large apple sports on his Spokane Beauty apple tree, Hanners began breeding gigantic apples. In the mid-20th century, one apple from Hanner's first supersized crop was selected, photographed, and featured on the back cover of the quarterly report for the United States National Bank of Oregon. This photograph gave Hanners nationwide publicity, and the apple photo even reached an unnamed man from Pennsylvania. The man contacted Hanners and sought to purchase the apple. A 1.5-kilogram apple was sent to the man in Pennsylvania, and rumor has it that the man gave the apple to President John Kennedy when he was on tour through Pittsburg.


Geography/History

Hanners Jumbo apples were developed in Hood River, Oregon. In 1958, farmer and breeder Dan Hanners was walking through his orchard when he noticed a few oversized apples growing on a limb of a Spokane Beauty apple tree. The apples were natural mutations on the tree, also known as sports, and were selected by Hanners for propagation. Hanners took the mutated branch, grafted it onto Malling 9 rootstock, and encouraged the tree to produce large fruits by overwatering and severely pruning the branches. The supersized apples developed from the grafted tree were initially named Hanners Best, also known as Stark's Jumbo. In the early 1970s, Hanners Jumbo apples were discovered as a sport growing on a tree of Stark's Jumbo. Today Hanners Jumbo apples are only grown in Oregon and are offered as a specialty variety sold directly through farms such as Kiyokawa Family Orchard in Parkdale, Oregon. The apples may also be occasionally found in fresh local markets in Oregon.