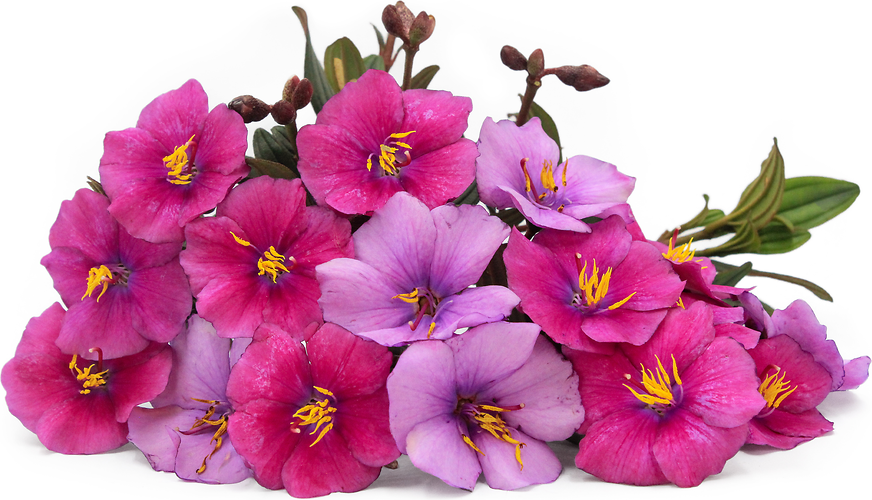 Sietecuero Flowers
Inventory, ea : 0
Description/Taste

Sietecuero flowers are medium to large in size, averaging 5 to 6 centimeters in diameter, and have an open, circular appearance with six symmetrical, broad petals. Each petal has an oval, curved nature, tapering toward the bloom's center, showcasing scalloped edges with separation from the other petals. The flower has a delicate, soft, smooth, and velvety feel and can be found in varying shades of white, dark purple, pink, fuchsia, to lavender. In the blossom's center, several yellow-red stamens are arranged in clusters and are elongated, slender, and pointed, covered in golden pollen. Sietecuero flowers are edible and have a fleshy, subtly crisp texture and a mild, slightly acidic, green flavor.


Seasons/Availability

Sietecuero flowers are in bloom generally in the late summer through late fall. In some climates, the flowers also appear in January and June.


Current Facts

Sietecuero flowers, botanically classified as Andesanthus lepidotus, are a South American species belonging to the Melastomataceae family. The colorful, showy blooms develop on evergreen trees reaching 12 to 20 meters in height and grow in clusters of three flowers at the end of each branch. Sietecuero flowers have been appearing on wild trees for thousands of years, and the species is valued in wild populations for its erosion control capabilities. The tree's roots descend into the Earth, protecting the topsoil from wind and water damage, keeping slopes and riverbanks intact. The trees are also used as windbreaks on properties and are planted as a live fence, and the wood is constructed into tool handles and furniture. Sietecuero is a name derived from the tree's bark. It is said the red-orange exterior bark peels off in layers from the tree's trunk, earning the species the name Sietecueros, meaning "seven leathers" or "seven layers." Sietecuero flowers are also known as Mayos, Flor de Mayo, Andean Princess Flower, and Glory Bush. In the modern day, Sietecuero flowers are mainly grown as an ornamental plant, sown in home gardens, along sidewalks, on farms, in parks, and along public trails. The flowers are favored for their size, colorful nature, and fast-developing blooms.


Nutritional Value

Sietecuero flowers have not been studied for their nutritional properties. The blooms are primarily served as an edible garnish and are not considered a significant source of nutrients. Beyond vitamins and minerals, Sietecuero flowers are treasured among Andean communities as a species that attracts beneficial pollinators to home gardens. The tree's fruits also nourish local wildlife, including birds and small mammals.


Applications

Sietecuero flowers have a mild, slightly acidic flavor suited for fresh and cooked preparations. The petals can be individually plucked and incorporated into dishes as an edible garnish. Sietecuero flowers are not widely utilized as a culinary ingredient, but their popularity is increasing among fine dining establishments in South America as a colorful enhancement. The petals can be sprinkled over dips and spreads, tossed into salads, scattered over charcuterie boards, or gently pressed into soft cheeses. Sietecuero flowers can also be layered into wraps, placed on top of omelets, or garnished over seafood and meat main dishes. In addition to savory preparations, Sietecuero flowers can be simmered into jams and sauces, candied and dusted as a sweet dessert decoration, incorporated into sorbet, or arranged on top of pastries and cakes. Sietecuero flowers can also be used as a garnish for enhanced visual appeal on cocktails, sparkling beverages, and fruit drinks. Sietecuero flowers pair well with tropical fruits such as pineapple, guava, passionfruit, and coconut spices such as ginger, nutmeg, cardamom, cinnamon, and cloves, vanilla, and chocolate. Whole, unwashed Sietecuero flowers should be immediately used after harvest for the best quality and flavor and will only keep for 1 to 2 days when stored in a ventilated container in the refrigerator.


Ethnic/Cultural Info

Outside of South America, Sietecuero flowers have become a signature bloom of the town of Alstonville in northern New South Wales, Australia. The species is also known under the alternate botanical classification, Tibouchina Lepidota, and is often simply called Tibouchina or Lassiandra flowers in Australia. The species had been present in Australia throughout the 20th century, but it wasn't until Dr. George Hewitt and Bill Bewley imported seeds from Brazil that spurred the plant's popularity. Alstonville resident Ken Dunstan acquired seeds from Dr. Hewitt and Bewley and began breeding new varieties in the 1960s. After several years of breeding, Dunstan created new Tibouchina cultivars and had them planted along the city streets in Alstonville. The trees became increasingly popular as Alstonville residents noticed the colorful blooms and evergreen leaves, and eventually, the varieties were planted in home gardens throughout the town. In the present day, Tibouchina flowers are a symbol of Alstonville, and one of the varieties Dunstan created was even named after the town. Alstonville Tibouchina is a popular variety grown throughout New South Wales and other warm regions of Australia, and the trees can still be seen lining city streets with their vibrant blooms.


Geography/History

Sietecuero flowers are native to northwestern South America, specifically Colombia, Peru, Venezuela, and Ecuador, and have been growing wild since ancient times. The species is adaptable to elevations between 400 to 3,900 meters above sea level and can be found in various climates, from mountainous regions of the Andes to warm, humid, tropical forests. Andesanthus lepidotus is widely found in the wild in its native growing region and has been planted as an ornamental tree in urban landscapes in South America. The species was described by French botanist Aime Bonpland and French naturalist Jean Baptiste Christophe Fusée Aublet, both notable plant researchers. Today Andesanthus lepidotus grows wild and is planted in home gardens and public spaces as an ornamental species in South America. The species was also introduced to Australia, where new varieties have been created for ornamental use.