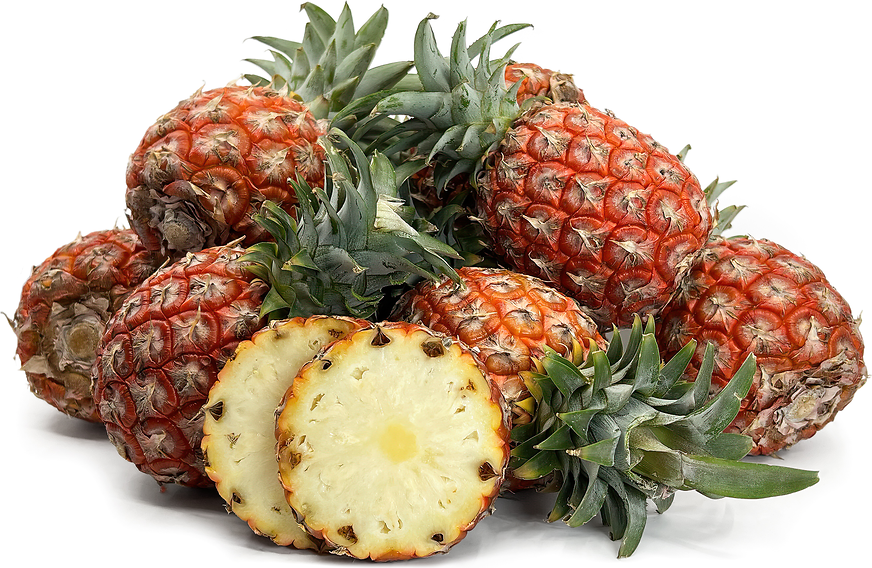 Peach Pineapples
Inventory, ea : 0
Description/Taste
Peach pineapples are a small variety, but because of the high level of sweetness and juiciness, can weigh anywhere from 14 and 28 ounces. When ripe, its exterior turns a red-orange hue with pale eyes. The flesh is a bright yellowish-white, with a soft edible core. The texture of the fruit is creamy, tender and juicy, offering a balanced sweet-tart tropical flavor with nuances of peach. Slightly sharp in flavor when first harvested, the acidity of the Peach pineapple will mellow after a few days in storage. Highly aromatic, the Peach pineapple will have a sweet scent when ripe and ready to eat.
Seasons/Availability
Peach pineapples are available in the spring and early summer months.
Current Facts
Peach pineapples are a cultivar of Ananas comosus, one of the many types native to the small Japanese island of Okinawa. It was first released in 1999 under the name Soft Touch pineapple, and is sometimes referred to as Milk pineapple for its cream-colored flesh. The small pineapple variety is descendant from the Hawaiian 'smooth cayenne' variety, which is the most common pineapple found in grocery stores, and an unnamed Okinawan variety. Outside of Japan, Peach pineapples are quite rare. Even within Japan, they are considered a treat and are generally more expensive than other varieties.
Nutritional Value
Peach pineapples, like other pineapple varieties, are an excellent source of manganese. They are one of the most important sources of the essential mineral. Manganese contributes to overall brain and nervous system functions, as well as regulating the body's metabolism. It helps control the levels of sugar in the blood, helps the body absorb essential vitamins and minerals, and is used as an anti-inflammatory. Peach pineapples are a good source vitamin C and dietary fiber. They are also a source of potassium, vitamins B1 and B6, beta carotene and antioxidants. They also contain the prebiotic enzyme bromelain, which also gives under ripe pineapple an irritating quality.
Applications
The Peach pineapple is most often eaten fresh, in salads or as a snack. Unlike larger varieties of pineapple, the flesh of the Peach pineapple is completely edible, core and all. Remove the crown and bottom, then carefully remove the outer skin, taking with it the least amount of flesh. Peach pineapples can be grilled, sautéed, roasted, baked, juiced or pureed. Their petite size makes them ideal for use as garnish on cocktails or on kebabs. Their flavor pairs well with teriyaki, pork, white fish, banana, coconut, chocolate and sweet cream. Enzymes in the fruit help breakdown protein, making them ideal for meat marinades or in classic Asian dishes like sweet and sour pork. In Okinawa, Peach pineapples are used to make 'lagrima del sol', or "tears of the sun", a pineapple wine. If you need to store them, wrap in a newspaper and store in the refrigerator or cool dark place upside down, so their juice (and all the sweetness) will spread out evenly. Store any cut portions of the fruit in the refrigerator for up to a week.
Ethnic/Cultural Info
The pineapple industry in Okinawa has a long history. At its peak in 1969, Okinawan farmers were harvesting 100,000 tons of the tropical fruit. But pineapple exports began to drop during the 1970s and even more after 1990 due to an oil crisis and changes to import laws regarding frozen pineapple. By 2012 exports were down to only 6% of their peak in 1969. To celebrate the pineapple industry in Okinawa and to reintroduce people to the benefits of the fruit, the Nago Pineapple Park was opened. The park was opened in 2007 and features a restaurant, pineapple wine production and tasting, tours of the pineapple factory, and pineapple-shaped carts for self-guided tours around the park.
Geography/History
Pineapple is believed to have first made an appearance in Japan on the beaches of Ishigaki island in 1868, when seedlings were cast ashore from the wreck of a Dutch ship in the island's northern Kabira Bay. It wasn't until 1927 that the smooth cayenne pineapples were introduced to the southern Japanese islands. The Peach variety was developed at the Okinawa Prefectural Agricultural Research Center located in Nago. They were first registered and introduced as 'Soft Touch' pineapples, but are known by locals as "Peach pine". They are only grown in Okinawa Prefecture, specifically on the northern coast of Okinawa Island and in the prefecture's southern-most Ishigaki Islands. The island group sits a little more than 100 miles of the eastern coast of Taiwan and includes two main islands: Iriomote-jima and Ishigaki. It was Taiwanese settlers that first began full-scale pineapple production on Ishigaki Island in 1935. Peach pineapples are available throughout Japan and Taiwan.
Podcasts