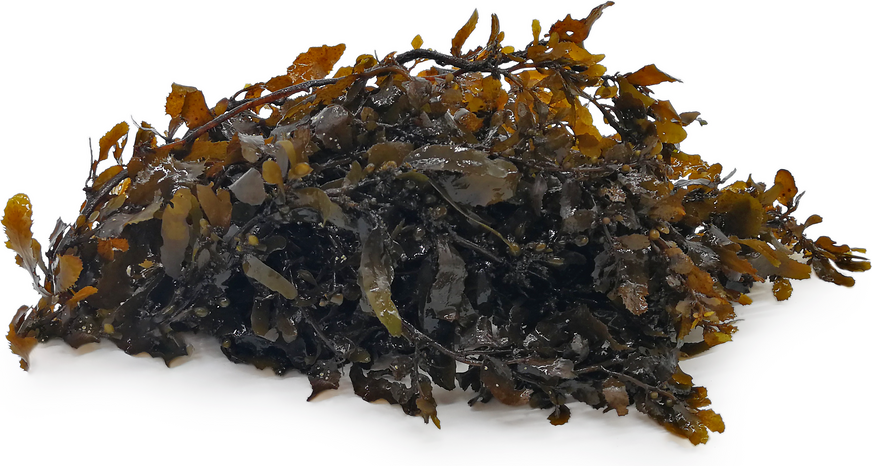 Sargassum Seaweed
Inventory, lb : 0
Description/Taste
Sargassum seaweed is a bushy seaweed with a unique plant body that grows from 20 centimeters to 200 centimeters in length. It bears narrow, toothed leaves which are golden brown in color. These grow to around 6 millimeters in diameter, and 10 centimeters in length. The seaweed also bears small, berry-like air sacs which allow the seaweed to float, some varieties creating floating rafts on the ocean. There are also small spines, which grow to around 5 millimeters in length. All parts of the seaweed are soft, rubbery and flexible. It has a strong, umami flavour with bitter and nutty notes.
Seasons/Availability
Sargassum seaweed is available year-round, with peak season in warmer months.
Current Facts
Sargassum seaweed is an edible seaweed which comes in as many as 130 varieties. In the wild, these encompass Sargassum natans and Sargassum fluitans, also called Brown AlgaeIn countries like Indonesia, they are picked off the beach, sun-dried, and sold. Their extracts are commonly used in cosmetics. There are also many varieties of cultured Sargassum seaweed widely grown and harvested in other parts of Asia. These are used dried and salted, or fresh. One such variety is Sargassum fusiforme, also known as Hijiki. If foraging for Sargassum seaweed, avoid any portions of the plant that is covered with green-blue algae, which is TOXIC.
Nutritional Value
Sargassum seaweed is a nutritious food rich in carotenoids, cellulose, protein, and aspartic and glutamic acids. Sargassum seaweed contains polysaccharies, which support healthy bloody pressure and blood sugar. It has antibacterial and antioxidant properties.
Applications
Sargassum seaweed may be used fresh, eaten with a dash of vinegar or lemon juice, or in salads. Hawaiians use fresh Sargassum seaweed as an accompaniment to raw fish. You'll often find Sargassum seaweed in soups, vegetable dishes, and in seasonings. To use Sargassum seaweed, first wash it thoroughly. The softer parts of the plant, like the leaves, are used, so remove any harder stems and spikes. These leaves can be sun- or smoke-dried and eaten as a chip, or fried and eaten as tempura. Or, cut the leaves into bite-sized pieces. These may be cooked, simmered with soy sauce for 30 minutes, then mixed with oil and other ingredients like finely sliced or julienned carrots, and served as a side dish for fish and meat dishes. The leaves can be mixed with salt and green onions, and used as a dumpling filling. To use in in a soup or curry, use the leafy part of the plant, whole. Cook it in water or coonut milk. Store fresh Sargassum seaweed in saltwater in a loosely covered container at room temperature, where it will last for several days.
Ethnic/Cultural Info
Sargassum seaweed has a mythical, ominous image in Western culture. To mariners, it was bestial and hungry, prowling the waters of the Bermuda Triangle. Sailors have long imagined thick mats of seemingly endless Sargassum seaweed catching their ships, dooming the vessels to spiral with the seaweed along the currents until they disintegrate and sink together. In the East, it has an entirely different, more practical face. It is a component used in traditional Chinese medicine that dates to around the 8th Century. It is said to be helpful for the treatments of bronchitis, laryngitis, infections and fevers. It can be used in poultices to treat wounds. It is greatly appreciated in Japan, where seaweed has been used as an ingredient in foods for centuries.
Geography/History
Sargassum seaweed is found in tropical and temperate waters throughout the world. It is named for the Sargasso Sea, which surrounds Bermuda in the North Atlantic, and where the seaweed once was thought to be concentrated. However, it occurs throughout the world except in the Antarctic. It is especially plentiful in Asia, with 28 species found in Korea alone. Sargassum seaweed is collected along the coasts of eastern China and southern Japan. In the past few decades, rising sea temperatures have led to ever-more plentiful blooms. Because it is difficult to clear, and because it begins to smell when it decays on the shore, it is often seen as a nuisance, especially in tourist-heavy areas such as Bermuda. But this edible seaweed is also environmentally important, as it provides food and supports entire marine food chains. It acts as shelter for a large variety of fish, shrimp, crabs, turtles and whales, since Sargassum seaweed often forms floating rafts which can be a few acres across, and can reach around 7 meters in depth.
Recipe Ideas
Recipes that include Sargassum Seaweed. One

is easiest, three is harder.