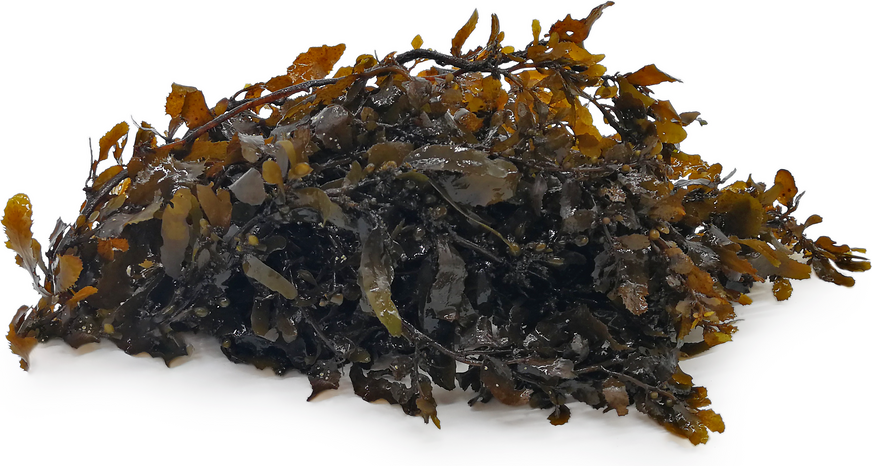 Sargassum Seaweed
Inventory, lb : 0
Description/Taste
Sargassum seaweed varies in appearance as there are hundreds of varieties generally labeled as Sargassum, but the seaweed genus as a whole is typically found in clustered, bushy clumps. Within the clumps, the seaweed is comprised of elongated, slender, and pliable stems with lanceolate-shaped foliar blades sometimes referred to as fronds or leaves. The stems and fronds range from smooth, rubbery, to sticky, and the entire seaweed is flexible, strong, and sturdy to withstand currents. The fronds and stems are dark brown, yellow-brown, or amber, and the fronds can have smooth or toothed edges. Intermixed with the fronds and stems are small, round, oval pods. These pods, known as pneumatocysts, are filled with gas and are developed to help the seaweed float at the top of the ocean's surface. Sargassum seaweed blooms in the ocean when environmental conditions are ideal, and the seaweed floats at the surface, producing large carpet-like mats that can join with other clumps to form massive floating algae beds. Once the seaweed drifts in the current and washes ashore, it transitions into a black hue and becomes brittle, delicate, and dry. Sargassum seaweed is said to have a strong, earthy, and savory taste with a bitter, nutty, and umami-like minerality. It is often referred to as an acquired taste. Though the flavor is listed in this article, it is critical to note that worldwide health organizations are currently examining Sargassum seaweed as traces of arsenic have been found in some species. It is challenging to discuss its edibility as some communities worldwide accept it as an edible culinary ingredient while others do not. It is ultimately up to the individual to determine their answer. What is agreed upon is that if the seaweed bears blue-green algae on the surface, it is toxic and should never be eaten. A discussion with a medical professional is advised before consuming Sargassum seaweed.
Seasons/Availability
Sargassum seaweed is available year-round, with a peak season in the late spring through fall.
Current Facts
Sargassum seaweed, botanically a part of the Sargassum genus, is a type of brown algae belonging to the Sargassaceae family. Sargassum is a general term utilized casually in articles and research to talk about the oceanic genus, but there are over 300 species, some very similar in appearance, all categorized under the Sargassum genus. Sargassum seaweed species are found worldwide, and each region will typically have a species most common to that area. In the Atlantic, Sargassum natans and Sargassum fluitans are the two most prevalent species that wash up on shorelines, while in Hawaii, Sargassum echinocarpum is the primary species, locally known as Limu Kala. Asia is home to Sargassum horneri and Sargassum fusiforme, known as Akamoku and Hijiki, and there are many other species found throughout the waters in Southeast Asia and along Africa, South America, and Caribbean coastlines. Sargassum seaweed may also take on several forms, but many species are holopelagic, meaning they float through the ocean at the surface rather than attaching to the ground. This unusual growing method is made possible by the seaweed's ball-like bladders that keep the body of the seaweed afloat. In fact, the name Sargassum was derived from the word salgazo, later sargaco and sargazzo, a term given by Portuguese sailors who thought the floating spheres resembled a type of grape. Historically, Sargassum seaweed has been an important element of ocean ecosystems, and some varieties were used in culinary and medicinal preparations worldwide, with extensive use in East Asia. In the modern day, the seaweed is still regarded as an important algae to sustain wildlife, but the seaweed has become the subject of serious debates by health organizations in regard to its edibility.
Nutritional Value
Sargassum seaweed is under review for its nutritional properties. The seaweed is said by some to contain antibacterial, anti-inflammatory, and antioxidant properties to protect the cells against the damage caused by free radicals and oxidative stress. Sargassum seaweed is also thought to provide some fiber to regulate the digestive tract, vitamin C to strengthen the immune system, and other nutrients, including calcium, vitamin A, magnesium, and B vitamins. In Traditional Chinese Medicine, various Sargassum seaweed species are dried and ground into a powder to make a tea to reduce phlegm. The seaweed is also used to soothe symptoms associated with infections, sore throats, and fevers.
Applications
Sargassum seaweed is heavily debated whether it is safe or harmful for consumption. In this section, traditional uses of species within the Sargassum genus are highlighted, but it is not recommending nor condemning the use of Sargassum. Please consult with a medical professional before consuming Sargassum. It is also important to note that Sargassum seaweed should never be foraged from the ocean without seeking expert guidance for any purposes, as the seaweed has been found to sometimes accumulate levels of arsenic and other heavy metals. It is challenging to discern where the seaweed has been previously if gathering from the ocean and what the seaweed has absorbed along its journey. Historically, Sargassum seaweed species have been consumed in Asia. Sargassum fusiforme, known as Hijiki seaweed, is the most popular species, and the seaweed is typically used fried or dried into thin strips. Hijiki can be fried and mixed with aromatics, cooked and served with fish and other seafood, or used as a filling in dumplings. The seaweed can also be simmered in soups, fried into tempura, mixed into stir-fries, added to noodle dishes, or stirred into rice. In Japan, Hijiki is popularly used in omelets, and in Korea, it is cooked as a side dish, tossed into salads, or combined into bap. Outside of Asia, Sargassum seaweed is sometimes cooked in coconut milk, steamed and served as a side dish, baked into chips, or sprinkled with vinegar or lemon juice for enhanced flavoring. The Hawaiians incorporated Sargassum with raw fish, mixed the seaweed into smoked dishes, or dried and ground it into spice blends. Again, it is unknown whether Sargassum is edible or harmful. In the past, it may have been edible, but recently with the influx of pollution in the ocean, health professionals worldwide are examining whether the seaweed should be an ingredient to include in culinary dishes.
Ethnic/Cultural Info
In the western Atlantic Ocean, there is an area known as the Sargasso Sea that spans over 1,107 kilometers wide and 3,200 kilometers long. It is the only sea in the world without fixed land boundaries, and one of the sea's distinct characteristics is its abundance of Sargassum seaweed. The seaweed was first recorded by Christopher Columbus on his 1492 voyage. Throughout history, the Sargasso Sea has acquired an ominous, mystical reputation among sailors, and the legends live on into modern-day superstitions. Christopher Columbus's crew was caught in the Sargasso Sea when the winds died down in the doldrums, forcing the ship to float aimlessly among the massive Sargassum seaweed beds. Columbus's sailors often regarded seaweed as an indicator that they were close to shore, leading them to fear the Sargassum seaweed, thinking their ship would get stuck on land or be ensnared by the algae. For years after Columbus's voyage, other sailors imagined the thick mats of seemingly endless Sargassum seaweed catching their ships, dooming the vessels to spiral with the seaweed along the currents until they disintegrate and sink together. The Sargasso Sea is also associated with the Bermuda Triangle, an area of the sea where ships and planes have mysteriously disappeared without a trace. While the Sargasso Sea is the favored backdrop for mystery and magic, in reality, it is a distinct ecosystem that several aquatic species depend on for survival. Scientists have nicknamed the sea the "golden floating rainforest," and the floating algae provide shelter, food, and a thriving habitat in the middle of the open ocean.
Geography/History
Sargassum seaweed is native to all the oceans except the Antarctic and has been growing wild since ancient times. Experts believe the seaweed has existed for over 30 million years, and various species within the Sargassum genus have been utilized throughout history in medicinal remedies, select culinary applications, as a fertilizer, livestock feed, or ingredient in cosmetics, and each country has its own perspective and view surrounding the brown algae. Sargassum seaweed has historically been utilized in East Asia, primarily in Japan, China, and Korea, and the seaweed is collected off the country's coasts and traditionally sold fresh or dried. In Hawaii, Sargassum echinocarpum is the only seaweed used in a ho'o pono pono or a forgiveness ceremony. The seaweed is held in the hands of each family member involved in the ceremony, and the participants sit in a circle and pray for peace, unity, and forgiveness until everyone has become harmonious. Despite its rich cultural uses throughout history, Sargassum seaweed is rising in natural populations in the oceans due to pollutants stimulating the algae's growth in the modern day. This creates larger seasonal blooms that can sometimes generate harmful dead zones in the ocean by removing oxygen from the water. The seaweed can also release toxic odors when decomposing on the sand, hindering economies that depend on clean beaches as a source of tourist income. Today Sargassum thrives in tropical to temperate oceans worldwide and grows naturally without being commercially produced.
Recipe Ideas
Recipes that include Sargassum Seaweed. One

is easiest, three is harder.