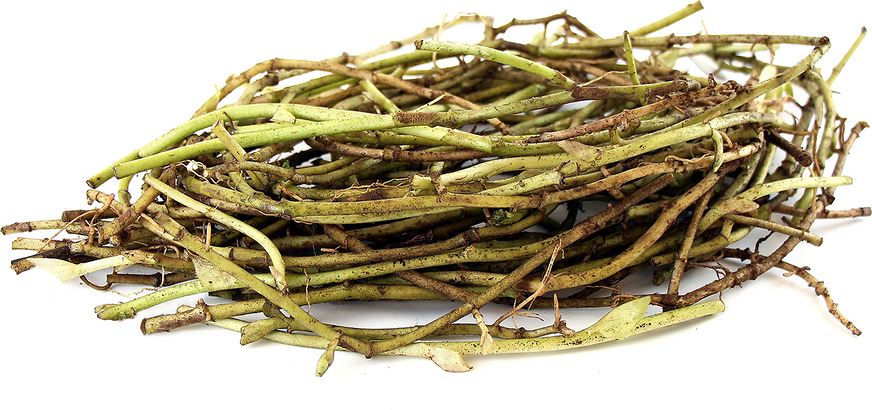 Wild Ginger Roots
Inventory, lb : 0
Description/Taste

Wild ginger is an evergreen perennial that grows at a fairly fast rate. It sends up shoots from its horizontally growing rhizomes and creates a low mat-like ground cover. It has heart-shaped leaves and bell-shaped brown flowers that bloom in the spring. The edible rhizomes are long and spindly with a woody exterior. They are best when foraged in the fall because they are large and flavorful, packed with stored nutrients for the upcoming dormant winter. Wild ginger root and leaves exhibit the quintessential aroma and flavor of ginger you would expect, but with stronger pepper notes. Wild ginger compliments carrot, garlic, scallion, cilantro, mint, chile peppers, lime, honey, cream, chocolate, rum, curries, sesame and soy sauce.


Seasons/Availability

Wild ginger may be foraged year-round, but is best in the fall.


Current Facts

The two Wild ginger species that are native to North America are the Eastern variety, Asarum canadense, and the Western variety, A. caudatum. They are completely unrelated to the commercial ginger found in grocery stores, which is an entirely different genus, Zingiber officinale. Wild ginger shares the same aromatics of common ginger but is far more subtle on the palate with a stronger peppery finish. Wild ginger is a favorite among foragers for both culinary and medicinal applications, but should be used with caution. In extremely high doses Wild ginger has been linked to liver failure due to its Aristolochic acid content, however moderate amounts are perfectly safe and nontoxic.


Nutritional Value

Wild ginger has a calming effect on the digestive system as well as antibiotic properties.


Applications

Wild ginger root may be used as a substitute for the ginger you would buy in the store, and applied to both sweet and savory dishes. The root may be dried and ground for later use or in baking applications. Boil the root in sugar water and then coat in coarse sugar to make candied ginger for cakes and cookies or just a stomach settling snack. Use the left over flavorful syrup to mix in cocktails or sweeten tea. The leaves are also edible with a milder flavor, and may be steeped to make a tea.


Ethnic/Cultural Info

Native Americans used Wild ginger to treat poor digestion, swollen breasts, coughs and colds, typhus and scarlet fever, nerves, sore throats, cramps, earaches, headaches, convulsions, asthma, tuberculosis, urinary disorders, venereal disease; as an appetite stimulant, birth control and of course for seasoning food.


Geography/History

Wild ginger has been used by Native Americans since before recorded history, and by European immigrants since 1600. Foraged Wild ginger can be found throughout the United States and into Canada. Wild ginger prefers moist, shady locations with well-drained soils. It frequently grows on the outer flood plains of streams, on hillsides above seasonal creeks and in the undergrowth of Redwood forests.