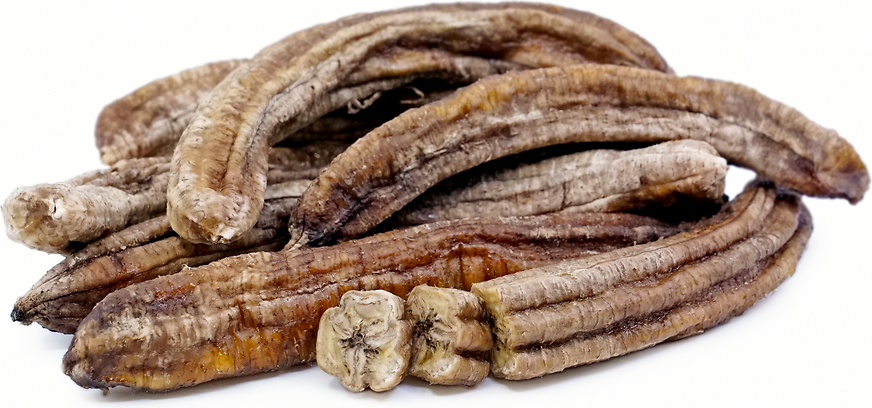 Sechees Bananas
Inventory, lb : 0
Description/Taste
Bananes Sechees are generally small but vary in size, depending on the variety of bananas used, and typically have an elongated to oval shape. The dried fruits can be found individually or bundled together in bunches of 10-12 bananas. The skin of the dried banana ranges in color from brown, dark brown, to black, and is shiny, wrinkled, and slightly sticky. Underneath the skin, the flesh is dark yellow-gold and is soft with a gummy texture. Bananes Sechees are sweet and chewy with a consistency similar to fruit leather.
Seasons/Availability
Bananes Sechees are available year-round.
Current Facts
Bananes Sechees are dried bananas that are botanical members of the Musa genus and belong to the Musaceae family. Translating from French to literally mean "dried bananas," Bananes Sechees are predominately found and sold in local markets throughout French Polynesia. Many varieties of bananas can be used to make Bananes Sechees, and in French Polynesia, the bananas are dried and slightly fermented or cured, though this process changes often depending on the region it is dried in. Once the bananas are dried, they are bundled into small groupings, wrapped for protection, and sold in markets, displayed in neat piles or hung from the top of fruit stands. These bananas are a local favorite for their sweet flavor and chewy texture and are primarily consumed raw as a snack or utilized in cooked applications for added sweetness.
Nutritional Value
Bananes Sechees contain some phosphorus, iron, calcium, manganese, vitamin C, potassium, magnesium, and copper.
Applications
Bananes Sechees can be utilized raw and are a favorite snack to consume fresh, out-of-hand. The dried fruit has a soft and chewy texture, and many consumers liken it to eating fruit leather. Bananes Sechees can be found whole, sliced in half and dried, or even sliced into small chips. When dried, these fruits can be incorporated into desserts such as cakes, muffins, cookies, donuts, and buns, or they can be blended into flan or compotes. Bananes Sechees can also be torn into small pieces and blended into smoothies or shakes, mixed into porridges or yogurts, or served with seafood such as fish or crab. In addition to main and side dishes, the fruits can be served with other dried fruits, chocolate, and nuts as an appetizer. Bananes Sechees pair well with cinnamon, cottage cheese, orange juice, mango, cranberries, pineapple, peaches, cucumbers, avocado, and soy sauce. The dried fruits will keep up to one year when stored in a sealed container in a dark location.
Ethnic/Cultural Info
Bananes Sechees are known for being wrapped in banana leaves in tight bundles in French Polynesia, but they are also dried and used all over the world in tropical regions. In Indonesia, dried bananas are fried in tempura batter as a sweet and savory dish and are smoked for added flavor. The dried fruits are also a favorite sweet snack of the Acehnese people. In Ecuador, dried bananas are consumed by athletes as it is believed the fruits provide a high amount of nutrients and calories to maintain endurance. These athletes also consume the dried fruits because they are easy and slow to digest, providing a balanced level of fullness without the added weight or digestive discomfort. While the process of drying the fruits and consuming them is very similar between cultures, it is important to note that the variety of banana may change depending on the region the fruit is grown in.
Geography/History
Bananas are believed to be native to Southeast Asia and were cultivated before 5000 BCE. While the history of when bananas were dried and formed into Bananes Sechees in French Polynesia is mostly unknown, the dried fruits are popularly found in local markets in Southeast Asia, French Polynesia, and South America. The Bananes Sechees in the photograph above was found at the central market place in Papeete, Tahiti.
Podcast