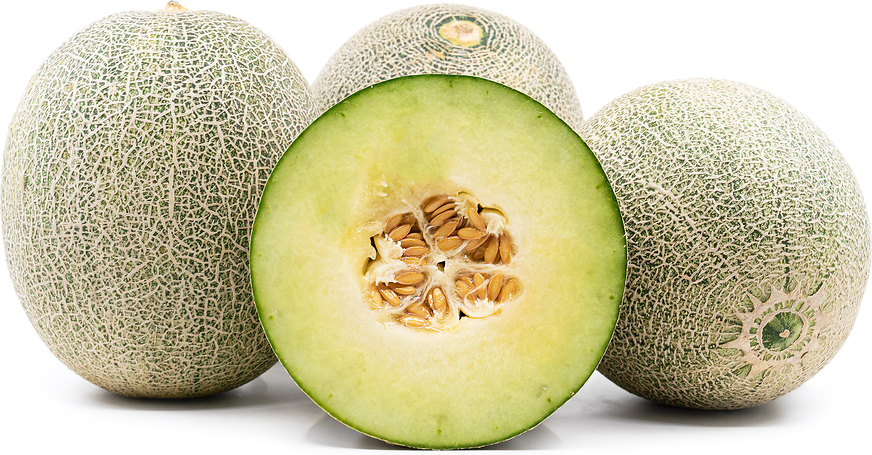 Takami Melon
Inventory, lb : 0
Description/Taste

Takami melons are small to medium in size, averaging 1.2 to 1.5 kilograms in weight, and have a uniform, oval to elliptic shape. The melon's skin has a mottled, variegated, dark green to yellow hue and is entirely covered in tan to light brown netting. The surface is hard, and the netting, also known as mesh, is slightly raised, giving the surface a textured, rough feel. It is said that the sweetest melons will have a mesh with an irregular pattern that is almost completely solid. Underneath the skin, the flesh transitions from dark green to light green, almost white, and is fine-grained, smooth, dense, and aqueous with a crisp, succulent, and firm consistency. This variety is known for its juice-saturated flesh. The flesh also encases a small central cavity filled with teardrop-shaped, light brown to tan flat seeds suspended between white, stringy fibers. Takami melons emit a floral, honeyed aroma and should feel heavy for their size. When ripe, the area surrounding the end of the melon will give slightly under pressure. Takami melons are edible raw and have a high sugar content, generally around 16 Brix, creating a light, sweet, and refreshing flavor.


Seasons/Availability

In Japan, Takami melons are available in the spring through late summer, with a peak season in June and July.


Current Facts

Takami melons, botanically classified as Cucumis melo, are a Japanese variety belonging to the Cucurbitaceae family. The small melons grow on sprawling vines and are typically cultivated in highly controlled greenhouses throughout Japan to monitor the melon's size, shape, sugar levels, and juice content. Takami melons were released in the late 20th century and were selected as a commercial variety for their pleasing appearance, sweet taste, juicy, semi-firm nature, and extended storage capabilities. The variety is also known as Kimi melon in Kanji and is considered a specialty variety sold as a fresh-eating cultivar in the late spring through summer throughout Japan. Takami melons are savored for their refreshing nature and have a reputation for quality melons grown under strict qualifications. This mark of quality has allowed the variety to become a suitable gift for celebratory events, given to family, friends, and coworkers.


Nutritional Value

Takami melons are a source of vitamin A to maintain healthy organ functioning, vitamin C to boost the immune system, and vitamin E to protect the cells against the damage caused by free radicals. The melons also provide vitamin K to produce proteins for improved wound healing, iron to develop the protein hemoglobin for oxygen transport through the bloodstream, calcium to build strong bones and teeth, and antioxidants to reduce inflammation and protect overall health. In natural remedies of Japan, the high-water content in melons is believed to have a cooling effect on the body, soothing inflammation and reducing digestive issues.


Applications

Takami melons have a refreshing, light, and sweet taste suited for fresh and cooked preparations. The melons are customarily consumed chilled, and placing the fruits in the refrigerator for 1 to 2 hours before serving is recommended. Takami melons can be sliced into wedges and consumed as a healthy snack or dessert, or the flesh can be wrapped in ham, prosciutto, or smoked chicken as an appetizer. Try slicing the melons in half, removing the seeds, and filling the cavity with ice cream as a shareable, refreshing dessert. The flesh can also be mixed into fruit medleys, tossed into salads, layered into parfaits, balled and topped over jellies, or combined with fresh herbs as a savory-sweet side dish. In addition to fresh preparations, Takami melons can be blended or pureed and frozen into popsicles, sorbet, and gelato. They can also be pressed into juice for flavoring smoothies, cocktails, and fruit punches. Takami melons pair well with herbs such as mint, cilantro, parsley, and lemongrass, chile peppers, ginger, and fruits such as pineapple, kiwi, apples, strawberries, and cucumbers. Whole, unripe Takami melons can be stored at room temperature for 1 to 2 weeks in a cool, dry, and dark place. Once ripe, the flesh should be immediately consumed for the best quality and flavor. Sliced Takami flesh will keep for 2 to 3 days in a sealed container in the fridge. The flesh can also be frozen for 2 to 3 weeks.


Ethnic/Cultural Info

Takami melons are famously grown in Iioka town in Asahi City of the Chiba Prefecture, the first city to commercially produce the variety in Japan. Iioka is known for its mild climate with cool summers, establishing the region as an ideal melon-growing location. Iioka has developed a reputation for high-quality fruits as the farmers undergo extensive cultivation practices to create uniform, aesthetically pleasing melons with rich flavors. Takami melons are marketed from Iioka with the phrase, "Noble taste, Iioka Takami Melon," and are considered a luxury fruit in the commercial marketplace. Each melon is hand-inspected, sugar tested, and harvested at specific times. Iioka Takami melons are only picked once they have achieved 15 Brix, a unit of sugar measurement in the flesh, and the fruits are marked with a specialized logo unique to Iioka. Takami melons with green flesh are marked with green stickers depicting the town's well-known Gyohbu Cape Lighthouse surrounded by a sun. These stickers are a mark of quality, as the melons had to pass strict inspections. Takami Red melons, a cultivar created twenty years after Takami, are marked with a red and gold sun and lighthouse sticker, as the orange-red flesh is said to remind growers of the colors of the sunset. Beyond selling the melons fresh, Iioka also processes Takami melons unfit for fresh sale. Some melons may be misshapen or aesthetically unpleasing for commercial markets, so processors take the flesh from those melons and make a frozen puree. Bakers and chefs use this sweet puree for gelato, cakes, bread, and fillings, or it is simmered into jams and jellies, popular souvenirs sold in Iioka.


Geography/History

Takami melons are native to Japan and were developed at the Japan Horticultural Production and Research Institute, now known as the Institute of Horticultural Plant Breeding, in the late 20th century in Matsudo City, Chiba Prefecture. The melon was created from a cross between several varieties, including Ams or Amusu melons, and was released to commercial markets in 1990. Takami melons were first grown in the Chiba Prefecture, and over time, the cultivar was spread to other melon-growing regions throughout Japan. In 2010, the same institute created a Takami variety with orange flesh and was labeled Takami Red. It is important to note that Takami Red is identical to Takami melons when looking at their exterior, so both varieties must be marked with stickers to distinguish flesh colors. Takami Red melons were released to commercial markets in 2012. In the Aomori Prefecture, a specialty type of Takami melon known as Urban Delicious is sold under the famous Tsugarian melon name. Tsugarian melons are grown in the area of Tsugaru, and six melons are sold under registered trademarks as high-end cultivars. Today Takami melons are produced primarily in the cities of Asahi and Choshi in the Chiba Prefecture, followed by Ibaraki and Kumamoto Prefectures. The melons are also grown on a smaller scale in Akita, Aomori, and Yamagata Prefectures. When in season, Takami melons are sold through select grocers, retailers, distributors, and directly from growers in Japan.