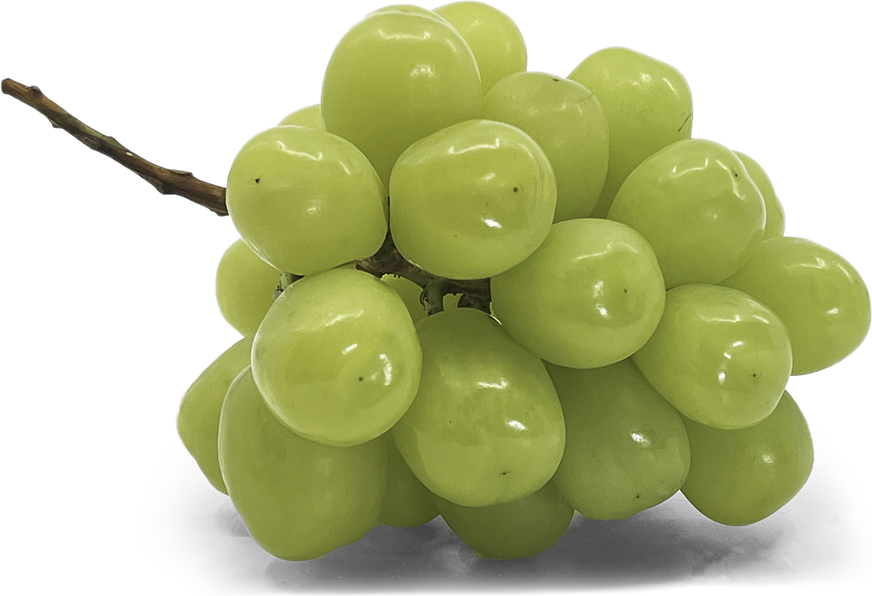 Japanese Shine Muscat Grapes
Inventory, lb : 0
Description/Taste

Shine Muscat grapes grow in small, tightly clustered bunches, averaging 400 to 500 grams in weight, and the grapes are attached to thick green or brown stems, depending on freshness. Bunches with green stems are said to be fresher than bunches with brown stems. Each bunch is comprised of large, oval grapes ranging 8 to 10 centimeters in length and 6 to 7 centimeters in diameter, and the grapes have a relatively uniform, curved nature. The grape's skin is thin, smooth, taut, and tightly adhered to the surface. The skin cannot easily be peeled from the flesh. It is recommended to consume the grape in its entirety for the best eating experience. Shine Muscat grapes have neutral-flavored, unnoticeable skin, and the fruit's surface showcases varying shades of green to yellow-green. It is generally believed that bunches with a yellower hue will have a sweeter taste. The grapes are also covered in a soft, powdery bloom, and when removed, the surface is glossy. Underneath the skin, the pale yellow-green to translucent flesh is firm, solid, succulent, and aqueous with a plump, crisp, and tender consistency. The flesh is mainly seedless, but some grapes may contain a few seeds depending on where the grapes are grown and cultivation methods. Shine Muscat grapes release a robust aroma when ripe with floral, sweet, and fruity notes. The bunches should feel heavy for their size and will be uniform in appearance. Shine Muscat grapes can be eaten fresh and have a high sugar content reaching 20 to 25 Brix, creating a sweet, sugary, mild, and refreshing taste with low acidity.


Seasons/Availability

Shine Muscat grapes are grown in outdoor fields in the late summer through mid-fall and in greenhouses from the late spring through the fall in Japan. When fresh bunches are harvested at the end of the peak season, a few are successfully kept in strict temperature-controlled environments to extend the shelf life. These grapes are known as ice grapes and are sold during the holiday season in November and December.


Current Facts

Shine Muscat grapes, botanically a part of the Vitis genus, are a Japanese variety belonging to the Vitaceae family. The early-maturing cultivar was commercially released in 2006 as a hybrid variety between European and Japanese grapes. European grapes, especially Muscat varieties, were historically valued for their floral, honeyed aroma, but the cultivars struggled to survive in Japan's climate and terroir. Shine Muscat grapes were created to be a variety that captured the intoxicating scent of European muscat grapes with the hardiness of Japanese grapes. After their release in the 21st century, Shine Muscat grapes were revered for their fragrance, large size, and primarily seedless flesh. The variety also has a thin, edible skin, allowing consumers to eat the entire grape without any notes of astringency. Shine Muscat grapes are sold in luxury fruit shops, department stores, and direct through growers as a seasonal, specialty fruit. There are also several types of Shine Muscat grapes, graded on their cultivation methods, size, shape, sweetness, and rarity. When in season, Shine Muscat grapes are primarily consumed fresh and are also given as gifts during holidays, business meetings, celebrations, and birthdays.


Nutritional Value

Shine Muscat grapes are a source of vitamin C to strengthen the immune system, potassium to balance fluid levels within the body, and calcium to build strong bones and teeth. The grapes also provide manganese to develop connective tissues, fiber to regulate the digestive tract, and other nutrients, including vitamin A, vitamin K, zinc, and polyphenols, which are natural compounds in the flesh with antioxidant-like properties to protect overall health and well-being.


Applications

Shine Muscat grapes have a sweet and refreshing taste suited for fresh preparations. The large grapes are customarily washed and consumed straight out of hand, eating both the skin and flesh. In Japan, Shine Muscat grapes are popularly chilled or half frozen before serving, and it is said the upper part of the bunch will have a higher sugar content than the bottom grapes. Shine Muscat grapes can be sliced and tossed into green salads and fruit medleys or dipped in fresh cream as a rich, sweet snack. The fruits are also used as edible decorations on cakes, tarts, parfaits, and sandwiches, and are sliced and layered into aesthetically pleasing arrangements. Try adding Shine Muscat grapes to fruit sandwiches, trifles, puddings, and other baked goods. The grapes can also be halved and stuck on top of yokan, a gelled sweet bean paste-like bar, blended into smoothies and juices, or pureed and frozen into sherbet and ice cream. Shine Muscat grapes pair well with fruits such as strawberries, pears, apples, and melon, vanilla, maple syrup, cream, chocolate, and spices, including cinnamon, cloves, nutmeg, and cardamom. Whole, unwashed Shine Muscat grapes should be immediately consumed for the best quality and flavor. The bunches can also be stored in a plastic bag in the refrigerator's vegetable drawer.


Ethnic/Cultural Info

Shine Muscat grapes are a popular edible decoration on summer and fall desserts. Green is a favored color in Japan in the summer, as it is viewed as refreshing, uplifting, and natural, and Shine Muscat grapes are often sliced in half and artfully arranged on top of tarts and cakes. Shine Muscat grapes are also known for their use in fruit sandos or furutsu sando. Fruit sandos are a famous snack and dessert across Japan, and the sweet, breaded treats were once a luxury but have now become an affordable item. In the late 1800s, sandwiches were introduced to Japan through a Western-style food store in the Kanagawa Prefecture that sold ekiben or box-lunched sets with the sandwiches. In the 20th century, fruit sandos were created in fruit parlors when fruit became more accessible to the general public. The sandwiches are comprised of whipped cream, cream, or yogurt with various sweet fruits. It is thought that Kyoto or Tokyo may be home to the first fruit sando, and many of the fruit parlors were situated in train stations and along commuter routes to attract the public eye. Fruit sandos also became a favored fast snack or meal as they could be held easily in hand and eaten without needing a plate or fork. Fruit sandos are known for their artful arrangements, displaying colorful fruits in various shapes, patterns, and colors. In the 1960s, fruit sandos started being cut on a diagonal verse straight across to create sandwiches with increased visual appeal, and the sandwiches exploded in popularity during the 1964 Tokyo Olympics. In the present day, fruit sandos are sold everywhere, including fruit parlors, supermarkets, convenience stores, and cafes, and Shine Muscat grapes are utilized for their large surface area when sliced in half, sweet taste, and colorful nature.


Geography/History

Shine Muscat grapes were created through the National Agriculture and Food Research Organization, NARO, in Hiroshima, Japan. The variety was developed from a cross between Akitsu No. 21 and Hakunan grapes and was bred to be a hybrid cultivar of European and Japanese grapes. Historically, European grapes struggled in Japan's climate. Varieties such as Muscat of Alexandria were challenging to grow and sensitive to temperature, soil, and weather, but the grapes were valued for their permeating, robust aroma. Breeders crossed Muscat of Alexandria grapes with Steuben grapes in 1973 to develop Akitsu No. 21. Hakunan was developed from a cross between Kaiji and Kattakurgan grapes. Shine Muscat grapes were initially bred in 1999 and were named Akitsu No. 23. It took breeders over 33 years to study, develop, and evaluate Shine Muscat grapes before they were officially released. Shine Muscat grapes were registered in Japan in 2003 under Budo Norin No.21, and in 2006, it was released as a new cultivar. After its release, Shine Muscat grapes became a luxury fruit favored for their seedless nature, large size, and sweet taste. Consumers appreciated that the skin could be consumed, making the grapes easy to give as gifts. Today Shine Muscat grapes are cultivated throughout Japan, with concentrated production in Nagano, Yamagata, Yamanashi, and Okayama Prefectures. Outside of Japan, Shine Muscat grapes have been planted in China, South Korea, Hong Kong, Vietnam, Europe, New Zealand, and the United States.