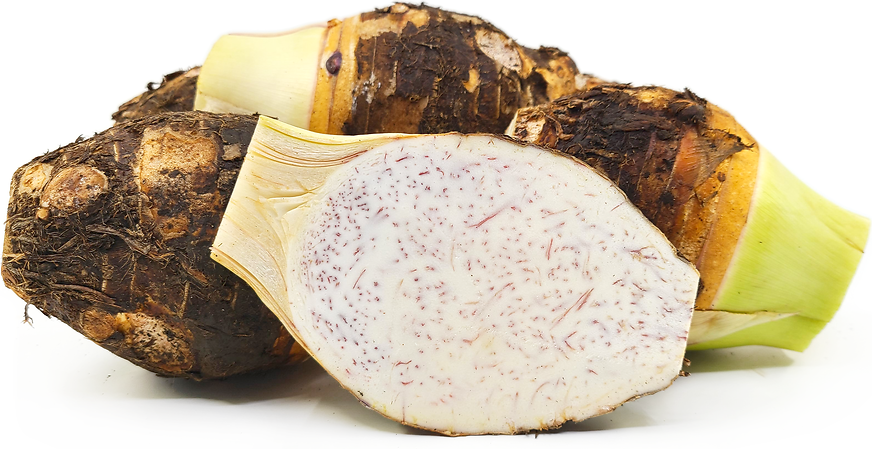 Thai Taro Yam
Inventory, lb : 0
Description/Taste

Thai taro corms widely vary in appearance, depending on cultivation time, soil, and climate. The corms are generally small to medium in size, averaging 12 to 13 centimeters in length, and are round to oblong in shape. Each taro plant produces one central corm, and the corm's variegated dark to light brown skin is rough with an uneven, scaly texture comprised of faint horizontal rings and fiber-like hairs. Underneath the surface, the flesh is dense, dry, and starchy, primarily white with subtle purple speckling. Thai taro must be cooked, developing a smooth, thick, sticky, and semi-fluffy consistency. The flesh has a mild, earthy, sweet, nutty, and subtly musky flavor. In addition to the corms, the plants produce large dark green heart-shaped leaves on long stems, connecting into the corms. The young leaves are edible when cooked, providing a vegetal, grassy, and green flavor.


Seasons/Availability

Thai taro is available year-round.


Current Facts

Thai taro, botanically classified as Colocasia esculenta, is starchy, edible corm belonging to the Araceae family. Taro is an ancient crop native to tropical and subtropical regions of Asia and has been cultivated as a staple perennial in Thailand for centuries. Experts also believe that taro production may have begun earlier than rice cultivation, and the plants are one of the few crops that can be grown in flooded paddy fields. Thai taro is a general descriptor for taro varieties grown in Thailand, and there are four main varieties commercially produced. These taros are sold domestically in local markets and exported internationally to neighboring countries, including Malaysia, Singapore, and Indonesia. Thai taro must be cooked and is a filling, nutritional ingredient in sweet and savory Thai dishes. The leaves are also edible and incorporated as a nutritious green in side dishes, soups, and curries.


Nutritional Value

Thai taro is an excellent source of fiber to regulate the digestive tract, vitamin E to protect the cells against free radical damage, potassium to balance fluid levels, and vitamin C to strengthen the immune system while reducing inflammation. The corms also provide copper to develop connective tissues, calcium and phosphorus to build strong bones and teeth, magnesium to regulate nerve functioning, and other amounts of B vitamins, iron, zinc, vitamin K, and manganese. In addition to the corms, Thai taro leaves are a rich source of vitamin K to assist in faster wound healing, vitamin C to boost the immune system, and other nutrients, including iron, calcium, vitamins A and E, magnesium, and vitamin B2.


Applications

Thai taro has a mild and sweet flavor well suited for cooked preparations. It is important to note that the corm must be cooked as raw taro contains calcium oxalate crystals. These crystals irritate the linings in the throat and make the skin feel itchy if exposed. Gloves are recommended when handling taro, and the skin should be removed before cooking. Thai taro is traditionally boiled or steamed in Thailand and is often sold in local markets as a cooked, on-the-go snack. Boiled slices are sold in cellophane bags, or the corms are thinly sliced and fried into chips. The corms are also combined with tapioca starch and deep-fried into snack-like fritters, formed into dumplings, stuffed with prawns, and fried or cooked into soups and curries. Beyond savory preparations, Thai taro is popularly incorporated into sweet dessert recipes, showcasing the corm's thick, smooth, and sweet nature. The corms can be finely chopped and folded into sticky rice, steamed to soften the mixture and enhance flavor. They can also be used to flavor ice cream, boiled with coconut milk as a sweet treat, mashed into rice dough balls, cooked into custards, or steamed into pudding. Thai taro pairs well with ginger, turmeric, hot sauces, coconut, seafood, mushrooms, squash, azuki red bean, and vanilla. Whole, unwashed taro corms will keep for a couple of days when stored in a cool, dark location.


Ethnic/Cultural Info

Thai taro was featured as one of the most popular snacks at the Thai-Chinese Vegetarian Festival or Tesagan Gin Je. The annual event is held during the ninth lunar month of the Chinese calendar year in Bangkok and celebrates vegan and vegetarian food along with mind, body, and spirit purification rituals. Tesagan Gin Je is one of Bangkok's largest festivals and is sometimes known as the Nine Emperor Gods Festival. During the nine-day festival, attendees customarily wear white to symbolize their awareness and mindfulness of abstaining from animal products in hopes of bringing good luck. One of the unique features of the festival is the entire event is vegan, a stricter form of eating, eliminating all animal byproducts. At the festival, Thai taro is sliced into small pieces, battered, and deep-fried to create a crispy, filling snack. The bite-sized balls were voted into the top six snacks of the festival in 2019, along with radish balls, corn kernel balls, vegan spring rolls, bean balls, and fried tofu.


Geography/History

Thai taro is native to tropical Asia and has been growing wild since ancient times. Several experts point to the corms arising from an area spanning Bangladesh, Nepal, and East India. Over time, the plants were carried east into Southeast Asia, China, and later the Pacific Islands. Taro quickly naturalized worldwide as it was introduced to new regions through human migration and became a widely cultivated crop for export and domestic use. In Thailand, taro is produced across the country, with the main northern regions consisting of Phitsanulok, Surin, Ratchasima, Nakhon, and Chiang Mai, southern regions of Surat Thani, Khiri Khan, and Chumphon, and central areas of Sing Buri, Sawan, Saraburi, Suphan Buri, and Ayutthaya. Thai taro is sold domestically through local markets and is exported internationally, mainly to Malaysia, Indonesia, Singapore, and Cambodia. The Thai taro featured in the photograph above was sourced from Geylang Serai Market and Food Center in Singapore.