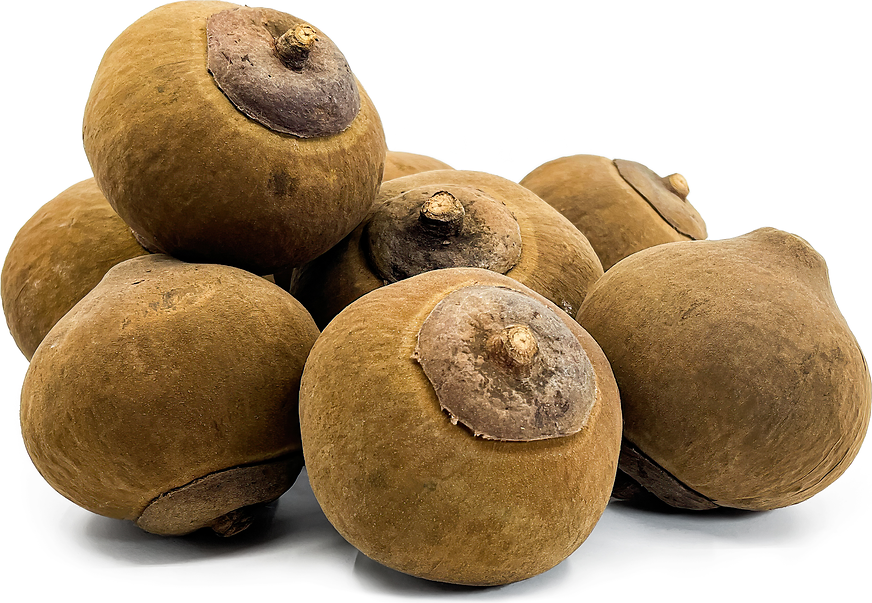 Chupa Fruit
Inventory, lb : 0
Description/Taste

Chupa fruits are small to medium in size, averaging 6 to 14 centimeters in diameter, and are round to ovoid in shape with a thick, dark brown stem and round cap-like surface layer on the non-stem end. The fruits generally weigh 200 to 500 grams and bear a rough, leathery surface. When mature, the thick skin transitions from green to brown and may showcase a lifted ring around the center. Underneath the tough exterior, there are 2 to 5 fleshy lobes encasing yellow-orange pulp and a hard dark brown seed. The flesh is soft, succulent, and slightly stringy, a texture created from fibers extending into the pulp. The pulp makes up approximately 30 to 40% of the fruit and releases a fruity aroma. Chupa fruits have a sweet, fruity, and rich flavor with low acidity.


Seasons/Availability

Chupa fruits are typically harvested in Colombia from July through November. In some regions, depending on climate and growing conditions, the fruits are gathered for a second season in January.


Current Facts

Chupa, botanically classified as Gustavia speciosa, is a rare fruit native to Colombia, belonging to the Lecythidaceae family. The fruits grow on evergreen to semi-deciduous trees extending over 10 to 15 meters in height, and the trees are fast-growing, reaching maturity and a fruit-bearing age in 5 to 7 years. Chupa fruits ripen over a period of 6 to 8 months, and a single tree can produce 300 to 1000 small fruits per year. The fruits are picked by hand from the tree when the fruit's surface reveals a pale-colored ring around the circumference, and most of the fruits are sold in markets localized to their growing region. Chupa fruits are becoming increasingly hard to find, making them vulnerable to becoming endangered, and are consumed in fresh or cooked preparations.


Nutritional Value

Chupa fruits are a source of fiber to regulate the digestive tract, calcium and phosphorus to protect bones and teeth, and vitamin C to strengthen the immune system. The fruits also provide antioxidants to guard the cells against free radical damage and carotenes, which are converted into vitamin A in the body to maintain healthy organ functioning. If the fruits are consumed in excess, the high vitamin A content may temporarily flush the skin yellow and can be toxic to some children. This coloring will fade in 24 to 48 hours, but care should be taken to not overeat the fruits.


Applications

Chupa fruits have a rich, sweet flavor suited for fresh and cooked preparations. The fruit's skin can be removed, revealing the stringy lobes of flesh, and the pulp can be sucked from the seed when raw. Chupa fruits can also be sprinkled with salt to create a sweet and savory flavor profile, or they can be pressed into juices and used to flavor smoothies. In addition to raw preparations, Chupa fruits can be incorporated into desserts, baked goods, and ice cream or used to flavor sauces and dressing. In Colombia, the pulp is sometimes pureed and used to stuff meat, and the sweet and savory nature of the flesh complements rice-based dishes. Whole, unopened Chupa will keep for 1 to 2 weeks when stored at room temperature away from direct sunlight.


Ethnic/Cultural Info

The name Chupa is derived from the fruit's fibrous but juicy flesh. Chupa is taken from the word chupar, translating from Spanish to mean "to suck," and is a colloquial term used throughout Colombia to describe how locals eat the fruit. Chupa fruits are enjoyed by sucking the fibrous flesh from the seeds and have a tender, succulent, but stringy nature. Despite its memorable moniker, Chupa fruits are fading from local markets in favor of other more profitable crops, leading the fruits to become a species in danger of becoming extinct. Efforts are being made to help preserve the fruits and their trees, but Chupa is considered rare and little known outside its native range, only being found locally in select regions of Colombia and Ecuador.


Geography/History

Chupa is native to Colombia and has been growing wild since ancient times. The fruit thrives in tropical to subtropical climates and is mainly found in the Colombian departments of Tolima, Magdalena, Chocó, Risaralda, Antioquia, Valle, Córdoba, Bolívar, and Cundinamarca. Chupa is not commercially produced and is a rare species traditionally harvested from wild plants. The fruits are used locally as a nutritious food source and are mostly consumed among indigenous peoples. In some of the regions listed above in Colombia, Chupa trees have been planted in backyards. Chupa is typically found in local markets in Colombia and is a seasonal delicacy sold in limited quantities. The fruit has also been rumored to have been found in Ecuador.