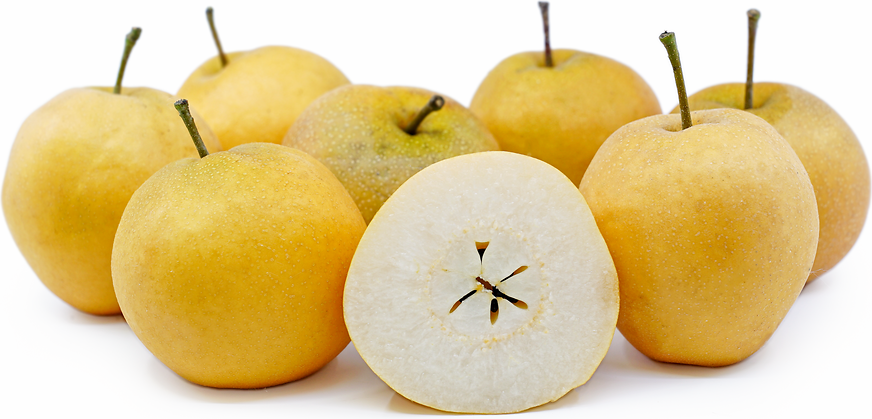 Asian Pears
Inventory, 10 lbs : 0
This item was last sold on : 12/08/23
Description/Taste
Asian pears widely range in size and shape, depending on the variety, and can generally be divided into three main categories originating from Japan and China. The first two types are native to Japan, with one type having a round to ovate in shape with a russeted, gold to bronze coloring, while the second type is round to oval in shape with skin that ripens from green to yellow. The third type of Asian pear, believed to be native to China, bears a pyriform, oblong shape and has green skin with patches of brown russet. Regardless of the variety, Asian pears frequently have textured, semi-rough skin displaying prominent lenticels across the firm surface. Underneath the skin, the ivory to white flesh is crisp, aqueous, and slightly grainy with a central, fibrous core containing several small, black-brown seeds. Asian pears are aromatic and have a sweet-tart flavor with delicate floral notes and low acidity. It is important to note that Asian pears retain their firm texture once picked and will not soften when kept in storage. The fruits are fully ripened on the tree, and once harvested, they can be immediately consumed.
Seasons/Availability
Asian pears are available in some regions at the beginning of summer, but the fruit's peak season is in the early fall through winter.
Current Facts
Asian pears, botanically classified as Pyrus pyrifolia, are ancient, cultivated fruits belonging to the Rosaceae or rose family. The name Asian pear is a general descriptor used to encompass thousands of varieties of pears native to Eastern Asia, each varying slightly in shape and color. Asian pears are known by many names, including Nashi, Japanese pear, Sand pear, Chinese pear, and Apple pear, and unlike European pears, Asian pears ripen on the tree and maintain their crisp texture long after being picked. In global markets, Asian pears are traditionally more expensive due to their extensive cultivation requirements. Asian pear trees are highly prolific and must be thinned by hand to produce robust crops. The fruit also easily bruises and discolors, requiring many varieties to be wrapped in foam net bags to protect the delicate skin. In the modern-day, Asian pears are highly favored for their crunchy texture and subtle, sweet flavor and are globally increasing in cultivation.
Nutritional Value
Asian pears are a good source of vitamin C, an antioxidant that strengthens the immune system, boosts collagen production within the skin, and provides anti-inflammatory properties. The pears are also a good source of dietary fiber to stimulate the digestive tract and vitamin K, a nutrient that supports bone growth and blood clotting. In traditional Chinese medicine, Asian pears are considered a cooling fruit, used for detoxification purposes, and are consumed to reduce symptoms associated with coughs, laryngitis, ulcers, and constipation.
Applications
Asian pears are best suited for both raw and cooked applications, including baking, steaming, and poaching. When raw, the pear's crunchy texture, aqueous nature, and sweet flavor are showcased when consumed fresh, out-of-hand. The flesh can be eaten peeled or unpeeled, and it is frequently sliced and added to green salads, grated into coleslaw, cubed for fruit salads, or juiced to flavor beverages, marinades, and sauces. Asian pears can also be thinly peeled and used as a garnish over cocktails or hollowed out and filled with warm drinks as an edible mug. In addition to raw applications, Asian pears can be sliced thin and incorporated into stir-fries, slow-cooked to make a sweet sauce for short ribs, hollowed, stuffed with dried fruit and nuts, and baked, served with roasted meats, or mixed into baked goods such as crisps, muffins, tarts, and quick bread. They can also be sliced and dehydrated, coated in warm spices, or canned with lemon juice for extended use, retaining their crisp texture and having a slightly different flavor from European pears. Asian pears complement ingredients, including spices such as nutmeg, cinnamon, fennel, and five-spice, nuts such as macadamia, cashews, almonds, and pecans, honey, vanilla, chocolate, celery, dark leafy greens, and sweet potato. Whole, unwashed Asian pears will keep 1 to 2 weeks when stored at room temperature and up to three months when stored in the refrigerator. They can also be sliced and frozen for 10 to 12 months.
Ethnic/Cultural Info
In Japan, Asian pears were once believed to ward off misfortune. The large trees were often planted at the front of house gates as a symbolic guard for the family, and they were also grown in the corners of properties to protect against evil. In the present day, Asian pears have become a symbol of the autumn season and are often given as gifts to family and friends. The large, delicate fruits are individually wrapped in Styrofoam for protection, and the fruits with the best appearance, shape, and aroma are selected for gifts as a sign of respect. Seasonal fruits are also traditionally given to complement the Japanese belief of eating with the season to maintain a balanced, healthy spirit.
Geography/History
Asian pears are native to Japan and China and have been cultivated for over 3,000 years. The crisp fruits were introduced to other regions of Asia and Europe along the silk road, and the first documented appearance of an Asian pear in the United States was recorded in 1820 when a Chinese sand pear was imported to Flushing, New York. In the 1850s, Asian pears made their way to the west coast of the United States via Chinese and Japanese immigrants relocating to California for the Gold Rush. Today Asian pears are still grown throughout Asia, mainly in Japan, China, and Korea, and are also cultivated in Chile, Australia, New Zealand, Italy, Spain, and France. In the United States, the bulk of commercial production comes from California and Oregon, with a smaller supply coming out of Washington State and regions throughout the Midwest and East Coast. Asian pears can be found at local farmer's markets, select supermarkets, and specialty grocers.
Featured Restaurants
Restaurants currently purchasing this product as an ingredient for their menu.
| | | |
| --- | --- | --- |
| Bali Hai Restaurant | San Diego CA | 619-222-1181 |
| Kinme Omakase | San Diego CA | 619-231-0700 |
| Lumi | San Diego CA | 619-955-5750 |
| Carte Hotel | San Diego CA | 619-365-1858 |
| Burgeon Beer Co. | San Diego CA | 760-814-2548 |
| Mabel's Gone Fishing | San Diego CA | 619-228-9851 |
| Tartine | Coronado CA | 619-435-4323 |
| Grass Skirt | San Diego CA | 858-412-5237 |
| Juniper & Ivy | San Diego CA | 858-481-3666 |
| Pina (Encinitas) | Encinitas CA | 562-371-5919 |
| Culinary Concepts | San Diego CA | 619-865-1918 |
| Brigantine Coronado | Coronado CA | 619-435-4166 |
| Farmers Bottega | San Diego CA | 619-306-8963 |
| Addison Del Mar | Del Mar CA | 858-350-7600 |
| University Club | San Diego CA | 619-234-5200 |
| Campfire | Carlsbad CA | 760-637-5121 |
| Mission Pacific | Oceanside CA | 760-450-7864 |
| The Islander | Coronado CA | 619-522-6890 |
| Kingfisher | San Diego CA | 619-861-8074 |
| Belmont Park Cannonball | San Diego CA | 858-228-9283 |
the other 24...
| | | |
| --- | --- | --- |
| The Tavern | Coronado CA | 602-628-5890 |
| US Grant Hotel Main | San Diego CA | 619-232-3121 |
| US Grant Hotel Grill | San Diego CA | 619-232-3121 |
| Thai One On | Carlsbad CA | 760-500-8674 |
| Ballast Point Rest. - Miramar | San Diego CA | 858-790-6900 |
| Edgewater Grill | San Diego CA | 619-232-7581 |
| Full Moon | San Diego CA | 619-233-3711 |
| Hilton Garden Inn - Homewood Suites San Diego | San Diego CA | 619-696-6300 |
| Animae | San Diego CA | 619-925-7908 |
| Huntress (Banquet) | San Diego CA | 619-955-5750 |
| PFC Fitness Camp | Carlsbad CA | 888-488-8936 |
| Fort Oak | San Diego CA | 619-795-6901 |
| Humphrey's | San Diego CA | 619-224-3577 |
| Paradisaea Restaurant | La Jolla CA | 732-915-6669 |
| Monarch | Del Mar CA | 619-308-6500 |
| Inn at Rancho Santa Fe | Rancho Santa Fe CA | 858-381-8289 |
| Vista Valley | Vista CA | 760-758-2800 |
| Wormwood | San Diego CA | 619-573-0289 |
| Pendry SD (Provisional) | San Diego CA | 619-738-7000 |
| Saiko Sushi-Coronado | Coronado CA | 619-435-0868 |
| Bridges at Rancho Santa Fe | Rancho Santa Fe CA | 858-759-6063 |
| Born & Raised | San Diego CA | 619-944-1631 |
| Kettner Exchange | San Diego CA | 909-915-9877 |
| Nolita Hall | San Diego CA | 619-618-8820 |
Recipe Ideas
Recipes that include Asian Pears. One

is easiest, three is harder.
the other 19...
Podcasts