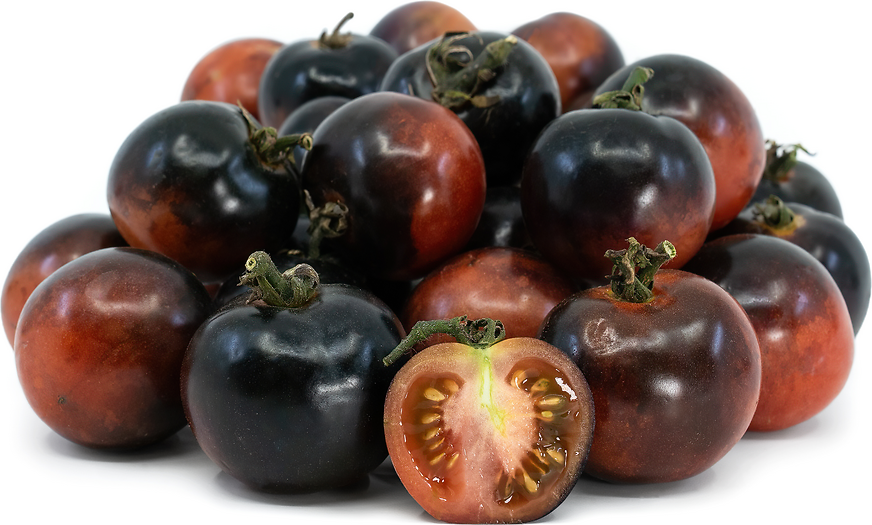 Indigo Blue Chocolate Cherry Tomatoes
Inventory, lb : 0
Description/Taste
Indigo Chocolate tomatoes are small and round, weighing just one or two ounces. They have a chocolate-brown color, and juicy yet firm and meaty flesh with a rich, well-balanced sweet yet acidic flavor. The vigorous indeterminate tomato plants will continue to set fruit throughout the season on sprawling vines, producing good yields of the small fruit in tight clusters. Indigo Blue Chocolate tomatoes are known to hold well on the vine for an extended period, and they are also relatively sunburn and crack resistant.
Seasons/Availability
Indigo Blue Chocolate tomatoes are available in the summer.
Current Facts
Tomatoes, originally termed Solanum lycopersicum, are botanically referred to as Lycopersicon esculentum, although modern studies are encouraging a return to the original classification. Indigo Blue Chocolate, not to be confused with Tom Wagner's hybrid called chocolate blues, is part of the Indigo series - a class of open-pollinated and hybrid tomatoes that have great taste are purposefully bred to include high levels of the powerful antioxidant, anthocyanin. Dr. Jim Myers of Oregon State University pioneered this class of tomato with the indigo rose, introduced to the market in 2011.
Nutritional Value
Indigo Blue Chocolate tomatoes are most well known for their high levels of anthocyanin, a naturally occurring antioxidant that is professedly helpful at combating disease, reducing inflammation, and slow the aging process, and is expressed in the dark blue-purple complexion of the fruit, just like blueberries. Until the release of the indigo rose tomato, the first of the indigo series, tomatoes grown in home gardens have had the beneficial pigment only in their leaves and stems, which are inedible, and only wild tomato varieties contained anthocyanins. Tomatoes are also a good source of calcium and iron, and they contain decent amounts of phosphorus, sulfur, and potassium. They are also rich in vitamins A, B and C.
Applications
Indigo Blue Chocolate tomatoes are great for eating fresh off the vine with their sweet tomato flavor. Pair tomatoes with any leafy vegetable like lettuce or spinach for a tasty and colorful salad, or cook them with shallots, garlic, basil, oregano and chili. Fresh tomatoes can also be enhanced when paired with herbs like parsley, chives, and celery leaf, or they can also be used with more dessert-type herbs, such as mint, lemon balm, and the fruity sages. Indigo Blue Chocolate tomatoes are known for having a great shelf life. Store them at room temperature until ripe, after which refrigeration can slow the process of decay.
Ethnic/Cultural Info
Brad Gates is a small organic farmer and tomato breeder who is known in the California Bay Area as "the tomato guy". He has been breeding heirlooms since 2000, and has developed several cultivars in the Indigo series, including Indigo Blue Chocolate, in Northern California's Solano County, hand picking his varieties from thousands of heirlooms, crosses and hybrids. His exotic varieties like Indigo Blue Chocolate are consistently a favorite among Bay Area chefs.
Geography/History
The Indigo Blue Chocolate tomato is an open-pollinated cultivar developed by Brad Gates of Wild Boar Farms. They perform exceptionally well for home and market gardeners, and have shown to withstand the more challenging climates around California's Bay area.
Podcast