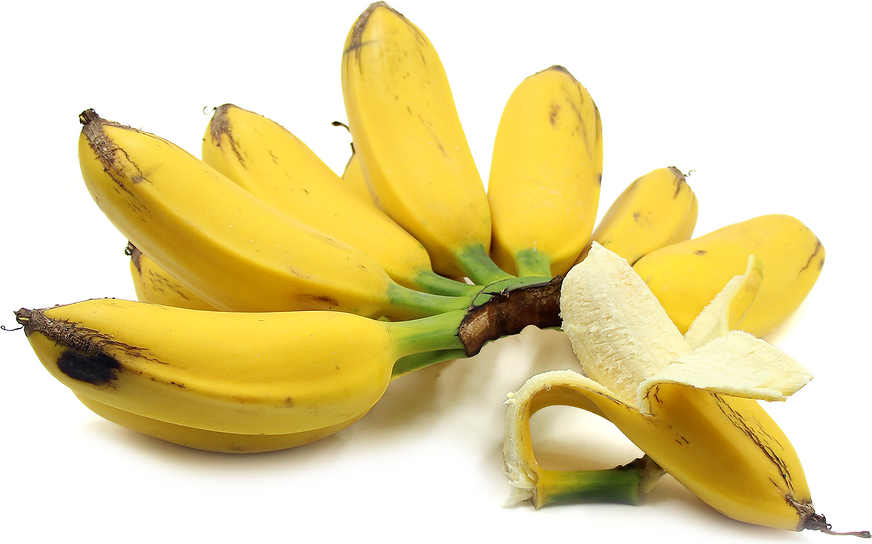 Orinoco Bananas
Inventory, lb : 0
This item was last sold on : 05/11/23
Description/Taste
The Orinoco banana grows on a medium-sized, entirely green plant that can grow anywhere from three to 6 meters tall. Under the right growing conditions, the plant's flower stalk will develop bunches of 3 to 5 'hands' with small, thick bananas approximately 15 centimeters long and 5 centimeters thick, with an angular shape. Orinoco bananas are often harvested when green, when the flesh is still firm. If left to ripen on the plant, the skin will turn yellow and begin to darken. It has a soft silky texture when mature, with a firm, slightly fibrous core. Orinoco bananas are relatively starchy, but will develop a delicious sweet flavor and soft texture when fully ripened with a bright fruit flavor.
Seasons/Availability
Orinoco bananas are available year-round.
Current Facts
Orinoco bananas, sometimes called Burro or Bluggoe bananas, are botanically classified as Musa paradisiaca and are named for Venezuela's Orinoco River Valley. The South American banana is the most commonly grown variety in Southern California and along the Gulf Coast of the United States. The hardy Orinoco banana plant is popular with growers and home gardeners because it can withstand cold temperatures and its fruit ripens on the tree without cracking. Orinoco bananas are most often used for cooking versus eating raw.
Nutritional Value
Orinoco bananas, like other varieties, are a rich source of carbohydrates and fiber. They are also a good source of potassium and vitamins B6 and C. Bananas also contain the antioxidants dopamine and catchin.
Applications
Orinoco bananas are recommended for cooking, in methods similar to preparing plantains. The South American bananas are very well-suited for making fritters and banana bread. The starchiness of Orinoco bananas lends well to frying whole. Peel and cut the fruit in half or thirds, coat in batter and fry in oil until golden brown. Green Orinoco bananas will ripen at room temperature over a period of a week. To delay ripening, refrigerate.
Ethnic/Cultural Info
Bananas are originally native to Southeast Asia and their history dates to ancient times. Today, banana plants thrive in tropical and subtropical climates around the world thanks to explorers and traders who helped spread banana pups (sprouts propagated by the rhizomes of the plant) across the globe. Molecular analysis of the genus Musa confirmed two "parent" banana varieties, M. acuminata and M. balbisiana. Slight variations of the Orinoco banana exist in Thailand, Malaysia and Indonesia. All edible varieties of banana known today are hybrids, with designations based on the number of chromosome sets present in the fruit. Orinoco bananas are an "ABB" variety, referred to as Bluggoe. They are named for the Orinoco River basin where they grow prolifically, but they are a likely long-distant relation of a South Asian variety known as Matavia or Kluai Som. There are two nearly distinct varieties referred to as "Orinoco". One being native to the island of Cuba and one taken to the shores of Florida in the United States centuries ago.
Geography/History
Orinoco bananas are believed to be native to Venezuela's Orinoco River Basin, where many other cold-hardy banana varieties are thought to have originated. The South American bananas were first planted in Florida in 1610, and are the most widely grown in the sunshine state. Orinoco bananas are also grown throughout Southern California, but mostly as an ornamental. Under the right growing conditions and with the proper care, Orinoco banana plants can grow large and produce fruit throughout the year. They are most commonly seen throughout the Gulf region and in Southern California through select growers and specialty markets.
Podcast