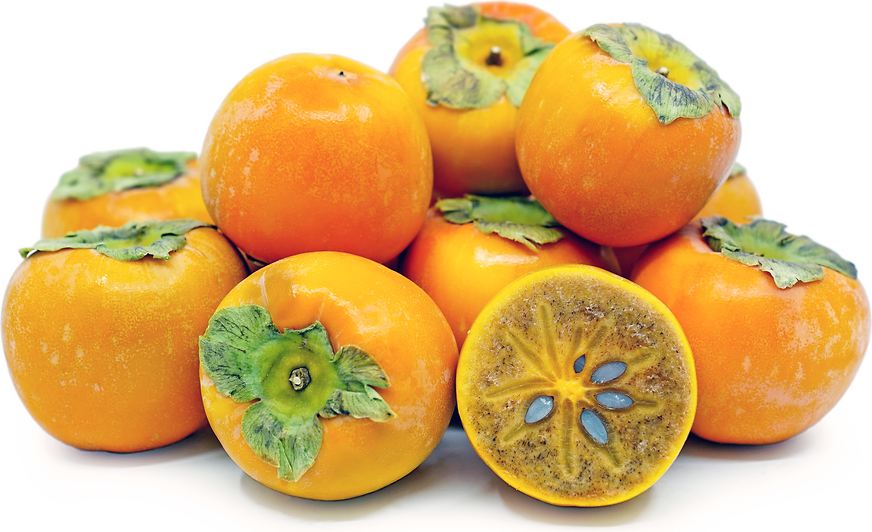 Maru Persimmons
Inventory, lb : 0
This item was last sold on : 10/22/23
Description/Taste
Maru persimmons are a medium-sized varietal with a squat, round, to oval shape, tapering slightly from the flat, broad shoulders towards the curved base. The persimmon's skin is smooth, semi-thin, and taut with a faint sheen, showcasing shades of orange, golden-orange, and dark orange-red hues. The fruit is also capped with 3 to 4 flat green-brown dried leaves, also known as the calyx, having a papery and leathery consistency. Underneath the surface, the flesh ranges in texture depending on maturity, pollination, and treatment. Pollinated flesh is initially firm, dense, and crisp when harvested, softening into a tender, aqueous, and jelly-like feel. The flesh is also pale orange, sometimes speckled with tiny brown marks, patches, and dots, encasing a few oval light brown seeds. Maru persimmons will have varying flavors and textures depending on pollination. If the persimmons have been pollinated, they can be eaten in their firm or soft state, but if the fruits are unpollinated, they can only be consumed when soft or after being manually treated to remove astringency. Maru persimmons have a rich, sugary-sweet flavor combined with nuances of warm spices, vanilla, pears, and honey.
Seasons/Availability
Maru persimmons are available in the mid-fall through early winter.
Current Facts
Maru persimmons, botanically classified as Diospyros kaki, are a rare category of pigmented persimmons belonging to the Ebenaceae family. The term Maru, meaning "round" in Japanese, is given to a group of several different varieties of brown-fleshed persimmon types with a pollination-variant non-astringent nature. Pollination-variant means the persimmons require natural pollination or outside treatments to remove the astringency within the flesh to be considered palatable. When Maru persimmons are naturally pollinated, the seeds excrete small amounts of alcohol, causing chemical compounds within the flesh to clump together and break down the tannins, creating brown spots, speckling, and patches. These pigmented spots are actually the sweetest parts of the flesh and are a delicacy in Japan. Pollinated Maru persimmons can be consumed firm or soft. Unpollinated Maru persimmons remain hard and filled with astringent tannins. These persimmons must be manually treated to sweeten the flesh, and farmers have traditionally used alcohol vapors to break down the tannins. Maru persimmons are also known as Zenji Maru persimmons, Maru kaki, and Goma kaki, a descriptor for dark-fleshed varieties in Japan. In the United States, there is also a California Maru persimmon, a variation of the original Maru persimmons imported into the country from Japan in the 19th century. In the modern-day, the Maru persimmon grouping encompasses some of the rarest varieties of persimmons worldwide, seldom cultivated commercially due to their unpredictable ripening habits. Western consumers also often associate the color brown with spoiling, which has made it difficult to sell the dark-hued fruits without extensive marketing and promotion. Despite their challenges commercially, Maru persimmons are highly valued among persimmon enthusiasts for their sweet flavoring and limited availability and are traditionally grown in home gardens and through specialty growers that recognize the importance of preserving the variety.
Nutritional Value
Maru persimmons are an excellent source of vitamin C to strengthen the immune system while reducing inflammation and vitamin A to improve skin complexion, protect against vision loss, and maintain overall organ health. The persimmons also provide fiber to regulate the digestive tract, vitamin K to assist in faster wound healing, phosphorus to protect bones and teeth, and other nutrients, including copper, vitamins E and B6, manganese, potassium, and folate.
Applications
Maru persimmons have a rich, sweet, and spice-filled flavor well suited for fresh and cooked preparations. The persimmons can be consumed straight out of hand in their soft or firm state if the fruits have been pollinated or professionally treated to remove astringency. In naturally pollinated persimmons, it is recommended to consume the parts of the flesh that have darkened and contain brown speckling as those parts will be the sweetest with the lowest astringency. Raw Maru persimmons can also be sliced and tossed into salads, stirred into fruit bowls, cut and displayed on appetizer plates with soft cheeses, fruits, and nuts, or mixed into grain bowls as a sweet accent. In addition to slicing, Maru persimmons can be chopped into a flavorful salsa, pureed into sauces, glazes, and marinades, or simmered into jellies, jams, and other preserves. The persimmon's sugary flavor complements desserts such as cakes, tarts, pudding, muffins, bread, and cookies, or it can flavor syrups and ice cream. Beyond sweet preparations, Maru persimmons can be grilled, broiled, or poached and served with roasted meats and vegetables. Maru persimmons pair well with cheeses such as parmesan, chevre, feta, goat, and manchego, hearty greens including arugula, kale, and collard greens, spices such as nutmeg, cinnamon, and cloves, nuts including walnuts, pecans, and almonds, maple syrup, vanilla, and honey. Whole, unwashed Maru persimmons will keep 7 to 10 days at room temperature to soften, or they can be stored in the refrigerator for several weeks to maintain a crisper texture.
Ethnic/Cultural Info
In the late 20th century, there was a movement to protect and preserve Maru persimmons throughout Japan by incorporating the fruits into arts and culture. In 1995, the Kakio Zenji Maru Persimmon Preservation Society was formed, and the group was primarily made up of volunteers who collected data on the Maru persimmon trees still in existence. Preservation groups also encouraged the creation of several dancing songs that feature the persimmons, known as "Kakio Ondo," the Kakio Dancing Song, and "Zenji Maru Ondo," the Zenji Maru persimmon dancing song. These songs are annually performed at select Bon or Obon Festivals, a Buddhist celebration to honor ancestral spirits. The songs are also a part of community citizen festivals, events to raise awareness for human connection. In addition to song and dance, wineries partnered with the preservation groups to make Zenji Maru persimmon wine. The first wine batch was released in 1997, producing 5,000 bottles, and the exclusive wine was a success, encouraging the wineries to continue annually release it as a novelty beverage.
Geography/History
Maru persimmons are native to Japan, and the most retold origin story traces the variety to the mountains near the Ozenji Temple in 1214. The trees grew naturally and were primarily unknown until 1370 when a man found the fruits while rebuilding the burned-down temple. The worker tasted the persimmon and enjoyed its sweet flavor, eventually planting a tree in the temple and bringing several other trees into his village to cultivate. The persimmon variety was first named Ozenji Maru persimmons by Shogun Ieyasu Tokugawa during his rule between 1603 and 1605, and the name was later shortened to Zenji Maru persimmons in the Genroku Era sometime between 1688 to 1704. Zenji Maru persimmons quickly spread in popularity and were being grown in multiple villages throughout the 1800s. In 1902, many of these villages were combined into a single entity known as Kakio Village and were labeled as the "village where persimmons were born." In Kakio, a farmer named Mr. Shichiro Mori presented Emperor Meiji with a few homegrown Zenji Maru persimmons in 1909, attracting attention across Japan for the new variety. Zenji Maru persimmon cultivation expanded into Hiroshima, Kanto, and Fukushima Prefectures in the early 1900s, but by 1910, production decreased as farmers began replacing their Maru trees with more commercially viable cultivars. Maru persimmon cultivation almost disappeared entirely in Japan, leading the government to designate seven Maru persimmon trees as registered monuments in 2007. Experts believe Maru persimmons were introduced to the United States sometime in the mid to late 19th century when the United States Department of Agriculture imported grafted trees from Japan. The trees were planted in California and the Southern United States for cultivation, and over time, many Japanese immigrants and private family farms also began growing the unique fruits in their home gardens. Today Maru persimmon varieties are rare and difficult to find in commercial markets, primarily grown in Japan, China, Korea, and California. When in season, Maru persimmons can be found through distributors and specialty farm stands.
Recipe Ideas
Recipes that include Maru Persimmons. One

is easiest, three is harder.