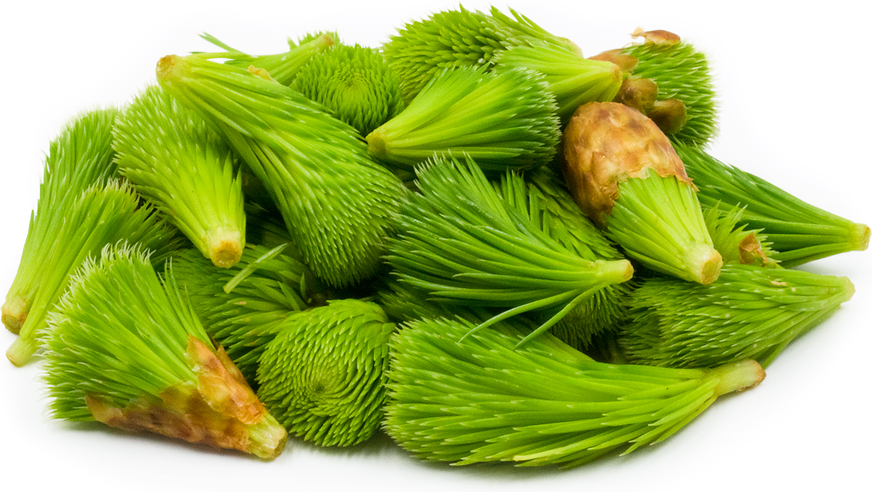 Spruce Tips
Inventory, lb : 16.71
This item was last sold on : 12/05/23
Description/Taste
Spruce tips form at the end of branches and first appear as small bud-like protrusions encased in a thin, papery sheath. This protective sheath eventually splits as the tips develop, revealing a cluster of bright green needles. The thin, delicate, and slender needles fan out in a dense, overlapping formation and each needle is rounded, a distinguishing trait from other types of trees such as pine or fir. Spruce tips are soft, pliable, and tender when they are harvested just after emerging from the protective sheath. They also have a succulent and crisp consistency. When consumed, Spruce tips have a bright, citrus-like flavor mixed with herbal, resinous nuances. Depending on the specific spruce species, the tips may also have warm, fruity, earthy, piney, or bitter undertones.
Seasons/Availability
Spruce tips are available in the spring in the northern hemisphere.
Current Facts
Spruce tips, botanically a part of the Picea genus, are young growths of coniferous evergreen trees belonging to the Pinaceae family. The new tips appear at the end of branches in the spring and can be found on several species of spruce trees that can reach 20 to 60 meters in height. There are approximately 35 different species of spruce that can be harvested for their tips, and each species will have a slightly different flavor. Some of the popular species favored for Spruce tips includes Norway Spruce, White Spruce, Sitka Spruce, Blue Spruce, and Engelmann Spruce. Spruce tips are only available for a few weeks in the spring and are a foraged delicacy, hand-harvested by pinching off the tips. The brightly flavored greens are sold within specialty markets and are sought out by chefs, brewers, and mixologists, who value the tips for their soft nature and distinct flavor.
Nutritional Value
Spruce tips are a source of vitamin A to maintain healthy organ functioning, potassium to balance fluid levels within the body, and vitamin C to strengthen the immune system while reducing inflammation. The tips also provide antimicrobial and antibacterial properties and contain other amounts of magnesium, phosphorus, and antioxidants. In natural medicines, Spruce tips have been steeped into tea and infused into tinctures to soothe sore throats and coughs. Spruce tips can also be incorporated into topical creams and balms for skin irritations such as rashes, burns, and bites.
Applications
Spruce tips have a piney, herbal, and citrusy flavor suited for fresh and cooked preparations. Some foragers choose to consume the tips straight off the tree, while others incorporate the tips into salads, dips, or side dishes. Spruce tips can also be simmered and infused into syrups, vinegar, honey, pesto, and other sauces. These condiments impart a subtle spruce-like flavoring while also enhancing the complexity of the tastes found within a dish. Spruce honey and syrups are popularly mixed into teas, used over pancakes, or incorporated into baked goods. The tip's citrusy flavor complements crumbles, ice cream, galettes, and shortbread cookies, and can be candied, infused into dark chocolate, simmered into jelly, or used as a glaze for roasted meats. In addition to sweet preparations, Spruce tips can be mixed into savory dishes, imparting an herbal, earthy quality. The tips can be finely chopped, similarly to rosemary, and sprinkled over bread, mixed into a stuffing, stirred into pasta, added to stir-fries, or served in grain or legume-based dishes. Spruce tips can also be ground with salt or sugar, dehydrated, and used as a flavoring and spice. Spruce tip infused sugar favors dessert recipes and can be scattered across any preparation calling for a citrusy sweetness. The tips are also infused into liquors, water, smoothies, and beer. Beyond beverages and fresh preparations, Spruce tips can be blanched and frozen, pickled, or dehydrated for extended use. Spruce tips pair well with meats such as poultry, pork, bison, and turkey, seafood, nuts such as cashew, pistachios, and macadamia, springtime vegetables such as fava beans, asparagus, and peas, and fruits such as cherries, blueberries, and citrus. Spruce tips should be immediately consumed for the best quality and flavor but can last for several months when stored in professional storage conditions. In home kitchens, Spruce tips can be kept wrapped in a damp paper towel and placed in a plastic bag with a few air holes. The tips can also be frozen for extended use and will keep 1 to 2 years in the freezer.
Ethnic/Cultural Info
Sitka Spruce tips are among the most widely foraged types of Spruce tips gathered in Alaska. The Sitka Spruce is primarily found along the coastal regions of southeastern Alaska and thrives in a cool climate with foggy, salty air. Spruce tips have been used since ancient times among indigenous populations in Alaska, especially the Tlingit tribe, and the greens were often incorporated into balms, tinctures, and teas for medicinal purposes. Harvesting Spruce tips is seen as connecting to the earth, and these practices are still honored and used in the modern day. With the rise of natural, nutritious products, Sitka Spruce tips have become an in-demand, foraged delicacy. Sitka Spruce tips are only in season for approximately ten days, and each tip must be hand-harvested. In southeastern Alaska, harvesting Spruce tips is a celebrated tradition, and in some communities, the foraged greens are even used as a prized currency. In Skagway, a small town of around 1,000 residents, Sitka Spruce tips are given monetary value by the pound, as the aromatic tips are incorporated into cosmetic goods, condiments, and beers. These products are then sold to tourists, residents, and other businesses, providing an added source of income. Spruce tips can also be exchanged for cash at the Skagway Brewing Co. Spruce tips are also valued in other communities throughout southeastern Alaska, and they are the signature ingredient in the Alaskan Brewing Company's Spruce IPA beer.
Geography/History
Spruce trees are native to temperate and boreal regions of the northern hemisphere and have been growing wild since ancient times. There are over 35 species within the Picea genus, and many of these species are fast-growing and long-lasting, reaching several meters in height. One of the oldest known trees ever recorded in the world was a 9,550-year-old Norway spruce tree in western Sweden nicknamed Old Tjikko. Spruce tips are a foraged ingredient gathered from spruce tree species in the spring. The new shoots are generally only in season for 1 to 2 weeks and are a seasonal delicacy that has been enjoyed for centuries by indigenous populations across the northern hemisphere. Historically, one of the most popular uses for Spruce tips was infusing their flavor into tea and beer. Captain Cook famously used Spruce tips in beer to prevent his crew from developing scurvy on their journey across the Pacific Ocean. Jacques Cartier and his team also consumed Spruce tips as a vitamin C source when exploring the land now recognized as Quebec. Over time, Spruce tips have remained a seasonal, foraged item and have become a favored ingredient among chefs, brewers, and mixologists to impart an unusual, bright, and complex flavoring. Spruce tips are available in the spring and are generally sold direct from foragers, specialty retailers, or farmer's markets in North America, Europe, and Asia.
Featured Restaurants
Restaurants currently purchasing this product as an ingredient for their menu.
| | | |
| --- | --- | --- |
| InterContinental Vistal Kitchen | San Diego CA | 619-501-9400 |
| Groundswell Brewing | Chula Vista CA | |
| Campfire Bar | Carlsbad CA | 858-231-0862 |
| Inn at Rancho Santa Fe | Rancho Santa Fe CA | 858-381-8289 |
| InterContinental Vistal Bar | San Diego CA | 619-501-9400 |
| Alila Marea Beach Resort | Encinitas CA | 805-539-9719 |
| Revolution Roasters | Oceanside CA | 760-330-6827 |
Recipe Ideas
Recipes that include Spruce Tips. One

is easiest, three is harder.