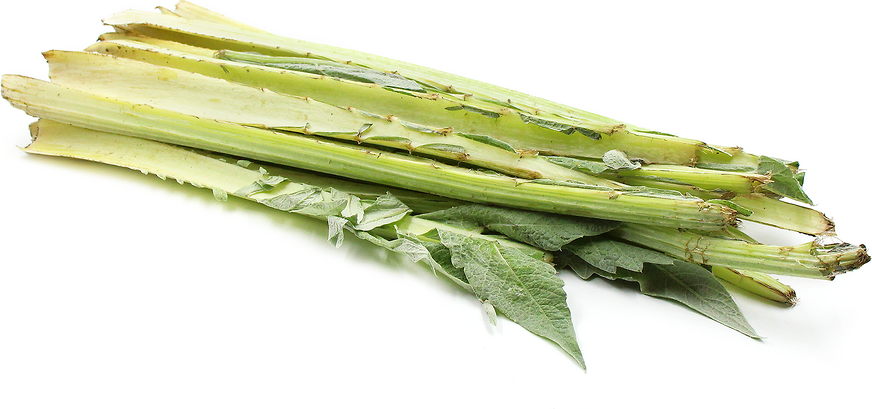 Cardoons
Inventory, 38 lbs : 0
Description/Taste
Cardoons consist of medium to large upright stalks, averaging 60 to 150 centimeters in length, and have an elongated, cylindrical shape with the edges of the stalk slightly curving in. The stalks are generally pale green to gray-green, semi-coarse, firm, and ribbed, covered in tough, fibrous leaves, spines, and fibers that extend the length of the stalk. Once the stringy fibers and spines are removed, the revealed flesh is green, succulent, moist, and soft. Cardoons naturally contain a bitter, vegetal taste that lessens in astringency through blanching or soaking. When cooked, the stalks develop a tender consistency and have a nutty, sweet, and subtly bitter flavor, reminiscent of artichokes.
Seasons/Availability
Cardoons are available in the winter through early spring.
Current Facts
Cardoons, botanically classified as Cynara cardunculus, are a thistle-like, herbaceous perennial belonging to the Asteraceae or sunflower family. The flat, thick, and fibrous stalks naturally grow in an upright formation, reaching over two meters in height, and there are many different varieties generally labeled as Cardoons in local markets. The name Cardoon is derived from the Latin word for "thistle," and Cardoons are also known by many other names worldwide, including Cardoni, Cardo, Cardone, Cardi, and Carduni. Traditionally, the winter vegetable is blanched by covering in soil, straw, or plastic bags to block out sunlight. This process allows the stalks to develop a sweeter, more tender consistency. Cardoons are also known to be produced through two different cultivation methods. Lunghi is the method of allowing the plants to grow upright and covering them with other materials, while gobbi gently bends the stalks over and buries them in the soil for natural blanching. In European markets, Cardoons grown in the gobbi style are generally the most desired type as they are believed to have a sweeter flavor.
Nutritional Value
Cardoons are a good source of folate to produce red blood cells and contain manganese to stimulate enzymes involved in metabolism and digestion. The stalks also provide magnesium to regulate blood pressure and nerve functioning and are a lower source of potassium, calcium, and iron.
Applications
Cardoons need to be cleaned and prepared before consumption, stripping away the spines and fibers. The spines can be quite sharp, and it is recommended to wear protective gloves to prevent color staining, rashes, and irritation on the hands. When preparing, outer leaves should be discarded, and the fibrous strings should be peeled from the stalks, also removing the spines found along the edges. As the stalks are being stripped and chopped, the pieces should be kept in acidulated water to avoid discoloration. Cardoon stalks are typically parboiled to remove their bitter flavor and are steamed, sauteed, boiled, baked, deep-fried, or braised. The sliced stalks can be simmered into soups and stews, combined into gratins, boiled and tossed into salads, or slow-cooked in vegetable and meat dishes. Cardoons can also be battered and fried, cooked and preserved in extra virgin olive oil, or steamed and consumed with flavorful dips on appetizer plates. In Italy, Cardoons are utilized in bagna cauda, a dish where the stalks are boiled and fried, served with a warm fondue-like cheese, garlic, and anchovy sauce. The stalks are also used in cocido madrileño, a meat and vegetable stew considered to be one of Spain's national dishes. Cardoons pair well with cheeses such as parmesan, ricotta, goat, feta, and mozzarella, lemon juice, herbs such as parsley, basil, dill, and thyme, seafood, including clams, oysters, and fish, truffles, other mushrooms, tomatoes, peppers, garlic, beans, and spreads such as nut butter and hummus. Raw Cardoon stalks will keep two weeks when wrapped in a damp paper towel and stored in a plastic bag in the crisper drawer of the refrigerator. Once cooked, the tender pieces will keep up to three days in the fridge.
Ethnic/Cultural Info
In Italy, Cardoons are one of the traditional ingredients incorporated into Christmas meals. Historically, many Italians fast for twenty-four hours before Christmas, and the fast is broken with family recipes that have been passed between generations. Christmas meals are considered to be somewhat strict, as each family has its own recipes and favored dishes. Throughout the multi-course holiday meal, Cardoon stalks are used in a wide variety of preparations, depending on the region, and the vegetable became a popular holiday ingredient due to its widespread winter availability in seasonal markets. In Italy's Abruzzo region, Cardoons are simmered in minestra di cardi, a soup filled with lamb meatballs. This soup is a favorite appetizer, and the soup base allows the Cardoons to develop a tender, artichoke-heart like consistency. In Siena, Cardoons are cooked into sformato di cardi or Cardoon flan, a creamy dish made from blended Cardoons, spices, bechamel sauce, and breadcrumbs. The mixture is baked and served as a side dish that can be reheated throughout the night as families play annual Christmas games. In Umbria, Cardoons are incorporated into Gobbi alla parmigiana, a tomato-based dish similar to eggplant parmesan.
Geography/History
Cardoons are native to Northwest Africa and have been growing wild for thousands of years. The prickly plant was introduced to Central and Western Mediterranean regions in ancient times, and the crops quickly began to be domesticated and utilized for culinary applications. Cardoons were a common vegetable in Persian, Roman, and Greek cuisine and maintained a presence in European cooking through the Middle Ages. In the Victorian Era, the stalks were a favorite vegetable among the English upper class, and during this time, the plant was also brought to the New World in the 1700s. In the 19th century, Cardoons fell out of favor due to their laborious nature and have remained mostly unknown in the modern-day, except for their use in regions of Italy, Spain, and France. Despite their decline in the culinary world, Cardoons are a highly invasive plant, escaping cultivation, and have naturalized in warm regions across Europe, Northern Africa, the United States, South America, Australia, and New Zealand. Today Cardoons are primarily sold through farmer's markets and specialty stores when in season. The stalks are also occasionally grown as an ornamental in home gardens for their violet flowers.
Recipe Ideas
Recipes that include Cardoons. One

is easiest, three is harder.