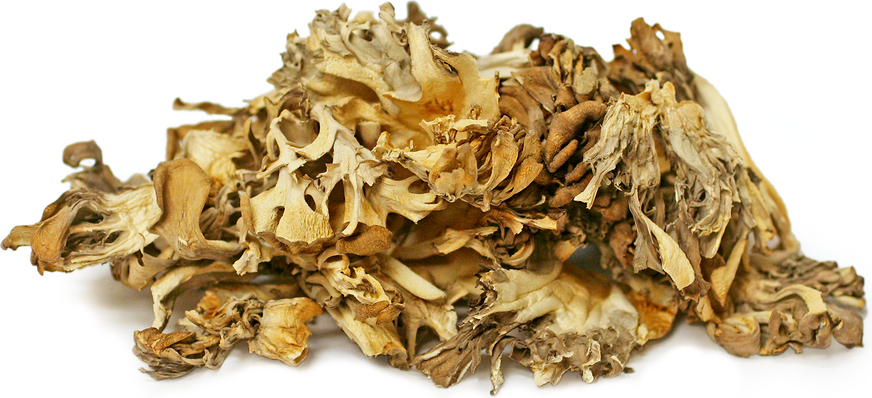 Dried Maitake Mushrooms
Inventory, lb : 0
This item was last sold on : 12/13/22
Description/Taste
Maitake mushrooms are comprised of a fruiting body and a single branched stem with many tightly packed layers of curved, smooth caps. When the mushrooms are dried, they are generally broken into smaller pieces and are naturally dehydrated, creating delicate clusters of slender, flat, and shriveled caps. Dried Maitake mushrooms are semi-rough, brittle, and crisp, appearing in shades of brown, tan, ivory, to cream. The variety does not exhibit gills and instead is pocked with tiny pores on the underside of the caps. When reconstituted, Dried Maitake mushrooms develop a chewy, slightly firm, meat-like texture and contain smokey, earthy, and umami-filled flavors with nuances of warm spices such as clove, ginger, and cinnamon.
Seasons/Availability
Dried Maitake mushrooms are available year-round.
Current Facts
Dried Maitake mushrooms, botanically classified as Grifola frondosa, are nutritionally dense polypores belonging to the Polyporales family. Maitake mushrooms have been growing wild for thousands of years and were historically challenging to find, making their discovery highly valued for culinary and medicinal use. When fresh, Maitake mushrooms generally have a short shelf life, but when air-dried, the dehydrated mushrooms can be stored for extended periods allowing chefs to utilize the umami-filled fungi in recipes year-round. Dried Maitake mushrooms can be used similarly to fresh Maitake mushrooms and provide savory, smokey, and earthy flavors into culinary dishes. The dried mushrooms are also popularly incorporated into Eastern medicines and teas, used as an immunity booster.
Nutritional Value
Maitake mushrooms are an excellent source of potassium to balance fluid levels within the body, fiber to regulate the digestive tract, and copper to maintain optimal metabolism. The mushrooms are also a good source of vitamin D, niacin, antioxidants, and beta-glucans, which are a type of soluble fiber that is believed to help the immune system fight off bacteria. In traditional medicines of Japan, Maitake mushrooms were commonly steeped into a tea, taken in capsule form, or made into a tonic to strengthen the immune system and lower blood pressure.
Applications
Dried Maitake mushrooms have an earthy, savory flavor well suited for heartier, full-bodied dishes. The mushrooms must be reconstituted before use, and generally, 1 ounce of dried mushrooms is equivalent to 3 to 4 ounces of fresh mushrooms. It is recommended to rinse the dried mushrooms under cold water to remove any lingering debris and then immerse the fungi in hot water for 15 to 20 minutes. Once reconstituted, the mushrooms can be utilized in any recipe calling for Maitake mushrooms. Dried Maitake mushrooms can also be rinsed and added to soups and stews without reconstituting, but they should be cooked for at least 25 minutes. The reconstituted mushrooms readily absorb accompanying flavors and provide additional umami nuances into broths, stocks, and sauces. Maitake mushrooms can be mixed into pasta, used as a topping over pizza, simmered in soups and stews, baked into casseroles, or cooked into omelets. The mushrooms can also be sautéed in butter and served as a stand-alone side dish, stir-fried with vegetables, battered and fried as tempura, or sauteed into grain bowls and rice dishes. In addition to reconstituting, Dried Maitake mushrooms can be ground into a powder and mixed with other mushroom varieties to flavor cream or tomato-based sauces, meatloaf, and savory main dishes. Dried Maitake mushrooms pair well with meats such as poultry, beef, and pork, tofu, seafood, other wild mushrooms, bitter greens, aromatics, including shallots, garlic, and ginger, tomatoes, potatoes, and cheeses such as parmesan, mozzarella, and gruyere. The dried mushrooms will keep at least one year stored in a sealed container in a cool, dry, and dark place.
Ethnic/Cultural Info
In medieval Japan, Maitake mushrooms were once used as currency and were measured by their weight to be exchanged for silver. Within the feudal society, the daimyo, or landowners, would employ foragers to hunt for wild Maitake mushrooms to present to the shogun, a ruler over a large regional territory. Maitake mushrooms were highly valued for their medicinal and culinary properties, and some mushroom clusters could weigh up to 100 pounds. The daimyo sought to gain favor with the shogun, so he incentivized the foragers with exchanging the mushrooms for silver. When foragers would discover a large grouping of Maitake mushrooms, legend has it that they would dance with joy, leading the mushrooms to earn the name Maitake, roughly translating to "dancing mushroom." Maitake mushrooms are still highly valued in Japanese culture in the modern-day, and foragers protect their gathering spots by keeping them hidden. Some foragers even refuse to share the spot with family members and only reveal the location in their wills.
Geography/History
Maitake mushrooms are native to regions of Japan, China, the northeastern United States, and Canada and have been growing wild since ancient times. The clustered fungi primarily grow in damp forests at the base of hardwood trees, including elm, oak, and maple, and can be found in small to very large sizes. Maitake mushrooms appear in the same location each year and are fiercely protected by foragers to seasonally sell in local markets. The wild mushrooms are also considered rare in the wild, but in the 1980s, the variety was successfully cultivated, allowing Maitake mushrooms to be available year-round. Today Maitake mushrooms are widely cultivated and are grown for medicinal and culinary use. Dried Maitake mushrooms are available through select supermarkets, specialty grocers, Asian markets, some farmer's markets, and health food stores worldwide.
Recipe Ideas
Recipes that include Dried Maitake Mushrooms. One

is easiest, three is harder.
Podcast