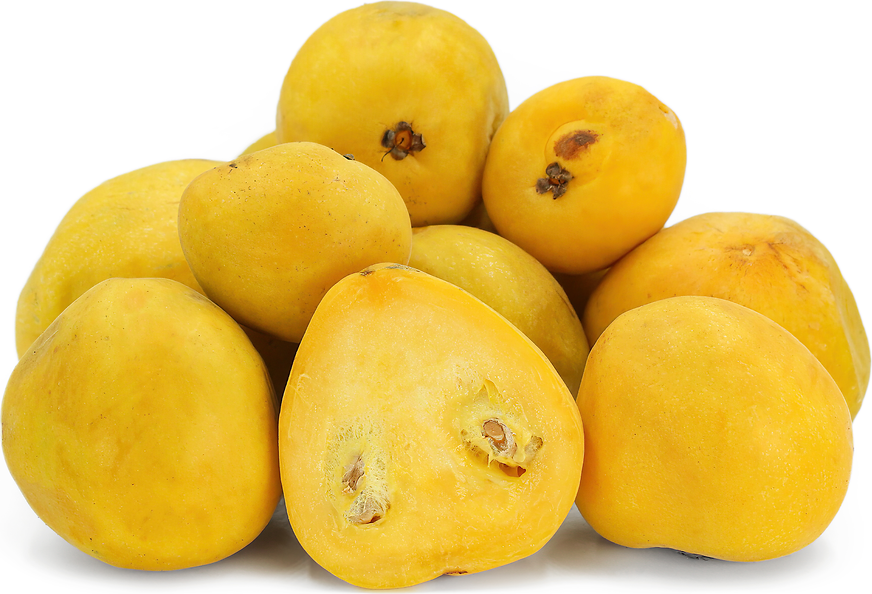 Arazá Fruit
Inventory, lb : 0
Description/Taste

Arazá fruits are small to medium in size, averaging 2 to 12 centimeters in diameter, and are generally round to oval in shape, weighing between 200 to 750 grams. The fruits have thin, easily damaged skin and ripen from green to golden yellow. The surface also has a smooth, velvety feel, and as the fruits mature, their texture will soften, lending a slight give to the skin when gently squeezed. Underneath the surface, the flesh is aqueous, dense, thick, and pulpy. The bright yellow flesh also contains 8 to 10 seeds and has a soft, tender, and succulent consistency. Arazá fruits release a distinct, tropical aroma when ripe and have a very sour, acidic, and tart flavor with bittersweet nuances reminiscent of pineapple and mango.


Seasons/Availability

Arazá fruits are available year-round and are generally harvested four times per year.


Current Facts

Arazá fruits, botanically classified as Eugenia stipitate, are a rare, tropical species belonging to the Myrtaceae or guava family. The fruits grow on compact trees reaching 3 to 12 meters in height and are native to the western Amazon rainforest in South America. Arazá fruits are also known as Guayaba Amazónica, Araza-Boi, and La Fruta De Los Siete Sabores, translating to mean "The fruit of the seven flavors." The tropical fruits grow in some of the most remote areas of the Amazon, and there are several subspecies naturally found in the wild. Arazá fruits develop year-round, averaging 84 days between each harvest, and are a species valued for its nutritional properties, especially its high vitamin C content. Despite their rich properties, Arazá fruits are not well-known outside of their native growing region and are localized to indigenous peoples as a traditional fruit. The trees are prolific in the wild, producing 400 kilograms of fruit per harvest, and are sold through fresh markets. Arazá fruits have a very sour and acidic flavor, typically combined with sweeteners in beverages, desserts, and preserves.


Nutritional Value

Arazá fruits are a source of fiber to regulate the digestive tract, vitamin E to protect the cells against free radical damage, and potassium to balance fluid levels within the body. The fruits also provide vitamin C to strengthen the immune system, phosphorus to build strong bones and teeth, magnesium to maintain nerve functioning, and other nutrients including zinc, calcium, and vitamin B1. In natural remedies among indigenous peoples of the western Amazon, Arazá fruits are consumed to cleanse the liver and lower cholesterol.


Applications

Arazá fruits have an acidic flavor generally considered too sour to consume straight out of hand. The soft-fleshed fruits are typically sprinkled in salt or sugar to balance out the flavor and are scooped with a spoon or sliced and mixed into salads, slaws, and side dishes. The fruits can also be blended or juiced, discarding the seeds, and combined into beverages. In Colombia, Arazá is popularly mixed with milk, sugar, or water and made into fruit juices, smoothies, and soft drinks. They are also stirred into brandy with crushed ice to make a specialty cocktail. Arazá fruits can be cooked into pastes, syrups, and preserves, mixed into yogurt, or they can be blended into ice cream. In addition to sauces and pastes, Arazá fruits create a fruity jam, jelly, and marmalade. Try simmering the fruits with sugar to flavor pies or fillings for tarts and other baked goods. Arazá fruits pair well with vanilla, maple syrup, and fruits such as pineapple, mangoes, berries, and bananas. When stored in the refrigerator, whole, unwashed Arazá fruits will keep for 1 to 5 days. The fruits are highly perishable and vary in storage life depending on ripeness.


Ethnic/Cultural Info

Arazá fruits were historically used as a natural air freshener in Colombia. The brightly colored fruits released an aromatic and robust, floral, tropical scent and were harvested and placed in rooms around the house as an air infuser. Arazá fruit trees are highly productive in the wild, allowing the fruits to be sourced throughout the year. The fruits were also utilized in body creams and facial moisturizers, and their scent was extracted for oils and perfumes. Over time, Arazá fruits transitioned from a fragrant decorative item into a beverage and dessert ingredient. Arazá fruits were not considered for commercial planting until the 1980s. It is estimated that no more than 3% of the fruits produced in Colombia in the late 20th century were a part of the local, exotic category, and growers shifted their focus to cultivating the wild species for increased diversity. Arazá fruits were chosen for production as they are approximately 70% pulp and are valued for their nutritional properties and tart, sour, and fruity flavor.


Geography/History

Arazá fruits are native to the western Amazon and have been growing wild since ancient times. The fruits thrive in tropical climates and are found in the Amazonian plains, forests, and alongside rivers. Historically, Arazá fruits have been found in the state of Acre in Brazil, Ecuador, Uruguay, Colombia, and the Loreto region of Peru, specifically in the Rio Ucayali Valley. The fruits have remained primarily localized to their native areas and are selected for culinary use by indigenous peoples that have been consuming the fruits for generations. Today Arazá fruits are a rare species not well-known outside their native lands. Some countries have selected the fruits for processing into pulp, shipping the frozen goods to larger cities throughout South America. Grower associations are also working to send the unripe fruits overseas to markets in the United Kingdom and the United States as a novelty. Beyond commercial uses, a few Arazá fruit trees have been planted in select botanical gardens for research in California and Southeast Asia.