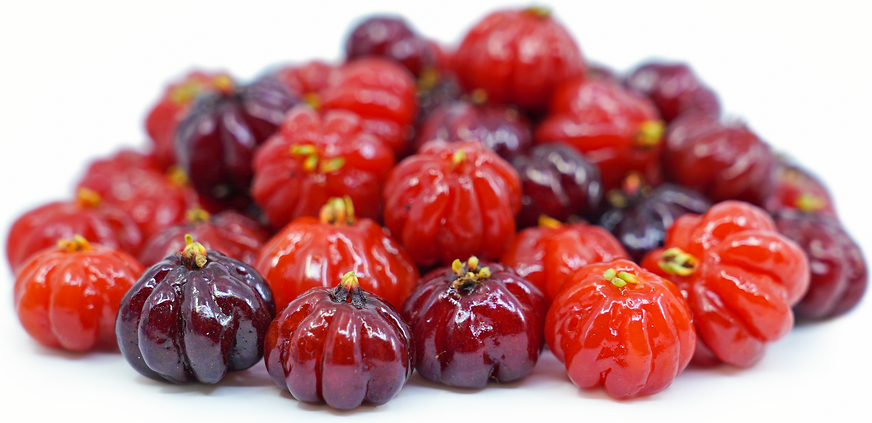 Surinam Cherries
Inventory, bskt : 0
This item was last sold on : 06/17/22
Description/Taste
Surinam cherries are small fruits, averaging 2 to 4 centimeters in diameter, and have an ovate to round, slightly flattened appearance. Each fruit is deeply ribbed, showcasing 7 to 8 vertical ridges, and the skin is thin, smooth, delicate, and glossy. The fruit's surface will transition from hues of green, orange, red, to red-blue and crimson when ripe, depending on the variety. It is important to note that Surinam cherries should only be consumed when mature. Unripe fruits will have an unpalatable and unpleasant, sour and bitter flavor. Underneath the skin, the flesh is orange-red, aqueous, soft, and sticky, encasing 1 to 3 flat seeds that should be discarded. When ripe, Surinam cherries will be soft to the touch and detach easily from the stem. The fruits will have a sweet-tart, acidic flavor with mild, earthy, and subtly bitter nuances, sometimes reminiscent of the vegetal earthiness found in green bell peppers. Surinam cherries have an unusual, often polarizing flavor, with some consumers appreciating the flavor, while others find it an acquired taste.
Seasons/Availability
Surinam cherries are available at different times worldwide, generally throughout the spring, fall, and winter. Some regions may also have multiple crops in the spring and fall, depending on the climate.
Current Facts
Surinam cherries, botanically classified as Eugenia uniflora, are tropical fruits belonging to the Myrtaceae family. The small, flattened fruits grow on evergreen shrubs or small trees, reaching between 7 to 9 meters in height, and thrive in tropical to subtropical climates worldwide. Surinam cherries are native to South America, but the fast-growing, hardy plant has readily naturalized worldwide due to being planted as an ornamental in home garden landscapes. Despite their "cherry" moniker, Surinam cherries are not botanically a cherry and are fast-ripening fruits that mature in approximately three weeks after flowering. There are two main varieties, a dark red crimson cultivar and a more common blue-red varietal, and both types must be consumed only when ripe. Surinam cherries are also known as Brazilian cherries, Florida cherries, Cayenne cherries, and Pitanga cherries. Historically, the plants were grown as an ornamental hedge, but some consumers gather the fruits as a culinary ingredient and incorporate them into baked goods, desserts, preserves, and sauces.
Nutritional Value
Surinam cherries are a good source of vitamin A to maintain healthy organ functioning and vitamin C to boost the immune system. The fruits also contain antioxidants to protect the cells against free radical damage, calcium and phosphorus to strengthen bones and teeth, and iron to develop the protein hemoglobin for oxygen transport through the bloodstream. In Central and South America, parts of the Surinam cherry tree are used in natural medicines to create a concoction from essential oils to fight against a common fungus known as Paracoccidioidomycosis. The leaves are also used topically or scattered across floors for their pungent smell as an insect repellant.
Applications
Surinam cherries have a sweet-tart flavor well suited for fresh and cooked preparations. The fruits should only be consumed when ripe, and once harvested, they can be sliced in half, removing the seeds, and stored in the refrigerator for a couple of hours. Allowing the fruits to sit in the cold temperature will help reduce their resinous flavor. The sliced fruits can also be sprinkled with sugar to enhance their sweetness, incorporating the fruits as a topping over fresh baked goods, ice cream, and custards. Surinam cherries can be chopped and mixed into green salads and fruit bowls, quick-pickled, or simmered into sauces, relish, and compotes. The fruits can be used similarly to berries in baking, and when cooked with sugar, they can be infused into jellies, jams, and fillings for pastries or used to flavor syrups for cocktails. In Brazil, Surinam cherries are popularly fermented into wine and spirits, used to flavor vinegar, or boiled with water to make a juice. Surinam cherries pair well with vanilla, caramel, chocolate, fruits such as strawberries, blueberries, cherries, and raspberries, honey, and maple syrup. Whole, unwashed Surinam cherries will keep 2 to 5 days when stored in an open container in the refrigerator. The fruits have a delicate nature when ripe and should be handled with care as they can be easily bruised, punctured, or squished.
Ethnic/Cultural Info
Surinam cherries were once a beloved hedge plant in Florida, but over time, the evergreen shrubs quickly grew into one of the state's most problematic and invasive species. The plants were introduced to Florida in the 1930s as a tropical ornamental for home gardens, and Florida gardeners appreciated the variety for its full, dense nature. Surinam cherries were often considered one of the hardiest hedge plants for property borders, and the species became so popular that it acquired the name Florida cherries. Common sweet cherry cultivars were not typically grown in Florida, so consumers adopted the Surinam cherry as a cherry-like symbol of the state. Despite the plant's favor as a colorful addition to landscapes, Surinam cherries began to escape cultivation in the 1980s, destroying many natural habitats. The plant's aggressive tendencies became so extensive that the Florida Exotic Plant Pest Council marked the species as a category II invasive plant in 1991 and later a category I, the most severe type of invasive species. Suriname cherries are still common throughout Central and Southern Florida. The pest council advises that the plants should be destroyed in both home gardens and in the wild to prevent the plant's spread, as birds enjoy eating the fruits and scatter the seeds, further expanding the species' growth.
Geography/History
Surinam cherries are native to South America and are primarily found along the eastern coast, spanning Surinam, French Guiana, southern Brazil, Guyana, Paraguay, and Uruguay. The evergreen shrubs have been growing wild since ancient times and generally thrive in tropical climates, where they grow into dense wild thickets and are sometimes cultivated in home gardens as an ornamental. Over time, Surinam cherries were spread to Colombia, Argentina, Venezuela, and Central America and quickly naturalized among the native landscape. Experts believe Portuguese explorers introduced Surinam cherries to the Caribbean, India, Europe, and later in the early 20th century, the plants were brought to the Philippines, Israel, and Florida. Today Surinam cherries survive in tropical to subtropical climates and are grown worldwide, found in Asia, Southeast Asia, Australia, Europe, Africa, and the Americas. When in season, Surinam cherries are primarily foraged from wild and home garden plants and are sold through local markets.
Recipe Ideas
Recipes that include Surinam Cherries. One

is easiest, three is harder.
Podcast