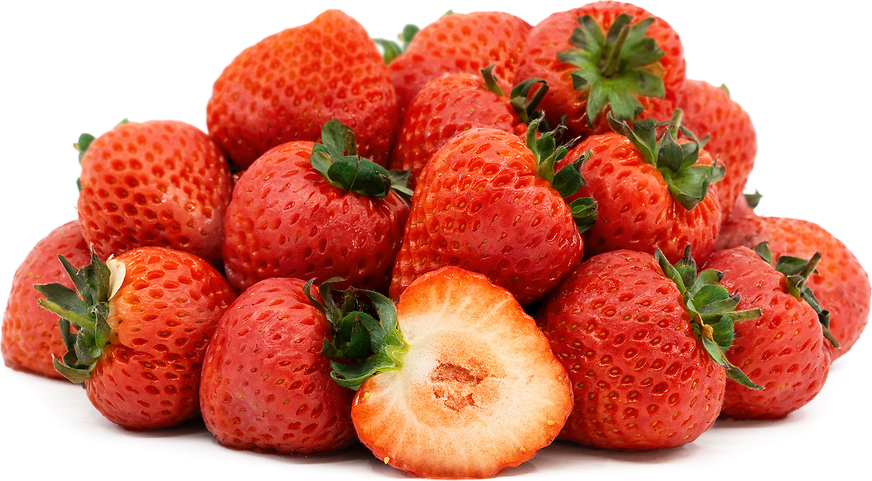 Omakase Strawberries
Inventory, lb : 0
Description/Taste

Omakase strawberries are a small to medium-sized varietal, averaging 3 to 5 centimeters in diameter, and have a conical shape with broad, curved shoulders tapering to a pointed tip. The berries feature a dark green cap with lanceolate-shaped leaves, and the skin showcases a blend of saturated red-pink hues. Omakase strawberries are known for their delicate, soft nature, and the skin is easily bruised or damaged. The berries must be handled with care, and the thin, smooth, and glossy skin is covered in tiny, edible, unnoticeable seeds. Underneath the skin, the pale red and white flesh is tender and aqueous with a succulent, creamy consistency. Consumers note that Omakase strawberries have a much softer texture than other American commercial varieties, and the berries are sometimes described as having a melting mouthfeel. The fruit's core can be solid or hollow, depending on cultivation, and when sliced, the strawberries release an aromatic, fruity, and sweet scent. The scent is so fragrant that it often fills the room with its lingering aroma. Omakase strawberries can be consumed raw and have a balanced, sweet, and acidic flavor with floral, fruity, and candy-like nuances.


Seasons/Availability

Omakase strawberries are available year-round.


Current Facts

Omakase strawberries, botanically classified as Fragaria ananassa, are a specialty variety belonging to the Rosaceae family. The premium strawberries were released to commercial markets in 2018 and were the first variety grown by Oishii, a strawberry company based in the United States. Omakase strawberries are one of the softest-fleshed varieties sold in the United States, and Oishii selected the cultivar to be distinct in texture and flavor from other commercial strawberries in American markets. Omakase strawberries must be handled with care, similarly to handling a carton of eggs. The variety is grown through an indoor, vertical farm, allowing the berries to be cultivated without pesticides and genetic modification. Omakase strawberries are grown year-round in a controlled climate that simulates the "perfect day in Japan." The cultivar was inspired by various strawberries grown in Japan, and Oishii highlights the berry's flavor and aroma over yields and shipping abilities. When Omakase strawberries were first released in 2018, they were challenging to find as they were grown in limited quantities, sold at high prices, and sought after by foodies and high-end chefs. Over time, the company has expanded in operations, providing expanded availability along the East Coast of the United States. Oishii plans to expand across the country with time, and the premium berries are consumed fresh as a specialty fruit.


Nutritional Value

Omakase strawberries, like other strawberries in general, are a source of fiber to regulate the digestive tract, vitamin C to boost the immune system, and vitamin A to maintain healthy organ functioning. The variety also provides vitamin E to protect the cells against the damage caused by free radicals, calcium to build strong bones and teeth, magnesium to control nerve functions, potassium to balance fluid levels within the body, and other nutrients, including zinc, vitamin K, iron, manganese, copper, and phosphorus.


Applications

Omakase strawberries have a delicate sweetness and robust fragrance suited for fresh and cooked preparations. The variety is primarily consumed straight out of hand, and it is recommended to allow the berries to be left at room temperature for 10 to 15 minutes before serving. The variety's permeating fragrance will fill the room, and the berries are meant to be enjoyed with this scent in the air. Omakase strawberries can also be served on charcuterie boards, displayed as a decorative garnish on appetizers and desserts, or layered onto parfaits. It is important to note that the variety's delicate nature can be overshadowed when mixed with other ingredients, so be sure to place the strawberries in dishes where their sweet taste and soft flesh can be experienced. Omakase strawberries are mostly served fresh, but they can be used in any preparations calling for strawberries. The variety can be simmered into jams, jellies, and sauces, baked into cakes, cookies, and tarts, or cooked into a filling for pastries. Try adding Omakase strawberries to cocktails, mocktails, lemonades, and other beverages. The berries can also be used as a garnish on the rim of the glass. Omakase strawberries have a short shelf life and should be immediately consumed for the best quality and flavor. The berries can be bruised easily and will only keep for a day or two before losing flavor and texture.


Ethnic/Cultural Info

The name Omakase was derived from the traditional Japanese dining experience of "chef's choice." In Japanese, Omakase translates to "I leave it up to you," and the concept was created around chefs serving their best ingredients to showcase culinary creativity. Omakase is closely tied to sushi restaurants, and historically, the chef's menu would often change with the season and availability of fresh fish. It is thought that the concept of Omakase was created sometime during the Edo period, 1603 to 1868 CE, and the dining experience was customarily relaxed and meant to be multi-sensory. Omakase strawberries were given this moniker as the berries are meant to be savored. The soft, melting flesh and sweet, aromatic taste create a sensory experience distinct from other strawberry varieties available in the United States. Hiroki Koga, CEO of Oishii, also wants to evoke nostalgia for warm summer days when Omakase strawberries are eaten, transporting consumers back to the height of the sweetest strawberry season. This nostalgia is coupled with Omakase strawberries being available year-round, allowing consumers to enjoy this experience throughout the year. Beyond Omakase's name significance, Oishii translates from Japanese to mean "delicious," a title representative of the company's drive for quality flavored produce.


Geography/History

Omakase strawberries are a premium variety grown by Oishii, a company that strives to bring Japanese-style produce to the United States. Oishii was established in 2016 by co-founders Hiroki Koga and Brendan Somerville. Koga came from Japan to the United States in 2015 to complete an MBA program at UC Berkley. During his time in Northern California, Koga was disappointed with the strawberries offered in the American market. Koga recognized that strawberries were primarily grown in the United States for their appearance and shipping abilities. Most strawberries are grown in California and transported across the country, making the fruits firm, watery, and low in flavor compared to the varieties grown in Japan. Capitalizing on this idea, Koga and Somerville created Oishii to develop high-quality strawberries, taking inspiration and cultivation techniques from the vertical strawberry farms in Japan. It is said Omakase strawberries are derived from Japanese varieties native to the foothills of the Japanese Alps, a mountain range on Japan's main island of Honshu. Koga and Somerville recreated the Japanese Alps climate in the first indoor vertical strawberry farm in the United States. Oishii released its first varietal, the Omakase strawberry, in 2018, and the cultivar initially attracted Michelin chefs and high-end clientele for the fruit's soft, tender, and aromatic nature. In 2019, Oishii transformed an old factory in Jersey City into the world's largest indoor vertical strawberry farm, naming the farm "Mugen," meaning "infinite" in Japanese. Omakase strawberries are grown in semiautomated, vertical systems with hydroponic solutions. The plants are pollinated by bees that reside on the farm, and the indoor environment is monitored by AI robotics to ensure the light, heat, moisture, and air quality remain constant to ensure a healthy, sustainable ecosystem. Omakase strawberries were designed as a premium variety, and the fruits are distinguished from other commercial strawberries by their soft, almost creamy texture. Today, Omakase strawberries are sold year-round through select partners of Oishii. The variety is mainly sold through Whole Foods along the East Coast of the United States in Washington D.C., New York, Connecticut, and New Jersey. The company hopes to expand production to the West Coast and has two farms outside of Manhattan and one in Los Angeles.