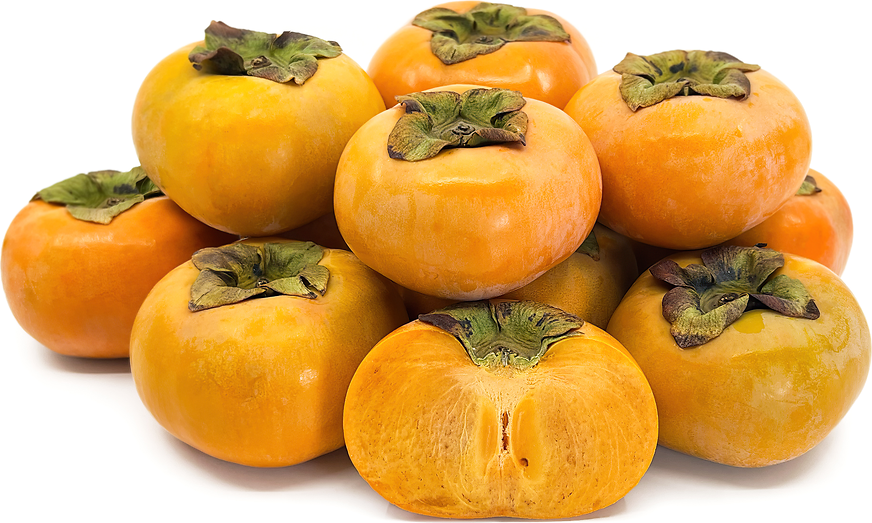 Jiro Persimmons
Inventory, cs : 0
Description/Taste

Jiro persimmons are a medium to large varietal, averaging 10 to 12 centimeters in diameter, and have a round to oblate, slightly flattened square shape with four shallow vertical creases. The fruit's skin is smooth, waxy, and taut, showcasing a faint sheen, and transitions into a dark red-orange hue when ripe. The persimmon is also capped with a signature green-brown calyx featuring four broad and flat, fibrous leaves. Underneath the surface, the pale orange flesh is dense, firm, and aqueous with a crisp and chewy consistency. The flesh is also seedless or encases a few light brown, oval seeds. Jiro persimmons are high in sugar and low in tannins, developing a mild, sweet, and sugary flavor with subtle fruity and spice-filled nuances.


Seasons/Availability

Jiro persimmons are available in the late summer through mid-fall when grown in greenhouses. Open field fruits are available in the mid-fall through winter.


Current Facts

Jiro persimmons, botanically classified as Diospyros kaki, are a mid-season Japanese variety belonging to the Ebenaceae family. The large, flattened fruits grow on a deciduous tree that can reach between 4 to 6 meters in height and are known for their unusual, creased appearance, sweet flavor, and crisp, apple-like texture. Jiro persimmons are a non-astringent cultivar, meaning they contain low tannins, allowing the fruits to be eaten straight off the tree. The variety can be consumed when it is crisp and chewy, or it can be left to soften. In Japan, Jiro persimmons are considered one of the top non-astringent cultivars for fresh eating and are a popular home garden variety, grown for their high productivity, large tree, and cold tolerance. The cultivar was developed in the late 19th century and was named after its founder Jirokichi Matsumoto. There are many legends surrounding Jiro persimmon's origins, including trees floating in rivers. The name Jiro was bestowed to the persimmons by the Emperor of Japan in honor of Mr. Matsumoto, and the fruits have been a favorite of royalty since their discovery.


Nutritional Value

Jiro persimmons are an excellent source of fiber to regulate the digestive tract, vitamin A to maintain overall organ health, and vitamin C to strengthen the immune system while reducing inflammation. The persimmons are also a good source of antioxidants to protect the cells against damage caused by free radicals, contain potassium to balance fluid levels within the body, and provide other nutrients, including vitamins B6, E, and K, copper, phosphorus, thiamine, folate, and manganese.


Applications

Jiro persimmons have a sweet, crunchy, and chewy flesh well suited for fresh and cooked preparations. The persimmons are known for eating straight, out of hand, and the skin and fruit are edible, discarding the seeds. Jiro persimmons can also be sliced into fruit bowls, quartered and displayed on charcuterie boards, tossed into green salads, or stirred into grain-based bowls. In addition to raw preparations, Jiro persimmons can be glazed and combined into vegetable dishes, broiled and served with ice cream as a sweet dessert, or incorporated into puddings, cakes, bread, and other desserts. The persimmons can also be simmered into jams, jellies, and preserves, blended into smoothies, or infused into wine. In Japan, sake maker Bembei Kawamura produces a Jiro persimmon vinegar utilized in culinary dishes and as a health drink. Try dried Jiro persimmons for a chewy, candy-like snack. These dried pieces of fruit can also be chopped and added to salads, mixed into desserts, or used to flavor sauces. Jiro persimmons pair well with honey, vanilla, chocolate, spices such as cinnamon, star anise, cloves, and ginger, dark leafy greens, nuts including walnuts, almonds, and pine nuts, cheeses such as ricotta, mascarpone, goat, and feta, and fruits such as pears, pomegranates, and citrus. Whole, unwashed persimmons will keep at room temperature for a couple of days to soften, or they can be stored in the refrigerator to maintain a crisper texture for several weeks.


Ethnic/Cultural Info

Jiro persimmons from Mori city in the Shizuoka Prefecture have been presented to the Imperial Family as gifts for over 108 years. The large persimmons are traditionally announced as the "best persimmon" variety, and this reputation was created when Emperor Meiji was visiting Shizuoka in 1908. During his stay, the emperor was given Jiro persimmons from the prefecture. The emperor was so pleased with the persimmons that the farmers of the prefecture established a tradition of selecting their best persimmons to give to the emperor each year. In 2021, over 660 Jiro persimmons were provided by 18 local farmers, and out of the 660, 160 persimmons were selected for their size, color, and shiny appearance. The persimmons were carefully packed into boxes and hand-carried to Their Majesties, the Emperor and Empress, and the Akishinomiya and his wife.


Geography/History

Jiro persimmons are descendants of persimmons native to regions of Eastern Asia that were transported to Japan in the early ages. Legend has it the first Jiro persimmon tree was discovered by Mr. Jirokichi Matsumoto in 1844 when he was standing alongside the Ota River in the Shizuoka Prefecture. Jirokichi plucked the young tree out of the water and planted it in his home garden. The young tree flourished in his garden until a fire in 1869 destroyed the tree, leading Jirokichi to believe the variety was lost forever. To his surprise, seedlings eventually germinated from the original tree's roots, producing prolific trees with large, sweet fruits. It is unknown when Jiro persimmons were brought to the United States, but experts believe they may have been brought with migrating Japanese families in the 19th century and were first planted in Northern California. Today Jiro persimmons are mainly produced in Toyohashi City in the Aichi Prefecture of Japan and are also grown in Shizuoka, Saitama, and Mie prefectures. When in season, the persimmons are found through local markets, select grocers, and distributors. Jiro persimmons are also offered through a few specialty growers in California.