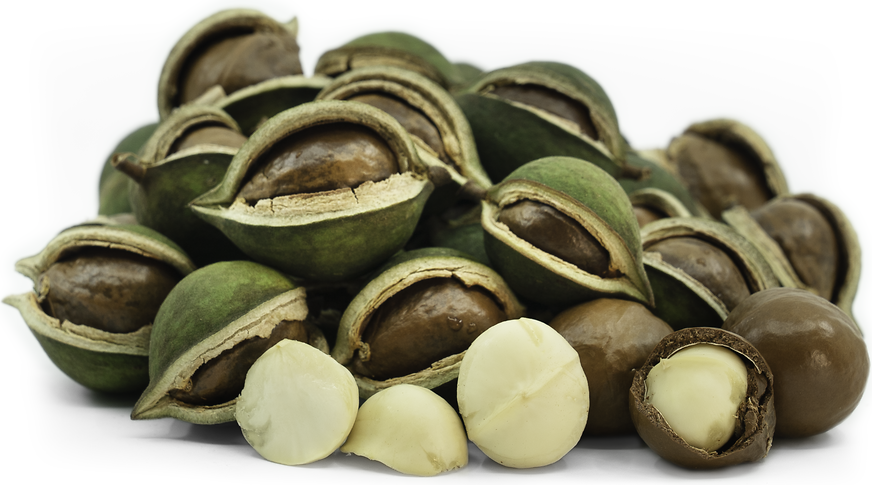 Green Macadamia Nuts
Inventory, lb : 0
This item was last sold on : 01/14/23
Description/Taste
Green Macadamia nuts are round and consistently sized, measuring approximately two centimeters in diameter. The nuts are encased within their hard shell and, sometimes, still within their hull, which appears deep green with a split down the middle. The split hull reveals a spongy interior, encasing the round, shelled macadamia nut. The shell of the nut is chestnut brown and smooth to the touch with a slight gloss. Once shelled, Green Macadamia nuts have a mildly tropical aroma, a silky texture, and a sweet and nutty flavor with undertones of fresh coconut.
Seasons/Availability
Green Macadamia nuts are available late fall through spring.
Current Facts
Green Macadamia nuts are the fruit of the tropical Macadamia tree belonging to the Proteaceae family. It is important to note that green refers to the freshness of the nuts, not the nut's color. There are ten wild species of Macadamia nut trees native to Australia, but only two varieties have been cultivated for commercial use: Macadamia tetraphylla, which produces nuts with a rough shell, and Macadamia integrefolia, nuts with smooth shells. Macadamia nuts, also known as Queensland nuts, Maroochi nuts, and Bush nuts in Australia, were named after John MacAdams, a friend of the man who first discovered the nuts after the British colonized Australia. It is common for a Macadamia tree to take up to seven years to begin fruiting and ten years to reach peak production, averaging over sixty pounds of nuts per tree per season. The nuts grow in clusters and are harvested off the forest floor once the hulls have split and dropped from the tree. Green Macadamia nuts are not dried or shelled but are instead sold immediately to maintain their fresh flavor. The shells of the nut are the hardest known nutshell in existence. It requires over 300 pounds of pressure to crack the nut, so special tools are needed in commercial and home production of the nuts. One such tool is a vice specially shaped to hold the consistently sized, round nuts with a pointed screw that must be perfectly positioned on the end opposite the stem end of the nut. The screw is then twisted into the shell until it pops open. Macadamia nuts are one of the most expensive foods globally because of the complexity of cultivation, harvest, and production.
Nutritional Value
Green Macadamia nuts are a significant source of iron, calcium, vitamin B, and phosphorus, as well as monounsaturated fats, including palmitoleic acid, a rare monounsaturated fatty acid that can aid in fat metabolism, possibly reducing the fat stored in the body. Macadamia nuts also contain moderate amounts of vitamin A, riboflavin, niacin, and flavonoids.
Applications
Green Macadamia nuts can be used interchangeably with dried macadamia nuts in both sweet and savory applications. The most common way to enjoy Green Macadamias is freshly cracked, out of hand, as a nutrient-rich snack. The nuts can also be shelled, roasted, and covered in different types of chocolate for a sweet treat. In addition to consuming the nuts by themselves, Green Macadamia nuts can be added to cookies, cakes, and quick bread, or they can be sprinkled over coconut and passionfruit ice cream for a delectable tropical dessert. Macadamia nuts can be ground into a fine meal and used as a crust for pies and cheesecakes, as well as a flour alternative for added flavor and crunch. Macadamia nuts are used extensively in Hawaiian cuisine to crust the outside of Mahi Mahi or shrimp before pan cooking or sprinkled over cold noodle salads and fruit salads with mango, guava, and passionfruit. Macadamia nuts pair well with other tropical flavors like coconut, passionfruit, guava, lemon, coffee, and chocolate. Macadamias will oxidize once exposed to the air, so it is best to leave them in their shell until needed and use them quickly once they are shelled. Green Macadamia nuts will last, unshelled, for 4 to 6 weeks.
Ethnic/Cultural Info
Long before the European colonization of Australia, Macadamia nuts were a valued food source of the Aboriginal people who congregated on the eastern slopes of Australia's Great Dividing Range of mountains. The tribes here called the giant evergreen macadamia trees Kindal Kindal and had many names for the nuts, including Boombera, Jindill, and Baupal, a name attributed to the nut from the land's origin story told by tribal ancestors. Macadamias were not a staple food for Aboriginal people but, instead, a delicacy that was treasured and used for trading and as special ceremonial gifts for inter-tribal dance ceremonies known as corroborees. Harvesting of the sacred nut was done by the women of the tribes. They would collect the nuts in their dilly bags and take them to feasting grounds, where they would remove the husk and crack the shells using stones with special indentations. The unique stone was placed over the nut, with the nut fitting into the indentation, and then it was struck by a large rock, delivering a powerful, evenly distributed impact that cracked the shell without damaging the nut. The nuts were enjoyed exclusively by the Aboriginal people until British colonists discovered the trees and nuts in the early 1850s.
Geography/History
Macadamia nuts are native to the rainforest of Northeastern Australia. Macadamia nuts have grown in this coastal region for millions of years and were a delicacy enjoyed by Aboriginal tribes in this area. The tropical trees were discovered by two European botanists, Walter Hill and Ferdinand Vol Meuller, in Queensland, Australia, in 1847. The botanists cracked open the shell of a nut with a vice and planted it in what is now known as Brisbane's City Botanic Gardens, where it still grows today. The first commercial Macadamia nut orchard was established in the 1880s with graft wood from this same tree. Nuts from this tree were brought to the Hawaiian Islands in 1881, and cultivation of the nuts grew on the island through the mid 20th century. Today, Hawaii is the largest producer of Macadamia nuts, producing over 80% of the global demand. The trees in Hawaii are all genetic clones of the original tree planted in Queensland. This puts the global production of Macadamias at great risk of mass extinction due to blight, climate change, and other factors. Scientists are working to mitigate this by developing new hybridized trees using the wild varieties still found in Australia. Demand for Macadamia nuts continues to grow, leading to orchards being planted in New Zealand, Africa, South America, Mexico, Costa Rica, and other parts of the United States, including California and Florida. Green Macadamia nuts can be found from specialty vendors or at farmer's markets where the nuts are grown locally.
Recipe Ideas
Recipes that include Green Macadamia Nuts. One

is easiest, three is harder.
the other 23...