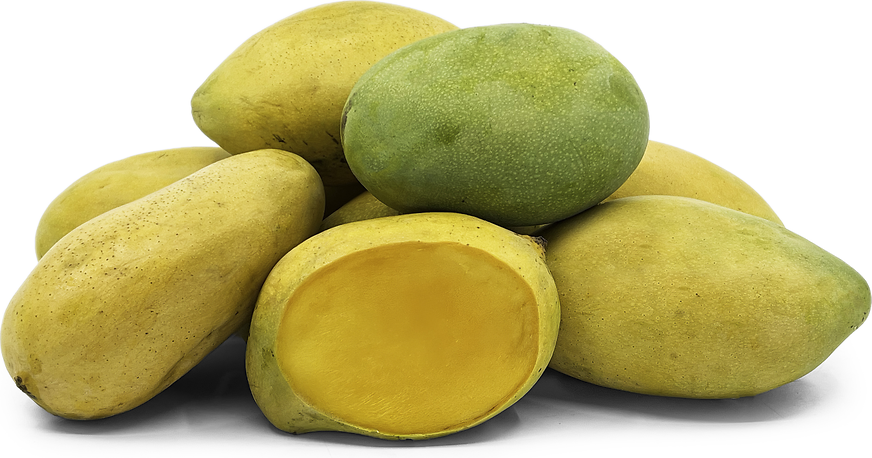 Mallika Mangoes
Inventory, lb : 0
Description/Taste

Mallika mangoes are a medium to large varietal, averaging 10 to 12 centimeters in diameter and 15 to 16 centimeters in length, and have an elongated, flattened, oval to oblong shape with a slight curve and tapered nature. The variety is heavy for its size, ranging from 283 to 700 grams in weight, and the skin is semi-thin, taut, and mostly smooth with a subtle bumpy feel. The skin ripens from green to golden yellow-orange with patches of pink-red blush. It is worth noting that the skin coloring often changes for Mallika mangoes. The variety is harvested when it is still green and flushed with hints of yellow. After harvest, the skin darkens into a golden hue with red-pink blush. Underneath the surface, the dark orange flesh is thick, dense, and fiberless with an aqueous, smooth, tender, and succulent consistency. If the variety is underripe, it may have a slightly starchy, chalky texture. The flesh also contains a slender, flat, mono-embryonic seed, which cannot be planted to produce another Mallika mango tree. Mallika mangoes are aromatic and release varying scents depending on the ripening process. If the fruits are ripened as they should be, they emit a fruity, floral, and sweet aroma. If the fruits are not ripened correctly or harvested too late, they will bear a musky, unpleasant sour scent. Ripe Mallika mangoes will have a slight give to the surface when gently squeezed. The fruit's shoulders will also be wide, and the stem will dry. The variety is high in sugar, typically reaching 23 to 27 Brix, creating a rich, sweet, and honeyed taste with notable citrus, melon, and orange vanilla cream nuances followed by a subtle tartness.


Seasons/Availability

Mallika mangoes are available in India from March through August. In Southern Florida, Mallika mangoes are generally in season in June and July.


Current Facts

Mallika mangoes, botanically a part of the Mangifera genus, are an Indian variety belonging to the Anacardiaceae family. The hybrid mangoes were developed and released in India in the late 20th century as a variety with improved flavor, texture, and aroma. Mallika mangoes grow on semi-compact trees reaching 3 to 4.5 meters in height, and growers favor the cultivar for its smaller nature, making harvesting the fruits faster and easier. Growers also prefer Mallika mango trees for their fast-growing nature, high yields, and disease resistance. One of the distinct characteristics of Mallika mangoes is their need to be harvested before they are fully ripe. Mallika mangoes must be picked when they are mature but still green and then allowed to ripen for 5 to 10 days to develop their signature flavor. If they are picked too early or too late, it will significantly impact the quality and taste. Mallika is a feminine name translating from Sanskrit to mean "jasmine," and many mango varieties created in India are given feminine titles in honor of their soft skin, curved shape, and beauty. In the modern day, Mallika mangoes are a mid to late-season variety cultivated for the fruit's fiberless, tender, and juicy flesh. Mallika mangoes are consumed in fresh, dried, and cooked preparations, and the variety is expanding in cultivation worldwide as growers recognize the cultivar's advantageous traits.


Nutritional Value

Mallika mangoes have not been studied for their nutritional properties. Mangoes, in general, are a source of vitamin A to maintain healthy organ functioning, vitamin C to strengthen the immune system, fiber to regulate the digestive tract, and potassium to balance fluid levels within the body. Mangoes also provide copper to develop connective tissues, folate to build genetic material such as DNA, magnesium to regulate nerves, and other nutrients, including phosphorus, iron, calcium, manganese, and zinc.


Applications

Mallika mangoes have a richly sweet, fruity, and subtly citrusy taste suited for fresh and cooked preparations. The variety can be washed and consumed out of hand, slicing the cheeks from the seed and carving out the flesh. It is important to note that the skin is not consumed and is discarded. Ripe Mallika flesh is revered as a snack or dessert, and the tender flesh can be added to fruit medleys, topped over yogurt, tossed into salads, mixed into salsa, or added to chutney. Mallika mangoes can also be infused into syrups for beverages, blended into smoothies and milkshakes like mango lassis, or used to flavor summer iced teas. Try blending and freezing Mallika mangoes into ice cream, pureeing the flesh to serve with poori, an Indian fried bread, or layering chopped and pureed mangoes with mango ice cream in mango falooda, a popular dessert in Southern India. Mallika mangoes complement sweet dishes and are incorporated into muffins, cakes, cheesecakes, panna cotta, and pudding. The mangoes are also served in savory dishes, including mango rice, mango raita, and mango dal. Beyond traditional culinary recipes, Mallika mangoes are sometimes used to make aam papad, a chewy and thick fruit leather, or thin strips that are dehydrated and stored as a snack. Mallika mangoes pair well with spices such as cardamom, turmeric, cumin, and coriander, coconut milk, curry leaves, aromatics including chile peppers, garlic, ginger, and onions, tamarind, almonds, mint, cilantro, and chocolate. Whole, unwashed Mallika mangoes should be ripened at room temperature. Once mature and ready for consumption, the mangoes can be stored in the refrigerator for a few days. It is recommended to immediately consume ripe Mallika mangoes for the best quality and flavor.


Ethnic/Cultural Info

Mallika mangoes are celebrated at Aam Mahotsav Avadh Shilpgram, a mango festival held in Lucknow, India. Lucknow is the capital city of the Indian state of Uttar Pradesh, and over twenty-five government departments within the state and nationally joined together to establish the mango festival to promote local growers and increase production. The 3 to 4-day festival is annually held in July and is hosted at Awadh Shilpgram, an architectural site designed for bazaars, festivals, and arts and craft fairs. During the mango festival, local and out-of-state growers gather at the site and create an exhibition section to showcase the mango varieties grown in India. Mallika mangoes are one of the most popular varieties featured in the exhibition, and attendees can sample and purchase the fruits. The festival also attracts vendors who showcase mangos in beverages, desserts, and main dishes, and there are several contests and awards given for the best varieties of the event. Popular culinary items sold during the festival are mano kulfis, which is an ice cream-like treat made from mango, condensed milk, cream, and whole milk, and aam panna, a drink comprised of syrup made from boiled green mangoes mixed with spices as a tangy, refreshing beverage.


Geography/History

Mallika mangoes were created in India through the Central Institute of Subtropical Horticulture, once known as the Central Mango Research Station in Lucknow, Uttar Pradesh. The variety is a cross between two Indian mangoes. The first is Neelum, the female parent known for its late-season nature, consistent bearing, and high yields. Dasheri is the male parent famous for its annual bearing. Mallika mangoes were believed by experts to have been released sometime in the 1970s, but the variety struggled to increase in production as it was largely ignored for several years. After its release, only a few mango growers cultivated Mallika mangoes, and the majority of consumers were unaware of the variety's dense, juicy flesh, sweet taste, and strong aroma. Over time, growers began to notice the positive qualities of Mallika mangoes, and the variety was also introduced into South Florida through Frank Smathers Jr. in 1978. Mallika mangoes became a popular cultivar in South Florida and were often showcased at the Fairchild Botanic Gardens International Mango Festival. The variety is also attracting interest from growers in Japan as a possible introduction. Today Mallika mangoes are commercially grown in Tamil Nadu and Karnataka in India. They are also grown on a smaller scale in Uttar Pradesh. Outside of India, the variety is grown in South Florida and Mexico. The mangoes featured in the photograph above were sourced through Spar Supermarket in Chennai, India.