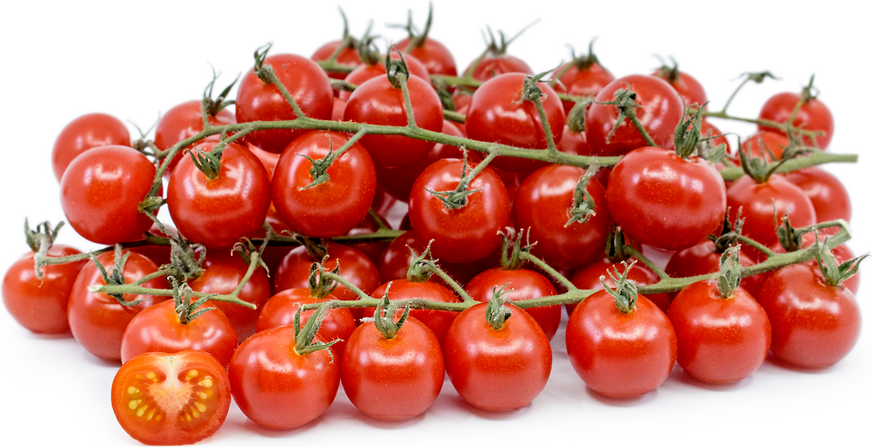 On The Vine Cherry Tomatoes
Inventory, 8 ct : 0.38
This item was last sold on : 12/09/23
Description/Taste
On The Vine Cherry tomatoes are small in size, averaging 2 to 3.5 centimeters in diameter, and grow on a shared vine in semi-packed clusters of round to ovate, uniformly sized and shaped tomatoes. The tomato's skin is thin, taut, glossy, and smooth, showcasing hues of bright red, crimson, golden yellow, black, and green, depending on the variety. A distinct trait of Cherry tomatoes is the snappy skin that causes the tomatoes to burst and pop in the mouth when eaten. Underneath the surface, the red-orange flesh is firm, tender, aqueous, and slender, encasing central chambers filled with a gelatinous, slippery liquid. The chambers hold anywhere from 6 or more yellow seeds and are known for containing a high water content. On The Vine Cherry tomatoes release an earthy, grassy, and vegetal aroma, primarily a scent from the green fibrous stem still attached. The tomatoes have high sugar and acidity levels, creating a bright, balanced, sweet, tart, and concentrated taste. It is important to note that each On The Vine Cherry tomato variety will vary in appearance and flavor.
Seasons/Availability
On The Vine Cherry tomatoes are available year-round, with a peak season in the summer through early fall.
Current Facts
On The Vine Cherry tomatoes, botanically classified as Solanum lycopersicum var. cerasiforme, are a category of cherry tomato varieties belonging to the Solanaceae or nightshade family. The small, uniform tomatoes are distinguished from other Cherry tomatoes by being sold still attached to their vines. Cherry tomatoes are named for their resemblance to bright red cherries and are slightly larger in size, still retaining a round-to-ovate, cherry-like shape. There are many different varieties of Cherry tomatoes produced worldwide that are sold attached to the vine, and the tomatoes are almost exclusively grown in greenhouses. On The Vine Cherry tomatoes are indeterminate types, meaning they grow from plants that can reach over two meters in height and develop long, sprawling, and heavy vines that require stakes and support structures. Indeterminant plants will continue to grow throughout the season and require intensive labor, time, and cultivation to supply a fruitful crop. Most On The Vine Cherry tomatoes are grown in greenhouses to provide a controlled environment where the plants can be tended to and monitored to produce quality tomatoes. Cherry tomatoes are also specifically bred to develop uniform, tightly packed clusters that generally ripen at the same time on the vine and do not fall off in the ripening process. On The Vine Cherry tomatoes are premium varieties commonly sold at higher prices to account for the time and labor that goes into producing the tomatoes. Despite their pricey reputation, On The Vine Cherry tomatoes are increasing in demand as the attached vine is a mark of freshness for consumers. The vines are thought to keep the tomatoes flavorful for extended periods, and when opening a package of the vined tomatoes, an herbal, fresh, and grassy scent diffuses into the room, a distinguishing feature from loose-packed varieties. On The Vine Cherry tomatoes are valued for their fresh reputation, vibrant color, and bright flavoring, utilized in an array of raw and cooked preparations.
Nutritional Value
Cherry tomatoes are a source of vitamin C to strengthen the immune system and boost collagen production, vitamin A to maintain healthy organ functioning, and potassium to balance fluid levels within the body. The tomatoes also provide vitamin E as an antioxidant and lycopene, a natural compound known as a carotenoid that helps reduce inflammation and prevent blood clots. Lycopene gives tomatoes their vibrant coloring and is a powerful antioxidant to protect the cells against the damage caused by free radicals. Beyond antioxidants, Cherry tomatoes carry lower amounts of calcium to build strong bones and teeth, iron to develop the protein hemoglobin for oxygen transport through the bloodstream, fiber to regulate the digestive tract, and other nutrients, including magnesium, calcium, and phosphorus.
Applications
On The Vine Cherry tomatoes have a rich, sweet, and tangy taste suited for fresh and cooked preparations. The tomatoes should be showcased with their vine still attached and can be arranged on vegetable platters, charcuterie boards, or as an edible decoration placed on serving platters with olive oil and balsamic dipping sauces. The vines provide added aroma to plating and are aesthetically pleasing to the eye, symbolizing garden freshness. On The Vine Cherry tomatoes can also be roasted or grilled still attached to the vine, served with fresh cheeses such as burrata, placed on top of cooked meats, layered on seasoned toast, or used as a gourmet addition to traditional English breakfasts. Serving On The Vine Cherry tomatoes cooked whole allows for a dramatic presentation. It is important to note that On The Vine Cherry tomatoes can also be incorporated into any recipe, generally calling for Cherry tomatoes. The small tomatoes are known for their natural sweetness and can be eaten straight off the vine as a snack, tossed into salads, or sliced and stirred into salsas, grain bowls, and fresh side dishes. Cherry tomatoes can also be used in unconventional recipes, including freezing and blending with raspberries and other fruits to make a granita. In addition to fresh dishes, Cherry tomatoes can be skewered and grilled, cooked into pasta and other sauces, stirred into gratins, baked into tarts, or blistered and combined with roasted vegetables. They can also be stir-fried, cooked into jams, chutney, and compotes, or stirred into rice. On The Vine Cherry tomatoes pair well with herbs such as basil, mint, tarragon, oregano, and parsley, cheeses including goat, mozzarella, parmesan, and feta, mushrooms, bell peppers, green beans, broccoli, cabbage, and kale. Whole, unwashed On The Vine Cherry tomatoes should be kept at room temperature, away from direct sunlight, and will last for 3 to 7, sometimes 10 days, depending on the degree of ripeness, storage conditions, and variety.
Ethnic/Cultural Info
The Aztecs referred to tomatoes as tomatls, a word from the Nahuatl language roughly translating to "fat water" or "swelling fruit." Tomatls were viewed as gifts from the gods and were often regarded as a symbol of good fortune and fertility. The small tomatoes were traditionally used as gifts for newlyweds as a blessing for many children. The Aztecs also began domesticating wild tomatls, incorporating them into their daily diets. Tomatls were primarily mixed with chile peppers and salt into early versions of salsa, and they were also combined with ground squash seeds as a sauce served over meats, fish, and shellfish.
Geography/History
On The Vine Cherry tomatoes produced in the modern day are descendants of wild cherry-type tomatoes native to Central and South America. The tiny, wild tomatoes were thought to have been traced to the Andes in South America, spanning from Ecuador to northern Chile, and had been growing wild since ancient times. By 700 CE, the pea-sized, clustered tomatoes were carried into Central America, where they were developed in the Aztec and Incan Empires. The small tomatoes grown in Central and South America are very different from the Cherry tomatoes produced today, but the plants were being domesticated by the Aztecs and Incas, developing new varieties suitable for fresh and cooked consumption. Tomatoes were carried back to Europe from the New World sometime in the late 15th century. In 1623, tomatoes described as cherry-like were recorded in the book Pinax Theatri Botanici, translated to the Illustrated Exposition of Plants, written by Gaspard Bauhin. Tomatoes remained obscure until the mid to late 19th century due to their ties to mystical folklore and nightshade heritage. Over time, tomatoes were eventually commercially cultivated in Europe, but Cherry tomatoes were seen more as a garnish than a tomato with culinary potential. In the late 20th century, retailer Marks & Spencer in the United Kingdom saw the potential in Cherry tomatoes and worked with local growers to develop a flavorful variety. Grower Bernard Sparkes is credited with helping create one of the first commercial Cherry tomatoes known as Gardener's Delight. The seeds were also sent to scientists in Israel to improve specific characteristics. In the 1970s, Israeli scientists and professors Nachum Kedar and Haim Rabinowich at the Hebrew University of Jerusalem created Cherry tomatoes that would grow in commercial production settings and have a sweet flavor and uniform, firm, and juicy nature. These new cherry types were released to the public through Marks & Spencer in the 1980s, establishing the small tomatoes as a new commercial category. On The Vine Cherry tomatoes have been around since the late 20th century, but their widespread popularity arose in the early 21st century. Today On The Vine Cherry tomatoes are mainly grown through greenhouse farms and are sold through grocers and distributors worldwide.
Featured Restaurants
Restaurants currently purchasing this product as an ingredient for their menu.
Recipe Ideas
Recipes that include On The Vine Cherry Tomatoes. One

is easiest, three is harder.
Podcast