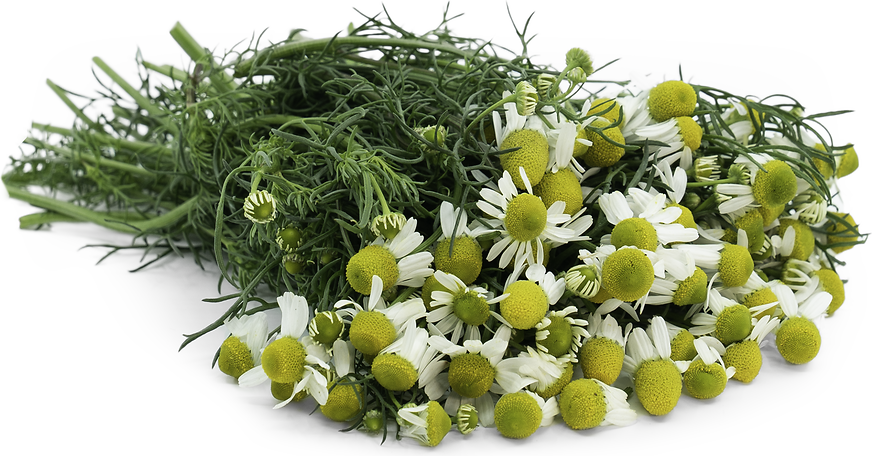 Fresh Chamomile
Inventory, lb : 5.00
This item was last sold on : 06/08/22
Description/Taste
Chamomile plants are made up of thin, feathery branched leaves and erect stems that produce numerous flowering heads with white petals and yellow centers, similar in appearance to daisies. There are two main varieties used for commercial purposes, German and Roman Chamomile, and each plant contains subtle differences in form, aroma, and flavor. German Chamomile is an upright plant, averaging 60 centimeters in height, and is known for producing many blooms throughout the season. The leaves are green and fern-like with multiple small leaflets and smooth stems, and the white petals surround a hollow, conical, and yellow center, ranging from 1 to 2 centimeters in diameter. Roman Chamomile is a low-growing plant that spreads across the ground, only growing to 30 centimeters in height, and bears fuzzy stems with flat, tough, green, and semi-thick leaves. The flowers also bear white petals, surrounding a yellow, solid center, and typically average 1 to 3 centimeters in diameter. Both Chamomile varieties are described as having an aromatic, sweet, apple-like fragrance, but German Chamomile is also thought to have hay-like undertones. Chamomile flowers have a mild, subtly sweet, herbaceous, and earthy flavor. The leaves are also edible and may contain a slightly bitter and grassy taste.
Seasons/Availability
Chamomile flowers are available in the spring through summer in temperate regions worldwide. Dried flowers are available year-round.
Current Facts
Chamomile is a well-known, fragrant herb growing wild in parks, pastures, fields, and along roadsides, belonging to the Asteraceae family, one of the largest families of flowering plants with about 20,000 species. The yellow and white flowers and delicate, frilled leaves have been used for medicinal, culinary, and cosmetic applications since ancient times, and the plants are grown both commercially and in home gardens as an edible landscape. Chamomile is often referred to as a singular plant, but there are many different varieties generally categorized under the Chamomile name, including Moroccan, Cape, Roman, Corn, Dyer's, German, and the ancestral variety, Pineapple weed, also known as Wild Chamomile. It is important to note that many of these Chamomile varieties are not used for culinary purposes, and the two most commercially important cultivars are German Chamomile, Matricaria chamomilla, and Roman Chamomile, Chamaemelum nobile. Both German and Roman varieties are grown worldwide and are similar in appearance, with subtle distinctions in growth and flavor. Chamomile is grown for its edible flowers, primarily used for tea, and the oils are extracted for topical medicines, creams, and serums. The flowering herb is also a favored home garden variety as the plant acts as a natural pest deterrent to protect vegetables from being eaten.
Nutritional Value
Chamomile flowers are believed to contain anti-inflammatory properties and have been used in natural medicines as a stress reducer, sleep aid, and skin-calming agent. The flowers also contain an essential oil known as chamazulene, which develops a light blue hue when extracted, and is used topically on skin disorders and internally as a soothing ingredient to protect the cells against environmental stress.
Applications
Chamomile flowers have a mild, sweet, and herbal flavor that is best suited for an array of fresh and cooked applications. The entire flower is edible, including the petals and the yellow centers, and the blooms can be lightly torn and tossed into green salads or used as an edible garnish for roasted meats. Chamomile flowers can also be sprinkled over fruit crisps, browned in butter and mixed into oatmeal, stirred into lemonade, or blended and rubbed with spices as a flavoring for seafood such as fish. Beyond fresh uses, Chamomile flowers can be infused into oils, dips, syrups, and stocks to flavor soups, salad dressings, sauce, desserts, and rice-based preparations. The flowers also yield a large concentration of essential oils that can be used to flavor ice cream, baked goods, puddings, jams, and cocktails. Chamomile flowers are well-known dried and are used to make the famous Chamomile tea. Chamomile leaves are also edible but may bear a slightly bitter flavor. Chamomile flowers pair well with herbs such as tarragon, mint, and lavender, spices such as cinnamon, ginger, and peppercorn, citruses such as lemons, yuzu, and oranges, berries, apples, fennel, and cucumbers. Fresh Chamomile flowers should be used immediately for the best quality and flavor. Once dried, the flower can be stored up to one year in a sealed container at room temperature, kept in a cool and dark location away from direct sunlight.
Ethnic/Cultural Info
Chamomile was one of the most sacred herbs used in Ancient Egypt. The medicinal plant was discovered in hieroglyphics over 2,000 years old, and the flowers were used both topically and internally. Chamomile flowers contain anti-inflammatory properties that were believed to cure fevers, or agues, especially malaria, and the herb was so revered for its healing properties that it was dedicated as an offering to Ra, the god of the sun and all creation. Chamomile flowers were also rubbed over the skin for their sweet, apple-like fragrance. The potent aroma was discovered to keep insects away, further preventing diseases, and the flower's insect-repellent nature eventually became the primary ingredient used in embalming oils to preserve the bodies of deceased pharaohs. In the present-day, Chamomile has remained a staple medicinal ingredient and is still revered in Egypt as a calming agent for the skin and digestive tract. The flowers grow well in the Nile River Valley, and when in season, the blooms are carefully handpicked or are harvested with a Chamomile rake to keep the flowers intact for fresh use, processing, and drying.
Geography/History
Chamomile is native to regions of Europe, Africa, and Asia and has been growing wild since ancient times. Each Chamomile variety differs slightly in its native range, beginning with German Chamomile, native to Southern and Central Europe and Asia, while Roman Chamomile is native to Western Europe and North Africa. Regardless of the specific variety, the two cultivars primarily used for culinary purposes have expanded beyond their native regions over time and have become naturalized in temperate areas worldwide, grown in home and commercial gardens. Today Chamomile flowers can be found fresh in select farmer's markets, in home gardens as edible landscaping and ground cover, and sold dried online through international retailers.
Recipe Ideas
Recipes that include Fresh Chamomile. One

is easiest, three is harder.
the other 1...