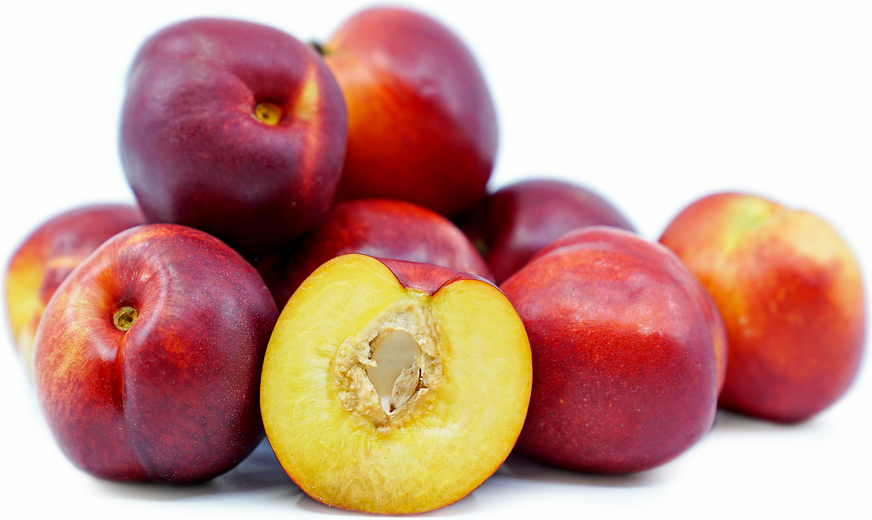 Nectarines
Inventory, 18 lbs : 0
This item was last sold on : 10/14/23
Description/Taste
Nectarines are small fruits, averaging 5 to 7 centimeters in diameter, and have a round, oval, to ovate shape with a prominent seam or suture extending from the stem to the base. The fruit's skin is smooth, taut, glossy, and delicate, bruising easily, and has a golden yellow base, blushed with hues of ruby, crimson, and orange. When determining whether Nectarines are ripe, it is important to look at the fruit's base coloring. If the base has a green tinge, it has been harvested early and will generally not ripen with a favorable taste. The base coloring should be yellow or contain golden undertones for the best flavor. Underneath the surface, the golden yellow or white flesh is dense, semi-firm, and aqueous with a succulent nature, encasing a central pit. There are many Nectarine varieties, with some being freestone cultivars, meaning the pit does not adhere to the flesh, while others are clingstone types with the pit tightly connected to the flesh. Nectarines emit a honeyed, sweet, and aromatic scent when ripe and contain a somewhat balanced, sweet, and tangy flavor. Depending on the variety, the fruits may also provide warm spice, nectar, and wine-like nuances.
Seasons/Availability
Nectarines are available in the early summer through fall, with a peak season in the middle of summer.
Current Facts
Nectarines, botanically classified as Prunus persica var. Nucipersica, are sweet, smooth-skinned stone fruits belonging to the Rosaceae family. The small fruits grow on trees that can reach up to nine meters in height and are favored for their edible skin, semi-firm flesh, and sweet, spice-filled flavor. There are two main types of Nectarines, white-fleshed and yellow-fleshed. Both Nectarine types share similar characteristics, including seasonality, texture, and appearance, but the main difference is the amount of acidity found within the flesh. White nectarines have a lower acid content, causing the consumer to think there is a higher sugar content, developing a sweet flavor. In reality, white and orange-fleshed nectarines have a similar sugar content, and orange nectarines simply have a higher acidity, evoking a tart aftertaste. There are also over 100 varieties of Nectarines cultivated worldwide that are early, mid, to late-season cultivars. In commercial markets, many of these varieties will simply be labeled as Nectarines, but through specialty distributors or some farmer's markets, popular varietals include Arctic Jay, Double Delight, Armking, Early Sungrand, Zephyr, Sun Home, Le Grand, Heavenly White, Sunglo, May Gran, Fantasia, Flaming Red, Snow Queen, Panamint, Swanzey, Firebrite, Redgold, and August Glo.
Nutritional Value
Nectarines are an excellent source of vitamin C to strengthen the immune system and vitamin A to maintain healthy organ functioning. The fruits also contain some fiber to regulate the digestive tract, potassium to balance fluid levels within the body, folate to develop red blood cells, and other amounts of zinc, magnesium, copper, phosphorus, calcium, B vitamins, and vitamins E and K. It is important to note that Nectarine pits contain cyanide compounds, considered toxic when ingested in large quantities, and should not be consumed.
Applications
Nectarines have a sweet flavor well suited for fresh and cooked preparations, including grilling, poaching, baking, roasting, or sautéing. The fruits can be consumed straight, out of hand, with the skin on, or sliced and eaten with sugar or cream as a dessert. Nectarines can also be tossed into green salads, mixed into fruit bowls, layered over toast and bruschetta, topped over ice cream, blended into sorbet, or chopped into salsa. In addition to fresh preparations, Nectarines can be used as a substitute for peaches in recipes and can be pureed and cooked into sauces, compotes, jellies, jams, and syrups. The fruits have a firmer flesh that holds its shape when cooked, favored for baked goods, including pies, cobblers, cakes, and tarts. The fruit's skin can also be left on when cooked or removed, depending on consumer preference. Beyond culinary preparations, Nectarines can be sliced and stirred into drinks, blended into smoothies, or infused into sparkling beverages and lemonade. Nectarines pair well with cheeses such as goat, gorgonzola, and mozzarella, herbs including basil, mint, and cilantro, fruits such as berries, citrus, cherries, pomegranate, and apricots, vanilla, cinnamon, ginger, meats such as pork, poultry, and beef, fish, and shrimp. Whole, unripe Nectarines can be kept at room temperature until ripe, softening in approximately 1 to 3 days. Once ripe, the Nectarines should be stored in the refrigerator, where they will keep for a few additional days. It is recommended to eat ripe fruits immediately for the best quality and flavor. Nectarines can also be sliced and stored in a sealed container in the freezer for 3 to 4 months.
Ethnic/Cultural Info
Nectarines are believed to be a natural genetic mutation of a peach. Genetic studies have concluded that Nectarines are almost identical to peaches, but Nectarines contain a recessive allele that gives them smooth, fuzz less skin. The lack of fuzz contributes to the Nectarine's bright colorings and to its ability to bruise more easily. In orchards, Nectarines and peaches can also be found growing on the same tree on different branches. Nectarines and peaches are somewhat different in appearance despite their genetic similarities, with Nectarines typically being smaller, smoother, and firmer. The average Nectarine weighs around 150 grams, but the heaviest Nectarine ever recorded was found in Cyprus by Eleni Evangelou Ploutarchou in June 2018. The fruit weighed approximately 500 grams, the equivalent of 1.1 pounds.
Geography/History
The definitive origin of Nectarines is unknown. Experts hypothesize that Nectarines are native to Central Asia and China and were discovered growing as a natural mutation on a peach tree. Nectarines were thought to have been domesticated over 4,000 years ago in China and were selected for their smooth skin and bright coloring. Over time, the fruits were introduced to the Middle East through trade routes and were eventually brought to Ancient Greece and Rome. Nectarines spread into the rest of Europe, arriving in England and Northern Europe in the late 16th to early 17th centuries. The fruits were also brought to the New World with the Spanish and were planted in California. In the modern-day, Nectarines are still widely cultivated in California and account for approximately 95% of the Nectarines grown within the United States. Today Nectarines are produced worldwide and are found through local markets, supermarkets, specialty distributors, and grocers in Asia, the Middle East, Europe, Australia, South Africa, North America, and South America. Some major production countries include Argentina, China, Italy, Greece, Spain, France, Turkey, and the Middle East.
Recipe Ideas
Recipes that include Nectarines. One

is easiest, three is harder.
the other 45...